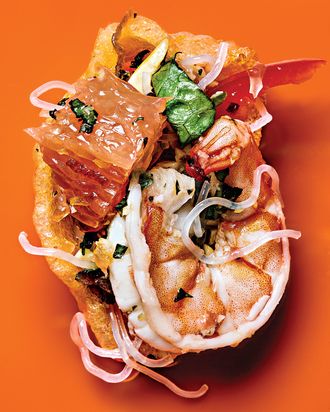 A newcomer takes the top spot.
Photo: Bobby Doherty/New York Magazine
The city's pho and bánh mì scene is diverse enough these days to support dozens of places offering high- and low-end versions, filled with everything from heritage-breed cold cuts to mystery meat. What's been missing until now, for the most part, have been intensely personal takes on Vietnamese food by immigrant chefs trying to recreate a piece of their hometown, or by fine-dining exiles looking to do something more nourishing. Thanks to the broader circulation of once-rare ingredients like sawtooth and lotus leaves, it appears that a new era of congeelike chao, turmeric-oil-stained catfish, and pillowy, empanada-like bánh gi is upon us. Here are the best Vietnamese restaurants in New York.
1. Hanoi House
119 St. Marks Pl., nr. Ave. A; 212-995-5010
Vietnamese-American chef John Nguyen has parlayed his experience working at the District by Hannah An in Los Angeles, and with Lincoln's Jonathan Benno, into something new: One night's special of the rice-noodle bún dish arrives glossed with scallion oil, with golf-ball-size lamb meatballs cured and grilled in the style of nem nuong. Frogs' legs in a tempuralike batter are served steaming with pickled chiles and crushed peanuts, and root-vegetable curry unfurls in alternately fiery and earthy directions. Emulsified brown butter and fish sauce commingle at the base of a sautéed-morning-glory side dish with capers, while oxtail and marrow bones infuse with brisket to profound effect in shimmering pho broth. It's the kind of place that inspires multiple visits because you want to know how it'll evolve.

2. Madame Vo
212 E. 10th St., nr. Second Ave.; 917-261-2115
Motown plays at this ambitious new spot, which has fresh coconuts galore and Instagram-ready snacks like bò bía, rice-paper rolls taut with shrimp, jícama, and sausage. Brisket steeps 24 hours in pho stock, amplifying the pho's bone-brothiness, which diners can supercharge with roasted oxtail. Specials include bún riêu, a hard-to-find tomato-based soup laden with minced pork and crab.
3. Bunker
99 Scott Ave., at Randolph St., Bushwick; 718-386-4282
The bánh xèo are as crisp as ever at this Cheap Eats favorite, now rebooted in a cavernous, eye-popping space that's equal parts postapocalyptic skate park and Pee-wee's Playhouse. The mushrooms for the Havarti bánh mì are cultivated at a fungi start-up next door, while the pork belly in the bún chả comes from heritage-breed pigs.
4. District Saigon
37-15 Broadway, Astoria; 718-956-0007
A slather-your-own bánh mì arrives in deconstructed form: pâté, root-vegetable pickles, and sliced baguette. Plump, betel-leaf-wrapped torpedoes of ground lamb are mounted on skewers over a fussy thatch of plant matter, while soy-toned wings come with taro fries. The wood-and-herb-smoked brisket pho, with its deeply flavored broth, plays it the most traditional.
5. Nightingale 9
329 Smith St., nr. President St., Carroll Gardens; 347-689-4699
Gowanus-greenhouse basil and rounds of 'nduja — the soft, spreadable Calabrese sausage — may seem odd pairings for fresh rice noodles and the pork shoulder chef-owner Rob Newton crisps in lard for his "very loose" interpretation of bún bò Huế. Some might label his cooking fusion, but Newton's attention to detail and passion for the cuisine translate into true flavors that imbue the entire menu.
Bricolage
162 Fifth Ave., nr. Degraw St., Park Slope; 718-230-1835
Gutsier options like hog maw can be found alongside more common offerings like papaya salad with sawtooth at this 2-year-old spot founded by Slanted Door expats, who've hit their stride with hearty home-style clay-pot braises fashioned thoughtfully with domestic ingredients like Georgia shrimp and Vidalia onion.
Chao Chao
171 Ave. A, nr. 11th St.; 212-475-3171
Stephan Brezinsky gussies up his wings with fish-sauce caramel, and serves slawlike papaya salad, made creamy with herby tamarind dressing. There's a reason why dishes like slow-cooked beef cheeks with coconut and a judicious lump of shrimp paste seem like family recipes: Kimxuan, Brezinsky's mother and inspiration, swings by daily to make the spring rolls.
Lucy's Vietnamese Kitchen
262 Irving Ave., nr. Menahan St., Bushwick; 718-483-9837
Charred and smoked brisket, crunchy raw shallot, and a feathery vapor trail of star anise make for irrepressibly great pho at this pint-size storefront. Summer rolls with a choice of meaty tofu, lemongrass chicken, or fat slices of that brisket are a recent but stellar addition to Lucy's correspondingly tiny menu.
Pho Vietnam 87
87 Chrystie St., nr. Hester St.; 212-775-0999
Possibly owing to its broad menu and bonkers train motif, this galleylike Chinatown restaurant has become something of a restaurant-industry standby. The pho xe lua arrives in an immense bowl appointed with flank, tripe, and raw eye of round, and it happens to be one of the best bargains in town.
Saigon Shack
114 MacDougal St., nr. W. 3rd St.; 212-228-0588
Fried-fish and crab-cake options swerve the bánh mì lineup straight into fusion-ish po'boy territory, and purists scoff that pho comes with jalapeños, instead of with more-canonical serranos. But what it lacks in finesse, the Shack makes up for in reliable portions and speed, hence the permanent line of NYU students out the door.
Thanh Da
6008 Seventh Ave., nr. 60th St., Sunset Park; 718-492-3253
Summer rolls stuffed with jumbo tiger shrimp and deep bowls of aromatic pho — topped with rosy-red, top-round slices — touch down on nearly every table. Dozens of cheap, unfancy noodle dishes, bedecked with everything from curried chicken to grilled squid, round out the menu.
*A version of this article appears in the March 6, 2017, issue of New York Magazine.