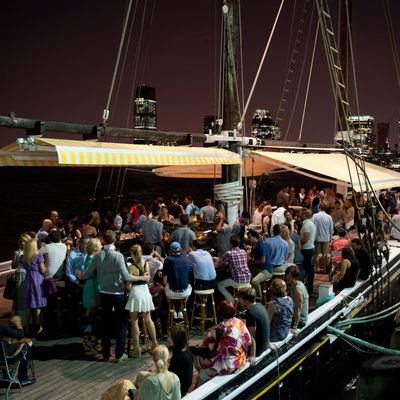 Grand Banks is perpetually packed.
Photo: Liz Clayman
New York and its surrounding waters offer so much shorefront space that you'd think we'd have dozens of excellent restaurants lining it. Well … not quite. Anyone who's eaten at many of them knows there's something of a waterfront grading curve: "For a waterfront restaurant, this is fine" could mean that while there's probably an incredible view, it's overpriced, the seemingly microwaved food is about the quality of a darkened workplace cafeteria's, and the service could best be described as "nonexistent." But "I would love this food even if a thick fog had descended on the city and I couldn't see the skyline" would be a compliment of the highest order — the meal would be terrific even without the setting. There aren't many of those in the city, but we've found a number of them, below.
1. Grand Banks
Pier 25, West Side Hwy. at N. Moore St.; 212-660-6312
This bar and restaurant is set on the gorgeous Sherman Zwicker, a 1942-built schooner that's said to be the largest wooden ship in New York City. On the deck, you'll be surrounded by finance workers and early-30s money types on Tinder dates. But they're easy to make peace with when you consider the setting: The boat rocks gently as ships pass by, the Hudson River and Statue of Liberty as a backdrop. (Also: While you might have to grab your check quick to avoid getting soaked, it's particularly exciting to watch a storm approach from the west here.) Order the heirloom-tomato salad; the thin and crispy seaweed-salt-dusted fries with spiced ketchup and sage aioli; that lobster roll; and, of course, the oysters. Most dishes are charmingly brought up through a dumbwaiter from the below-deck kitchen, which only adds to the experience. And Grand Banks is community-minded: It operates in partnership with the Maritime Foundation, and the team behind it work with Billion Oyster Project here and at their other projects (Pilot, Island Oyster). Make reservations to avoid a wait, and maybe bring a Dramamine. (April to October.)
2. Anable Basin Sailing Bar & Grill
4-40 44th Dr., Long Island City; 646-207-1333
This outdoor-only patio outside the Sound River Studios event space can be hard to access, but the payoff is great: It's huge — there's some 30 tables, most of them picnic tables and wooden ones with schoolroom-style chairs and big enough for groups of six to ten. Anable Basin in stunningly relaxed, particularly for a waterfront restaurant. You choose your own seat and then head to the bar to order affordable drinks like an Aperol spritz in a plastic cup and a good cheeseburger. Low-key music comes from speakers perched atop the bar, and people play games and celebrate birthdays at tables, then take a walk on the adjacent pier to better inspect the midtown views. And the place is community-minded — partnering with Billion Oyster Project isn't reserved solely for higher-end affairs like Grand Banks; Anable Basin does so, too. Cash-only. (Seasonal.)
3. Fornino Brooklyn Bridge Park
Pier 6, Brooklyn Bridge Park; 718-422-1107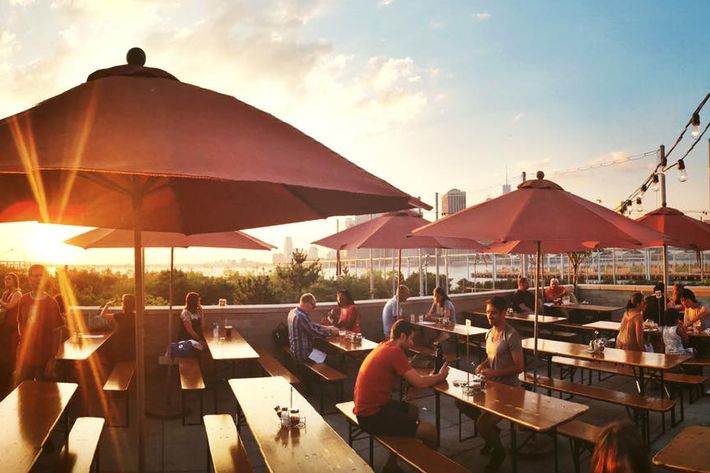 It's usually crowded and it can be a bit frustrating because of that — an annoying ordering system (different tabs for food and drink, long lines, etc.), a manic rush to claim tables after a family of children doing cartwheels leaves, messy bathrooms, etc. — but once you're settled, you can relax and abandon any initial trepidation. The pizza-makers are as good as always, unafraid of a great burned crust (we like the spinach with soppressata piccante, but you'll want one small per person), and the simple salads come in big wooden bowls, great for sharing. And the adjacent Ample Hills location is nice for a post-pizza dessert and stroll while you, yes, stare at the skyline across the water. (Seasonal.)
4. Liman
2710 Emmons Ave., Sheepshead Bay; 718-769-3322
Ask for a seat in the back room, and the fishing boats docked in Sheepshead Bay will be just a few steps away from your white-linen-covered, sunlit table, which you should fill with, of course, fresh fish (the branzino and St. Peter's Fish are good choices and can both be prepared whole or as grilled filets), Turkish classics like feta borek and bright cacik, and a healthy glass of wine.
5. Giando on the Water
400 Kent Ave., at Broadway, Williamsburg; 718-387-7000
This is the restaurant near the Williamsburg Bridge whose patio you can see when you're crossing to Brooklyn on the J train (note you can typically only sit outside for private events). Is it serving the best Italian-American food in the city? No. Is it pretty good? Yes! Sesame bread arrives warm, ready for dipping in olive oil kept on the table next to balsamic; salads are made with nice butter lettuce; pasta is well-cooked. It's a fun, old-school scene: You might overhear your server answer the phone and after a pause say, "Ah, how are ya, Monsignor? A table for how many?" And most important are the bafflingly good views, seen from floor-to-ceiling windows in the dining room: All three BMW bridges, the skyline from the financial district up to midtown, boats passing by, etc. You'd be hard-pressed to find a restaurant with better sightseeing options.
Honorable Mentions
Bungalow Bar
377 Beach 92nd St., Rockaway Beach; 718-945-2100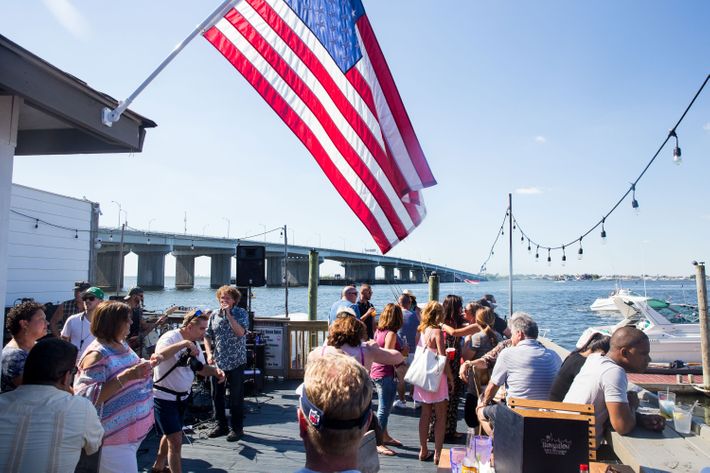 We've told you before how much we like this spot, but for excellent sunset views, it's hard to beat in New York. Be prepared to wait for a deck table on weekends, but know that the views are nearly as good from the extension/private-events room that was added a couple of years ago. Come for Monday-night trivia.
Caracas Rockaway
106-01 Shore Front Pkwy., Seaside; no phone
There are plenty of concessions right on the beach in the Rockaways these days, but none feel so purely beach-y and festive as the outpost of Caracas in a concrete hutch just behind the sand. Behind the counter, tanned, brawny dudes sling fresh, compact arepas — filled with delicious things like avocado and sweet plantains — and dense taro fries that come with an addictive herby mayo (don't miss the mango hot sauce, either). The Hibiscus Arnold Palmers — made with hibiscus iced tea and papelon, which is essentially Venezuelan lemonade, made with sugarcane juice — will spoil you on classic ones forever, and the frozen sangria is killer, too. You can carry it all (except the sangria) to the beach, or enjoy it at the brightly painted picnic tables on the patio — which turns into a dance floor on Friday and Saturday nights, with live music. —Hannah Goldfield
Cecconi's Dumbo
55 Water St., nr. Main Street, Dumbo; 715-650-3900
It feels a bit too early, and perhaps pointless, to judge the food or service here — on a recent evening, both were fine, and may never get much better, given how absolutely stellar the views of the Brooklyn and Manhattan Bridges and the lower-Manhattan skyline are. If you can handle the crowd (it's the in-house-but-open-to-the-public restaurant of a forthcoming Soho House), you can have a really pleasant evening here, especially if you order bottles of the house rosé and stick to snacks, basic pastas, and salads. —H.G.
Clemente's Maryland Crab House
3939 Emmons Ave., Sheepshead Bay; 718-646-7373
The best recipe for a warm-weather Monday is to call in sick to work, head to the beach, and then feast at Clemente's all-you-can-eat-crab night (also on Tuesdays). You'll want to stick to the crustaceans over dishes like a limp tomato-and-mozz dish. But it's a fun experience with a group to sit shelling on the big patio, staring across the water at Gerritsen Beach houses and their docks and boat slips, drunk on Budweiser pitchers, wondering if you, too, could somehow figure out a way to be the captain of your own literal ship in New York.
Johnny's Reef City Island
2 City Island Ave., Bronx; 718-885-2086
If you've borrowed your cool friend's car and headed out to City Island for the day, you'd do well to end at Johnny's Reef. Grab a table — one of those thermoplastic-coated ones that may remind you of elementary school (inside, too, there are school chairs) — and head to the counters for clam strips, fried shrimp, and fries. Finish at the condiment line with plenty of tartar and cocktail sauce.
La Marina
348 Dyckman St., nr. Staff St.; 212-567-6300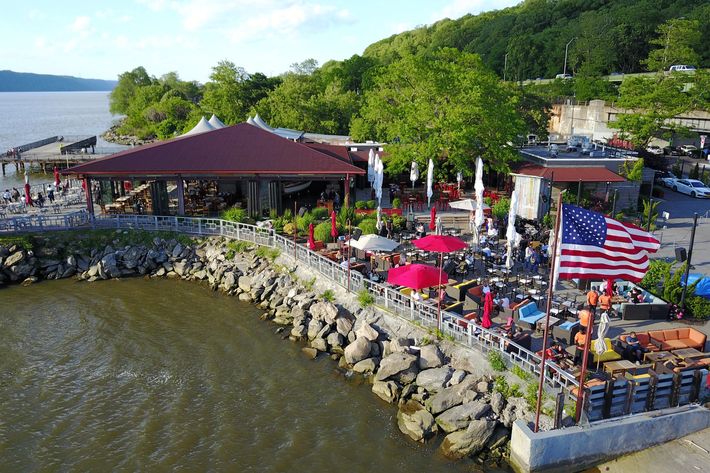 La Marina is most notable for its massive size: 75,000 square feet, with seemingly endless different areas and its own mini-marina. If the food isn't incredible, it's perfectly satisfying, and on the aforementioned "waterfront scale" it's great.
Marina Cafe
154 Mansion Ave., Great Kills, Staten Island; 718-967-3077
If you want to feel like you've traveled much farther than the actual distance to Great Kills from Manhattan, Brooklyn, or Queens, Marina Cafe is the place for you. It is very Staten Island, to the point that, on a recent visit, the hostess took one look at us and said, "Are you from the city? I could tell by your accents." It's also a ton of fun: The spacious patio, complete with tiki bar, is packed when the weather is good and, true to its name, overlooking a marina (on Great Kills Harbor), which makes it great for both people- and yacht-watching. When it comes to food and drink, it's best to keep it simple: We recommend buckets of Budweiser and burgers. —H.G.
Randazzo's Clam Bar
2017 Emmons Ave., at Ocean Ave., Sheepshead Bay; 718-615-0010
Is a "waterfront restaurant" one with great views of the water, or one with great access to the water? We'd argue both qualify, the latter option on the strength of places like Randazzo's, where it's easy to pop by on your way to Brighton or Coney. Whatever you get, add on at least two extra orders of that jamlike, addictive tomato sauce. "Cheap seafood is not fresh; fresh seafood is not cheap!" reads a sign behind the counter (near a decorative lobster holding a candy dish in its claw), but it's still pretty affordable — a plate of calamari is $15.
The River Café
1 Water St., at Old Fulton St., Dumbo; 718-522-5200
In its 40th year, the River Café maintains a kind of upscale elegance that's become extremely uncommon in the city. The attention to detail is stunning — fresh flowers at every turn; crisp white tablecloths with tiny lamps atop them; a jackets-required, ties-preferred dress code; a grand piano; a dessert topped by a chocolate replica of the Brooklyn Bridge, so you can eat the bridge while you gaze out the windows at it. The prices are high: Try to have dinner here when someone else is paying, or when you can truly afford it. It's a special-occasion restaurant, and having to worry about about whether you can swing the $20 supplement for a Madeira pairing with dessert would kill the experience.
Riverpark
At the Alexandria Center, 450 E. 29th St., nr. First Ave.; 212-729-9790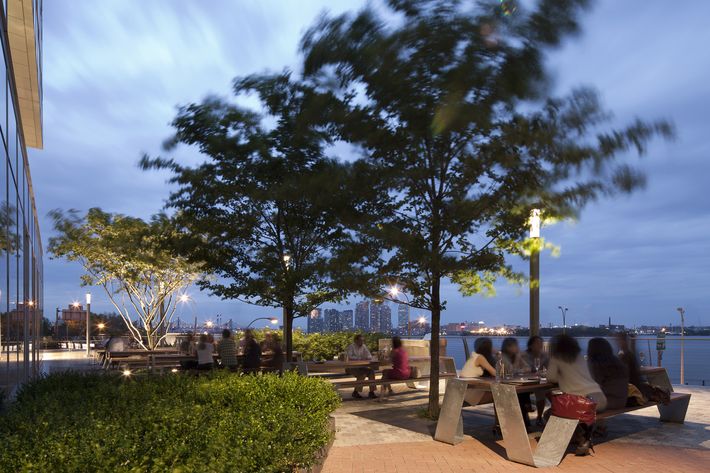 Riverpark serves food that would be mostly excellent even if you weren't on the water — which is good, because while the views are fun and it's neat to peer out at the East River, especially from the patio and its Little River beer garden, the space is adjacent the noisy FDR and some sight lines are blocked by the hospitals. But if you stroll down 29th along the strange off-street lot of the Alexandria Center, past Riverpark's small on-site farm, you'll begin to feel so in-another-world that it doesn't matter. And the service is terrific, noticeable in moments such as when we recently ordered a well-dressed, nutty kale salad with almonds and big shavings of Parmesan and it was split among two plates without our asking.
Tartinery
On the patio at Brookfield Place; 225 Liberty St., nr. Battery Park City Esplanade; no phone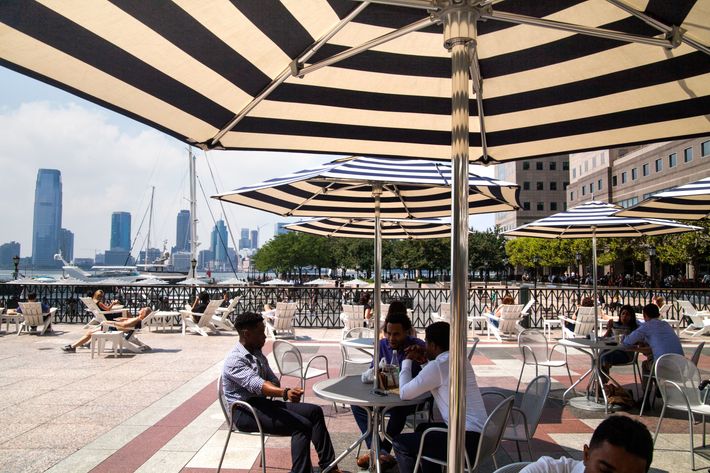 In warm months, bypass the Tartinery location inside Hudson Eats and head straight for the patio outpost, which abuts the North Cove Marina and has views to the Statue of Liberty and Jersey City. You can get affordable wine and beer (and kombucha) and a large order of burrata, with bread, ripe tomatoes, and pine nuts, and then find an umbrella'd table to spy on Goldman summer interns in slightly ill-fitting suits; Battery Park City locals, etc. (We visited recently when there was Tuesday-night trivia, and one of the losing teams was called the "Westport Warriors.")