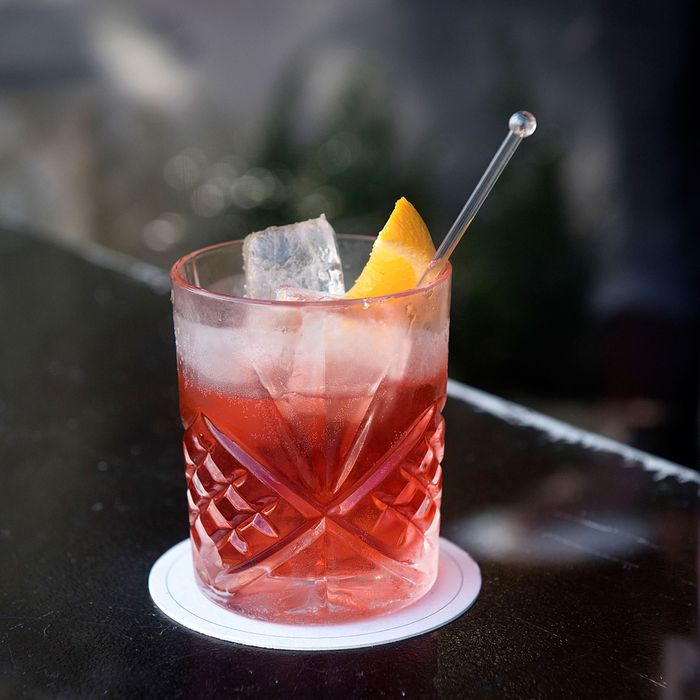 At Dante, the house Negroni is served on tap.
Photo: Liz Clayman
People think the Negroni is an idiotproof cocktail. They'll argue that the drink — a simple construct, usually made of equal parts gin, sweet vermouth, and Campari — is good everywhere you go, because it's roughly the same everywhere you go, and impossible to fuck up. Nonsense. While it's rare to find a truly bad Negroni, some are measurably better than others. And the five versions below are New York's absolute best.
1. Dante
79–81 Macdougal St., nr. Bleecker St.; 212-982-5275
There are a number of variables by which a Negroni can be improved or degraded, starting with the choice of gin and vermouth. (Campari is nonnegotiable.) There's the matter of proportions; some go heavier on the gin. Do you serve it up or on the rocks? If the latter, there's the quality of ice to be considered. Finally, there's temperature. Nothing can kill a Negroni like the absence of an appropriate chill. Dante gets everything right. It ought to. The bar — formerly Caffe Dante, a storied Village coffee house — has fashioned itself an Italianate aperitivo-style bar. There's a whole page of Negroni variations. The standard, served on tap, is spot on. It's 1 ounce Bombay Sapphire, three-fourths ounce Martini & Rossi sweet vermouth, and three-fourths ounce Campari. Served with a few cubes, it arrives strong, stiff, and very cold. It's best to order it at night, when it'll be served by a proper bartender, rather than a waiter doing double duty.
2. Attaboy
134 Eldridge St., nr. Broome St.; no phone
Attaboy does a pretty bang-up job on most classic cocktails, as one would expect from a bar of its pedigree. But its Negroni is particularly impressive. Made of equal parts Plymouth Gin, Campari, and Cocchi Vermouth di Torino, the drink has more power than those ingredients would telegraph. (Some think Plymouth, while an excellent gin, is too delicate to hold its own in a Negroni. Not true here.) The smart choice of vermouth adds to the mix's depth and finesse.
3. Lincoln
142 W. 65th St., nr. Broadway; 212-359-6500
Lincoln Ristorante, when it opened in 2010, cashed in on the Negroni craze by offering a full "Negroni bar." Patrons build their own drinks, choosing from six different gins, vermouths, and amari. While a fun stunt, it's difficult to condone the concept, as a Negroni is not a Negroni at all if it's made with Cynar or Aperol (two of the bitters offerings). But, if you decline to play Lincoln's game, the bartender will make you a drink with its well liquors — Citadelle gin, Martini & Rossi, Campari — that does the cocktail up proud. The mix is in equal portions and served on a handsome ice sphere. The elegant surroundings undoubtedly add to the drink's appeal.
4. Amor y Amargo
443 E. 6th St., nr. Ave. A; 212-614-6818
As a cocktail bar that specializes in all things bitter, the Negroni is one of Amor y Amargo's signature drinks. I've always thought the forthright London-dry gin Beefeater the best choice for a Negroni and, as it's the only gin this bar carries, that is what's used. The vermouth is the equally broad-shouldered Carpano Antica. The drink is given a brief stir, so it comes at you with some teeth. How strong it is depends on the server. Chief barkeep Sother Teague goes heavy on the gin, pouring 2 ounces to 1 ounce each of vermouth and Campari. (He also throws in a couple dashes of Angostura bitters, a radical touch.) His lieutenant, Lindsay Matteson, takes it down to an ounce. Both versions are good — but you get more bang for your buck with Teague's spec.
5. Marta
The Martha Washington, 29 E. 29th St., nr. Madison Ave; 212-651-3800
Upon opening, Marta, Danny Meyer's delectable homage to Roman-style pizza, planted its flag in the name of the Negroni by offering individual, bottle-aged Negronis. A gimmick, to be sure, but the liquid inside is good. Equal parts Beefeater, Cinzano Rosso, and Campari, the cocktail comes off as less aggressive and bitter, owing — one imagines — to the bottle-aging. It is balanced and plenty satisfying, nonetheless.
This post has been updated.