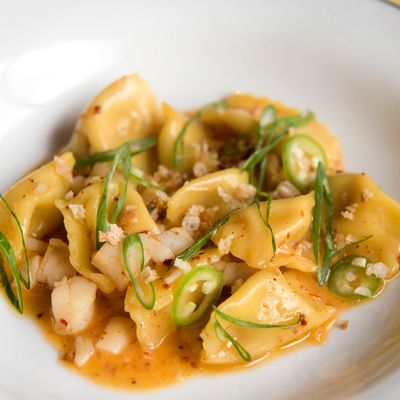 The gluten-free menu at Del Posto continues to impress.
Photo: Liz Clayman
There are two types of "gluten-free" restaurants: Those that set up shop with an unambiguous, anti-gluten mission statement, effectively flying a "No Wheat Welcome Here" flag right out front; and places that serve baguettes or couscous, but also cater to diners with sensitivities by offering a portion of their menu scrubbed of gluten. For celiacs and those with severe (or even life-threatening) allergies, the delineation is crucial. The good news is that menus are always evolving, and high- and low-brow options abound for just about everyone. Here are the best.
1. Del Posto
85 Tenth Ave., nr. 16th St.; 212-497-8090
An uptick in special diet requests led Mark Ladner, Del Posto's former executive chef, to develop the restaurant's superlative gluten-free program. Ladner left this year, but Melissa Rodriguez capably channels her own point of view into the menu, which is good news because, invariably, celiacs say pasta is their most-missed food. Here, the Cup4Cup-based pastas are heartening and delightfully al dente. Orecchiette is nicely thick and dimpled, coated with sticky meat jus in a rustic dish of charred lamb-neck sausage; ribbons of no-gluten pasta swirled under a cap of Pecorino frico have better-textured spring than their wheaty analog, and diners can truffle it up with plump parcels of bauletti stuffed with sheep's-milk ricotta as a supplement. While dairy is present in some options — like the revelatory focaccia with an orb of crème fraîche — servers are quick to navigate deftly around any celiac-associated lactose intolerance. There's even a deluxe multicourse option for gluten-free vegetarians. If the options make the opulence worthwhile, all the freebies — from the amuse-bouche-like "assaggi" at the beginning, to the edible rice-paper-wrapped caramels and "sour patch" cantaloupe segments at the end — also make a meal here a lot of fun.
2. Inday
1133 Broadway, entrance on 26th St.; 917-521-5012
The Californian-vibed and "Indian-inspired" fast-casual spot tends to get lost in what could be called the Kale Triangle of salad places, like the Little Beet and Sweetgreen in central NoMad. The nearly two-year-old proto-chain is less hyped than those (admirable) spots, but its vegetable-intensive bowls are worth following. Goofy names aside (Cauli-fornia, Sas-Squash), they come loaded with stuff like tangy carrots, mild coconut chutney, masala chickpeas, heirloom carrots roasted with vadouvan, and an unwieldy but flavorful paste called charcoal eggplant. Add-on proteins include salmon with a sour tamarind veneer, and nice, beefy short ribs. A ranchlike yogurt sauce can be ladled over bowls, and the serrano-based house hot sauce has a decent kick. Pappads, rebranded here as "lentil crisps," top each large-portioned bowl. Tall bottles of cold brew (supplied by Jack's), with coconut cream and cardamom, are compelling enough that you may be prompted to experiment with making your own at home.
3. Senza Gluten
206 Sullivan St., nr. Bleecker St.; 212-475-7775
Senza Gluten bills itself as the "first completely gluten-free Italian restaurant in Greenwich Village," which may be true. When it's firing on all cylinders, the dining room might as well be a trattoria in a parallel universe where wheat flour never existed. Discs of buffalo mozzarella are finessed with prosciutto and arugula on nicely browned flatbreads, while penne pomodoro and thick lasagna noodles layered with Bolognese serve up none of the lifelessly grainy or mushy attributes that can befall alternative pastas elsewhere. Lunch-hour sandwiches come on baguettelike bread that has an appealingly decent briochelike crumb, and even the truffled egg-in-a-hole brunch dish, served in a risk-takingly stout wedge of no-gluten white bread, impresses with soft texture and toasty crust.
4. The Little Beet Table
333 Park Ave. S., nr. 25th St.; 212-466-3330
The menu here is in fact centered on a mission statement for diners that, among other things, means everything on the menu — from the Ipswich Saison to bowls of soup and cavatelli — is gluten-free. The slightly more formal offshoot of the fast-casual Little Beet, this spot changes its menu often, and the best dishes are entrées like strip steak or roasted branzino (the picks that happen to most closely resemble solid bistro food, in other words), while desserts like the ice-cream sundae with salted chocolate cookies stand out.
5. Friedman's
Multiple locations
The prevailing greasy spoon–esque ethos here means that blueberry pancakes can be ordered gluten-free, along with chicken and waffles that work around the flour dredge and batter. Pastrami on rye is a particularly compelling choice for gluten-adverse diners, as it hews to peppery classic-delicatessen specs. In fact, the majority of the mini-chain's all-day offerings steer clear of gluten by design. Attentive servers are knowledgeable about all of the ingredients involved, and can also guide customers through a gamut of potential allergens or any other restrictions.
Guadalupe Inn
1 Knickerbocker Ave., at Johnson Ave., Brooklyn; 718-366-0500
At Ivan Garcia's handsome Bushwick restaurant, the citrus-soaked charred-cauliflower "ceviche" comes in one of those broad-rimmed white bowls with a small dip in the middle, and large-format dishes like trompito for two are nothing if not ambitious. The restaurant is still finding its footing, but the entire menu, from the fried-cod tacos to the churros with cajeta, is prepared without gluten.
Hometown Bar-B-Que
454 Van Brunt St., at Reed St., Brooklyn; 347-294-4644
As the essential ingredients tend to be salt, pepper, meat, and smoke, barbecue parlors can be great havens for diners who cannot consume gluten. It's best to pick one where the ribs are smoked every morning and the pork is pulled around the clock. New York's preeminent smoked-brisket establishment fits that bill mightily, with caveats: Regular bread is the vehicle for Hometown's sandwiches; there's no getting around the wheat in the queso macaroni and cheese; and soy figures into the sauces. But pit beans simmered with burnt ends and juicy, porky collards are among the cross section of sides that can be ordered with abandon. Plus, the wonderfully dark and oaky bark on the brisket does not need one iota of sauce.
Kesté
Multiple locations
The love that an untold number of New Yorkers have for Roberto Caporuscio's pizzeria seems to knows no bounds, and it may come as no surprise that its long-running gluten-free menu has a near-fanatical following of its own. The pies don't always achieve the same oven-blistered puffy heights as their standard issue Neapolitan counterparts, but that's a tall order, and the wealth of top-notch toppings, like cool buffalo mozzarella, more than make up for the underinflation.
Oca
250 Mott St., nr. Prince St.; 212-966-0622
The term tapiocaria may at first not inspire much consumer confidence, but consider that 800 million people bank on powdered cassava root (a.k.a. yuca or manioc) as a food staple. Crêpes made from the stuff also happen to be delicious, organic, and gluten-free. This tiny Brazilian café provides specific cal counts and nutritional info with its adorable, wispy namesake "ocas." Savory and sweet options abound, but versions that do a little of both (grilled pineapple and Feta with pepper and mint, for example) astound the most.
Rubirosa
235 Mulberry St., nr. Prince St.; 212-965-0500
Flashes of some of New York's enduring red-sauce joints were baked right into Rubirosa, and these days the seven-year-old restaurant has the ineluctable feel of an old-school Little Italy pizzeria. There's no discernible difference between gluten-free chicken parm and decent bread-crumbed versions doled out in the immediate neighborhood, and the fried calamari is likewise as crisp and oil-free as floured versions, delivered hot to the table trailing the pleasant aroma of a freshly baked cake. As for pizza, the gluten-free "classic" has a rice-cracker-like crispness and mellow sweetness of corn. The crust is thin, with the same cheese and sauce application as the regular pies, and one that can be traced directly to the venerable Joe & Pat's of Castleton Corners, Staten Island, at that. It's just about as classic as it can get.
Springbone Kitchen
90 W. 3rd St., nr. Sullivan St.; 646-368-9192
What at first seems like a handsome storefront containing a monsoon of generally overblown food trends — butter coffee, turmeric bone broth, spiralized zucchini — quickly settles into something more accessible once the menu is deciphered. Coffee is from La Colombe, and collaborations like the recent "Paleo hot chocolate" with Red Hook's Raaka Chocolate keep things interesting. When add-on guac and an optional egg are skipped, the caramelized-onion burger on a gluten-free bun admirably approaches classic luncheonette standards.
White Maize
277 Smith St., nr. Sackett St., Brooklyn; 347-946-2493
Arepas like the ones found here and at (the unrelated, but also great) Caracas are griddle-crisp on the outside and steamy within, and because the master recipe calls for a certain kind of precooked corn flour, there's no need for wheat. Pulled beef and cheese, chicken dressed with avocado salad, and wonderfully melty bean-and-cheese arepas lead the pack. Tequeños, which are a bit like Venezuelan mozz sticks, contain wheat, but just about everything else excludes gluten.