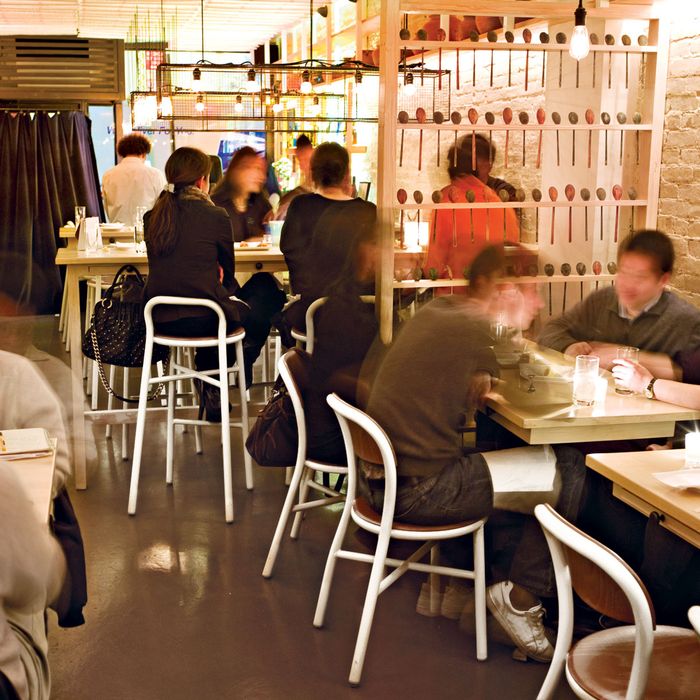 Danji has a casual downtown vibe and superb Korean small plates.
Photo: Danny Kim/New York Magazine
Dinner can be theater, yes, but when you've got tickets to a Broadway play, that's not so much its point. You probably want a meal of a particular kind: at a restaurant worthy of a special evening, but not necessarily its main event; where the food is wonderful but not necessarily show-stopping; where the service is fast and efficient (you've got a curtain to make, after all, or a bed to get home to, especially if it's a weeknight); and where you can make a reservation, or at least have a reasonable expectation of getting a table in a timely fashion. Lastly, of course, it should be within short walking distance of most theaters. (Tenth Avenue is just too far!) There are many, many places to eat in and around the Theater District, but here are the absolute best for having exactly the right kind of dinner there.
1. Danji
346 W. 52nd St., nr. Ninth Ave.; 212-586-2880

Danji might be the hippest restaurant in Midtown West, in the vein of downtown and Brooklyn spots like Momofuku Noodle Bar or Franny's, managing to straddle the line between fast-casual and fine-dining and driven by a conscientious, frenetic momentum that keeps meals inherently fast-paced but never rushed or sloppy. It's a style that turns out to be perfectly suited to theater-going: You can be in and out and still feel like you've had the full experience. Almost all seating in the tiny, spare-but-stylish dining room is communal, at either the bar or at long, high tables lined with stools, and the menu is loose in terms of coursing, a lively mix of exceptional modern-Korean small plates meant for sharing. "Tofu with ginger scallion dressing" sounds like the kind of disappointing lump you might find on a second-rate pan-Asian takeout menu, but here it means creamy cubes of the fresh stuff wearing ethereally light jackets of fried potato starch that are somehow both chewy and crackly. A rich dish of the dense Korean rice cakes known as ddukbokki, tossed in a sweet and spicy sauce and layered with stringy melted cheese, is confounding and addictive. And unlike many of its counterparts below 14th Street, Danji takes reservations, starting at 5 p.m. It also stays open late — till midnight on weekdays and 1 a.m. on weekends.
2. db Bistro Moderne
55 W. 44th St., nr. Sixth Ave.; 212-391-2400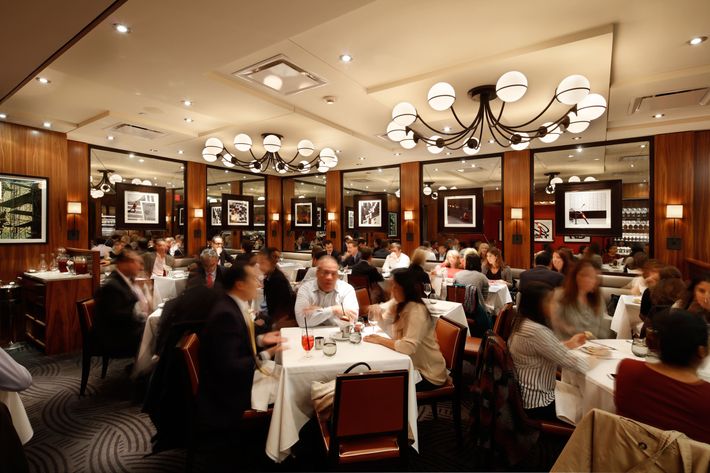 Though it reads "Midtown" loudly — situated in what is technically the lobby of a bland hotel, with the carpeting to prove it — this outpost of Daniel Boulud's empire is surprisingly cozy and inviting, especially if you sit in the front bar room, where the Parisian touches are tasteful and charming (and the menu is the same). The $50 prix fixe, which includes both refined French bistro classics like pork rillettes and seasonal specials like orecchiette with venison ragout and roasted root vegetables, is specifically designated as pre-theater. But you could make just as snappy a meal out of what the kitchen is probably best known for: its whoppingly priced short-rib black-truffle foie-gras burger ($35, these days). Better yet, another specialty de la maison, which might be one of the best dishes in the whole city: the $18 escargot fricassee "Olivier Muller," so named after the chef who invented it. It's an ingenious tangle of spaetzle, delicately earthy sautéed snails, crisp-skin chicken "oysters," parsley, and sweet, meaty hazelnuts for crunch. With a glass of white wine and a selection of breads served in a sterling-silver cup lined with butcher paper, it makes a light and affordable supper.
3. Szechuan Gourmet
21 W. 39th St., nr. Fifth Ave.; 212-921-0233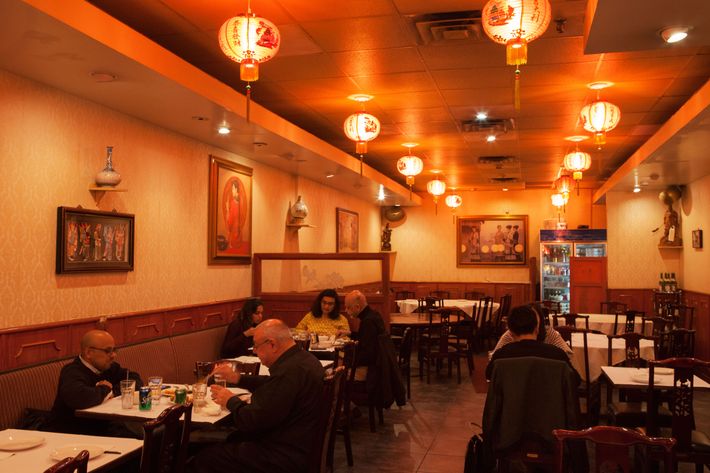 It may seem like a fluke that there's a great Sichuan restaurant in Midtown; in fact there are several, but this one, an anchor of the bunch, happens to be the best. In the afternoon it can be a zoo, packed with office workers breaking up the monotony of the workday with strong doses of chili oil, but in the evening it tends to clear out and calm down, making it easy to get a table. The service is speedy any time of day, and you can be in and out of the modest but white-tablecloth dining room in an hour, having feasted from a menu that will please the widest spectrum of eaters. For the boldly adventurous: ox tongue with tripe and fish filets with pig's head jello. For the General Tso's crowd: top-notch versions of American-Chinese standards like scallion pancakes and sliced chicken with baby eggplant. And for anyone in between, a bounty of tantalizing Sichuan classics, from cold diced rabbit with peanuts and spicy cucumber salad to stir-fried shredded potato with hot peppers and a mean, luscious mapo tofu.
4. Chez Napoleon
365 W. 50th St., nr. Ninth Ave.; 212-265-6980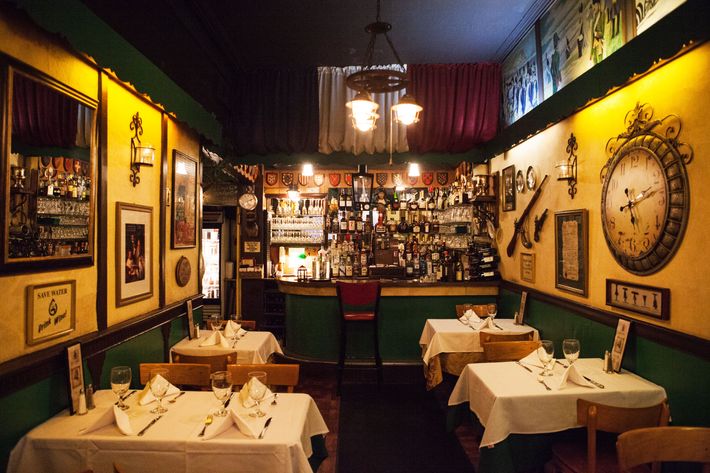 There are plenty of old-school French restaurants in the area, but the proprietors of this one seem to have the lowest tolerance for bullshit, which is a stance that they've earned: The place has been serving unpretentious, plainly delicious, rustically classic French cooking since 1960 and doesn't miss a beat. There are cold leeks drizzled in the house vinaigrette (which can be purchased at $8 a bottle), foie gras served with a glass of chilled Sauternes, a hearty beef bourguignon, a delicate filet de sole meunière that comes with two orbs of unseasoned boiled potato. Reservations are accepted — recommended, in fact — and the prix fixe is just $34. Be warned, however, that if you want to finish your meal with one of the signature, majestic soufflés (Grand Marnier, chocolate, lemon, vanilla, or coffee), you must order it as soon as you arrive — and at $25 it costs almost as much as dinner.
5. Orso
322 W. 46th St., nr. Eighth Ave.; 212-489-7212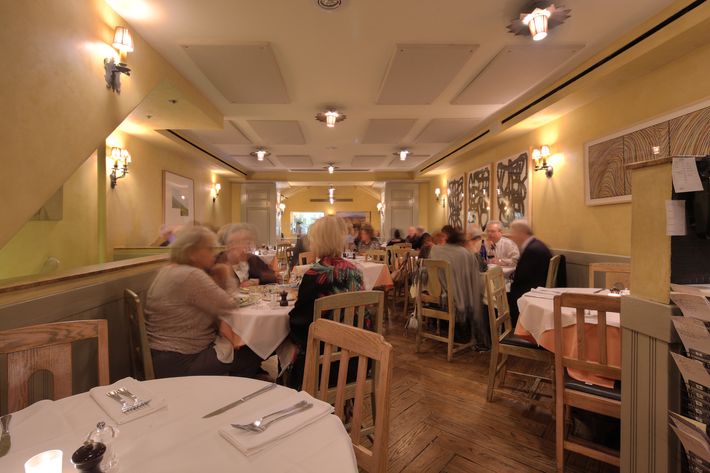 Anyone charmed by Nora Ephron will understand why she was so charmed by Orso, sister restaurant to Joe Allen, the more famous theater haunt across the street. "My idea of a perfect night," she once wrote, "is a good play and dinner at Orso." The exterior is unassuming, but the intimate dining room is one of the coziest in New York, with warm light reflected in the blush-pink marble floor in the foyer and the blonde parquet in the dining room, plus golden-hued walls hung with good art. It's a place for grown-ups, whether you are one or are being taken to the theater by your parents. And it feels authentically Italian, not just because of how straightforward and delicious the food is — crusty, squishy bread with complimentary white bean dip; perfectly al dente rigatoni with meat sauce and crumbled Parmesan; grilled lamb chops with roasted potatoes (all served on beautiful painted terra-cotta dinnerware) — but also because it doesn't take itself too seriously, despite being something of a celebrity gathering place. You get the sense that the exceptionally gracious and capable staff members, many of whom have made careers there, have seen it all before.

Honorable Mentions
Becco
355 W. 46th St., nr. Ninth Ave.; 212-397-7597
It might sound lowbrow, the idea of getting a "symphony" of three unlimited pastas (served by waiters who rove around with big bowls of each) plus an appetizer (a choice of Caesar salad or antipasto misto) for just $24.95. But at Becco, a boisterous restaurant from Lidia and Joe Bastianich, it manages to be delightful, good fun, and fast. The pastas are simple classics — fusilli bolognese, mushroom ravioli, pappardelle tomato and basil — and there's an à la carte menu for traditionalists.
Casellula
401 W. 52nd St., nr. Ninth Ave.; 212-247-8137
As with Danji, Casellula feels out of place in Midtown, and even in New York, for that matter: It has a rustic vibe with no hint of self-consciousness, all exposed brick and wood and bright, airy calm, like the cool café in a sleepy college town. A beautiful glass case displays an impressive array of cheeses, which is the main attraction here, served with creative accompaniments like curry-cashew brittle, red-wine currants, or sesame tuile. There's also, naturally, an excellent wine list and a menu of other quick but elegant eats, from mustard-miso pickles to mac and cheese.
Don Antonio
309 W. 50th St., nr. Eighth Ave; 646-719-1043
Like at Kesté, downtown, with which Don Antonio shares an owner, the atmosphere here leaves something to be desired — the space is darker and narrower than would be ideal. But also like at Kesté, the bubbly-crusted Neapolitan pizza, slung hot and fast from the oven, is the real deal. Don Antonio's co-owner is the proprietor of one of Naples's most beloved pizzerias, known especially for varieties made with lightly fried dough and smoked mozzarella.

Esca
402 W. 43rd St., nr. Ninth Ave.; 212-564-7272
You'd do better not to rush a meal at this Batali-Bastianich stalwart, one of New York's absolute best upscale seafood restaurants, where partner Dave Pasternack's menu is lengthy and full of exciting, unusual, and sustainable delicacies, from halibut crudo in sunflower oil to razor clams in spicy pumpkin broth to hearty lionfish ragout. That said, the staff are absolute pros at getting you in and out in timely fashion.
The Bar at Gabriel Kreuther
41 W. 42nd St., nr. Sixth Ave.; 212-257-5826
Gabriel Kreuther, with its four-course prix-fixe menu and $90 caviar supplements, feels like a restaurant for leisurely fine dining. But the bar area — although it slightly resembles a very luxurious airport lounge — is a great place to more quickly and less expensively enjoy refined versions of Alsatian specialties, like a plump country sausage stuffed with Comté cheese and served with warm sauerkraut and lavender-scented mustard, or one of Kreuther's signature tarte flambées. And the top-notch servers, game to the theater ritual, will thoughtfully ask if you have any time constraints and happily oblige your exact specifications.
Joe Allen
326 W. 46th St., nr. Ninth Ave.; 212-581-6464
Directly across the street from Orso, Joe Allen is not quite as homey, and the menu is a bit boringly American: meatloaf and grilled chicken plus some half-hearted ethnic options like guacamole and Thai vegetarian stew. But it remains charmingly iconic, with its gallery of Broadway-flop posters and stiff drinks and good burger. There's even a dish of demi-glazed calf's liver with spinach and mashed potatoes for when you're running low on iron and/or want to feel like it's 1950.
Sardi's
234 W. 44th St., nr. Eighth Ave.; 212-221-8440
Sardi's may be a bit dusty these days, but what it lacks in glamour it makes up for with a heady sense of history and romance. A person could spend hours gazing at the caricatures that line the walls, or at the besuited servers as they prepare very decent Caesar salads tableside. Order the solid club sandwich to share with your date, and they'll thoughtfully split it — plus the enormous pile of fries that comes with it — onto two plates. Upstairs at the bar, a penniless hopeful can still make a meal out of Ritz crackers with a pot of cheese (those are no longer free, but just $3 gets you a generous amount) and even catch a glimpse of a star of screen and stage; the great Laurie Metcalf sipped a drink nearly unnoticed just the other night.
Sushi of Gari 46
347 W. 46th St., nr. Ninth Ave.; 212-957-0046
Is there any meal more naturally speedy and elegant than sushi? This small branch of the Upper East Side original is only slightly nicer-looking than your average neighborhood sushi spot, but start with a seaweed salad and you'll realize immediately that the ante is much higher here: Rather than the usual slimy, neon-green scoop, you'll get a delicate, frilly tangle, served with a side of creamy onion dressing for seasoning to taste. The fish itself, super fresh and beautifully prepared, is good enough to completely spoil you on your neighborhood sushi spot.