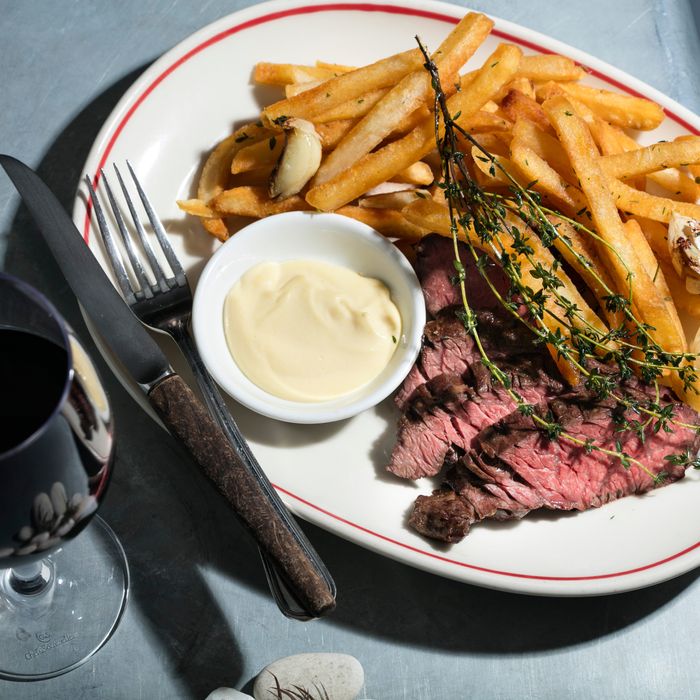 Houseman's steak-frites.
Photo: Melissa Hom
One of the nicest things about steak-frites is how it gives the diner an out from the often overblown and performative nature of talking about beef. The realm of steak-frites in bistro culture is typically free of the one-upmanship that sometimes follows sales pitches for the enzymatic magic at work within 250-day-aged porterhouses, not to mention the stratospheric pricing schematic of deluxe prime rib. No one here sells their own steak knives, let alone cutlery embossed with the Turin-shroud impression Salt Bae. They focus on decent, first-rate steaks, and crunchy fries. Here are the absolute best steak-frites in New York.
1. Houseman
508 Greenwich St., nr. Spring St.; 212-641-0654
Going against two centuries of culinary wisdom and eons of the Maillard reaction, it turns out that chef-owner Ned Baldwin is something of a meat heretic, because his stance is that hanger steak is best when barely-charred on the outside. The kitchen portions Black Angus from Pino's, and in fact gives some consideration to each side in a hot but not scorching cast-iron pan, before finishing steaks in the oven for ten minutes. After the hanger rests ten minutes more, it returns to the pan, now practically foaming with butter, whole garlic cloves, and herbs. The sliced meat is top-notch, uniformly cooked, and pink from "edge to edge," as Baldwin puts it. The coup de grâce is the fantastic French fries, which are tossed in the buttery, garlicky pan juices at the time of plating.
2. David's Cafe
110 St. Marks Pl., nr. First Ave.; 646-678-3206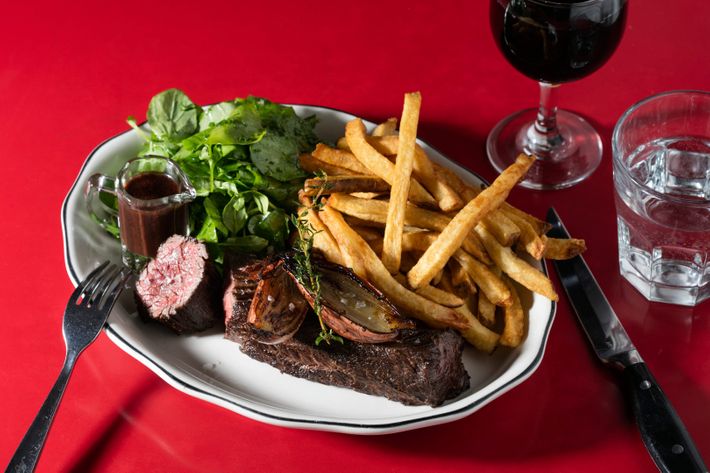 David Malbequi, who worked top jobs at Rôtisserie Georgette, Daniel, and BLT Market, can cook circles around just about every other professional in the five boroughs. He browns eight-ounce hanger steaks in cast iron with molten butter, garlic, thyme, and bay leaf. Petals of shallot confit are warmed in the pan, and frites come in hot and snappy from the fry station. Malbequi's steak is topped with black-garlic maître d'hôtel butter in the summer, and Bordelaise — made from scratch, with veal stock, wine, shallot, more thyme, and a glug of vinegar — during chillier months.
3. Cherche Midi
282 Bowery, at Houston St.; 212-226-3055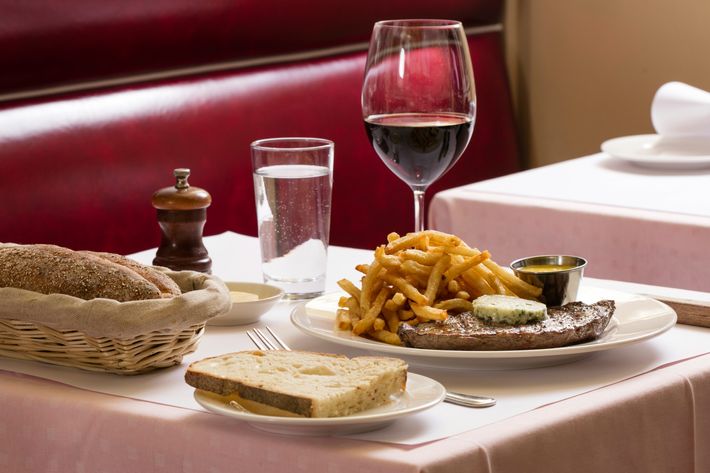 The kitchen grills a butterflied hunk of teres major, or shoulder tender, which is tender like the name suggests, but doesn't yield as easily as, say, a hanger steak. Swiping small pieces of steak through béarnaise is really the whole point, anyhow, and Cherche Midi's version is discernibly superior, with its yolky and buttery parts barely cajoled into sauce. The steak gets a lump of butter; a coating of finely ground sea salt on the fries lends a flash of iodine. Go early, solo, and sit at the hammered copper bar with steak and a carafe of Beaujolais.
4. Le Relais de Venise L'Entrecôte
Multiple locations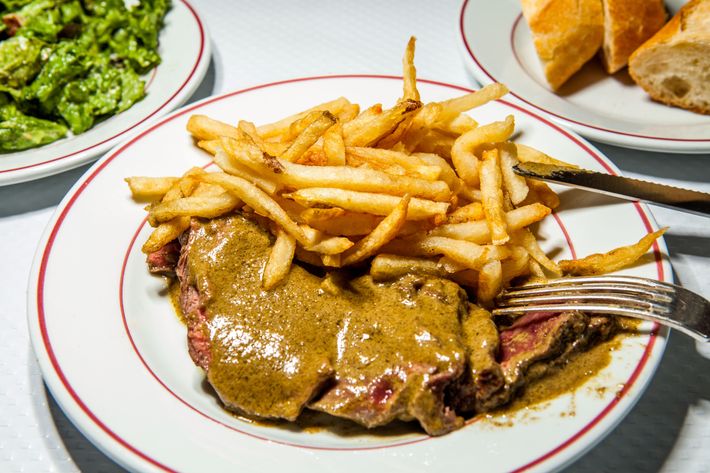 One of France's unlikeliest exports is this chain, and its solitary menu offering: a meal of dressed salad, grilled and sliced strip steak, and fries. Service is hyperefficient, meat can be lean and floppy, and there's no ketchup. But here's the thing: The price of admission has barely budged since its 2010 Manhattan debut, a bottle of house Bordeaux costs about the same price as a steak, and diners can get a second helping of sliced meat and fries upon request, or if it's that kind of day. And of course there's that special sauce everyone raves about, rumored to contain chicken livers, anchovies, tarragon, savory, white wine, shallots, mustard, butter, cream, and gargoyle tears collected from the rain spouts of the Notre-Dame. Finally, no one ever really needs ketchup.
5. Prime Meats
465 Court St., at Luquer St., Carroll Gardens; 718-254-0327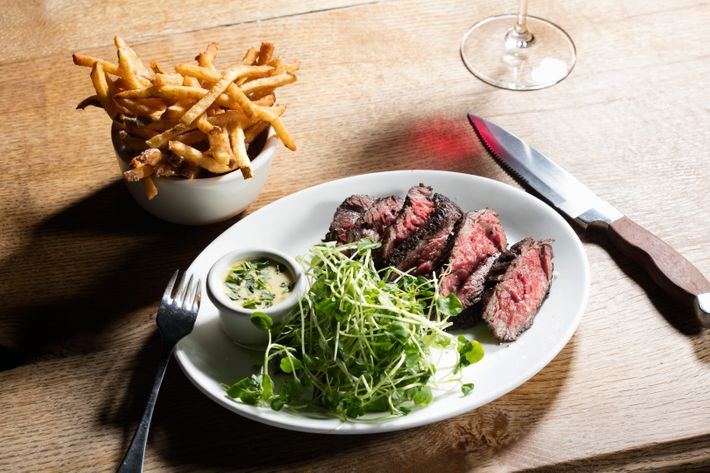 Germanic and broader European influences loom large at Frank Falcinelli and Frank Castronovo's Carroll Gardens restaurant, which is wood-paneled and beef-forward. The fries are spectacular, perhaps because the chefs are mavens of solid technique, and the steak is bavette, an ultratender cut from the flap of the loin. The sear is fast and hot, which, when ordered mid-rare, leaves the center perfectly red and cool.
6. Minetta Tavern
113 Macdougal St., nr. Bleecker St.; 212-475-3850
Here's another Keith McNally spot that adheres to time-honored specs. The cut is shoulder tender, butterflied and grilled. When given the choice of maître d'hôtel butter and béarnaise sauce, ask for both. You might as well get a side of mayonnaise for the fries, too.
7. Augustine
5 Beekman St., at Nassau St.; 212-375-0010
At Keith McNally's palatial Financial District restaurant, which is also his first hotel project, the menu set for steak-frites departs from the trusty McNally kitchen "maître d'hôtel butter or béarnaise" formula (see Cherche Midi and Minetta Tavern) in favor of ocher-tinted café de Paris butter, a pleasantly old-school, multicomponent topper that adds oniony, herbal-sharp, and umami dimensions to the meat without overwhelming its flavor.
8. Walter Foods
Multiple locations
Few word combinations are as pleasing as "bar steak," which here means an immense, nine-ounce skirt steak, a fistful of dressed greens, and more shoestrings than Foot Locker. In a twist, the two side sauces in steel ramekins are horseradish cream with sea salt, and chimichurri, which, when applied in tandem, are a great, herby garlic alternative to the French butters and butter sauces most often associated with the steak-frites genre.
9. Côté Soleil
50-12 Skillman Ave., nr. 50th St., Woodside; 347-612-4333
Owner Vincent Caro worked at Le Bilboquet and earned cred at golden oldie Tout Va Bien before debuting a cozy spot of his own, on the Queens border of Woodside and Sunnyside. New York strip is offered with generous ladles of green-peppercorn or blue-cheese sauce. The latter is a welcome change of pace, especially with one of the bistro's affordable bottles of red.
10. Raoul's
180 Prince St., nr. Sullivan St.; 212-966-3518
The fries are famous, as is the crust of cracked peppercorns fused to the steak, mellowed out by an insanely hot sear. "Raoul's is popular because it serves every need," wrote Seymour Britchky, here, in 1980. "Everybody comes to Raoul's." Like every other ounce of Soho, Raoul's may not seem as egalitarian as it once was, limited-availability burger included. But when the dining room is dark, the steak tastes a little smokier, and it's easy to imagine an edgier New York. What's creamy, brandied au poivre, anyway, but a time machine in sauce form?
11. Boucherie
99 Seventh Ave S., nr. Grove St.; 212-837-1616
The dining room is thronged with out-of-towners and McNally-esque vibes, and over at the wood-fired grill, former Pastis chef de cuisine Jerome Dihui flips (of course) pricey Pat LaFrieda beef, which is served rosy pink. Fries have a roughed-up, double-cooked crispness, and Dihui's peppercorn sauce has the deep flavor of classic bisque.
12. Tournesol
50–12 Vernon Blvd., nr. 50th St., Long Island City; 718-472-4355
The hanger steak has a handsome mantle of char, and someone in the kitchen has clearly done some deep thinking about what makes for a solid French fry. Prices are as low as the atmosphere is charming, which, despite the high-stakes steaks represented elsewhere on this list, is how things should be.
13. Café Luxembourg
200 W. 70th St., nr. Amsterdam Ave.; 212-873-7411
There's less legacy on display at Odeon co-founder Lynn Wagenknecht's sister restaurant uptown. Cafe Luxembourg's didn't glow on the Bright Lights, Big City cover, after all, or inspire Lena Dunham's famed butt tattoo. But add on Roquefort and a tassel of microgreens to the fantastically beefy strip steak, and the place takes on a fun, throwback, Paris-by-way-of-1980s–New York feel.
14. Orsay
1057 Lexington Ave., at 75th St.; 212-517-6400
It's a fine spot for deeply charred steak, served with a tiny wooden steak commemorating the customer's requested level of doneness, but honestly, the fries and dainty sidecars of béarnaise are as much of a draw, along with the escargot dishes spackled with parsley butter whirling through the dining room and the roving crudités trolley.
15. L'Antagoniste
238 Malcolm X Blvd., at Hancock St., Bedford-Stuyvesant; 917-966-5300
The beef, from Vermont supplier Royalton, is well-marbled, dry-aged, and served intact and unsliced, so juices from the rested meat mix with the green-peppercorn sauce once the steak knife swings into action. It's an unfussy and satiating steak, great for a weeknight dinner.
16. L'Express
249 Park Ave. S., at 20th St.; 212-254-5858
Most kitchens wind down by 11 p.m., while those open later tend to switch over to a line-cook autopilot around 2 a.m. or even earlier. While it may not be the fanciest bistro in town, L'Express deserves plaudits for its bona fide 24-hour operation. It's the only spot in town where diners can chow down on an impressive half-pound hanger steak at 4 a.m., followed by a chaser of escargots bourguignonne at 5. That's a beautiful thing.
17. Olivier Bistro
469 Fourth Ave., nr. 11th St., Park Slope; 718-768-6600
One of the more generously portioned, inexpensively priced steaks is the grilled hanger at this underrated Park Slope bistro, which, had it opened on Smith Street in 1999, would have been a major talking point for a generation of motivated Realtors. Fries are crisp, and in particular, cooks are adept at searing meat on all sides, giving it a good rest, and leaving the inside super rare.
18. Dominique Bistro
14 Christopher St., at Gay St.; 646-756-4145
Boucherie's sister restaurant serves N.Y. strips with the bone in, an untraditional but good choice. Slices are suffused with more vestigial funk than a boneless cut, and in any case, the flavor of buttery meat is amped up with actual butter, usually compounded with herbs de Provence or chopped tarragon. No one will judge if you order the fries in their "truffled" format, which involves the hopelessly uncool, pungently aromatic, and somewhat spurious oil.
19. Quatorze Bis
323 E. 79th St., nr. Second Ave.; 212-535-1414
The Upper East Side's resolutely Parisian bistro doubled down on its promise of "no fusion or foams" by emerging from a recent spruce-up without changing, well, much at all. The cream-colored walls and Kir Royales are the same, as are the clientele, consisting mostly of folks who were either name-checked in a 1990s Vanity Fair profile or depicted at a black-tie gala on the "Styles" page that ran opposite Bill Cunningham's candids. It's not much of a surprise that the béarnaise is textbook perfect and the fries are hot. In a surprise twist, though, the steak is sirloin.