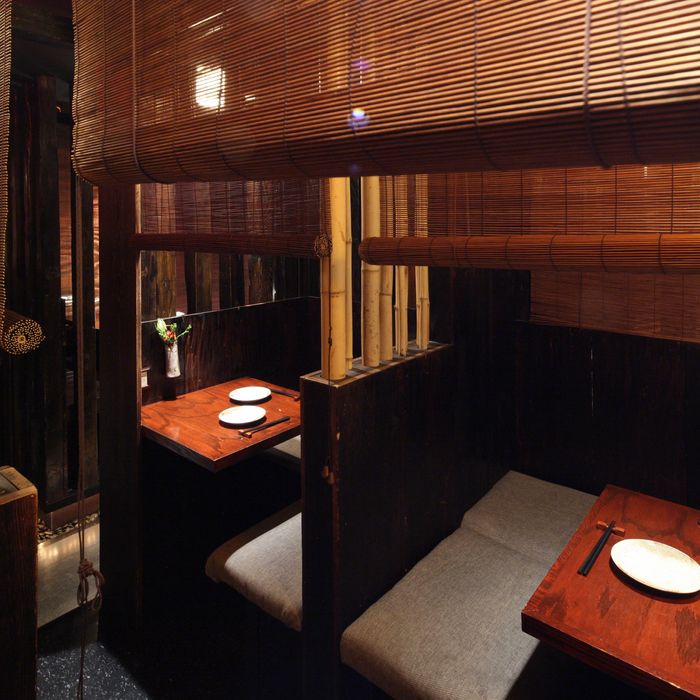 The city's coziest wooden booths at Zenkichi.
Photo: Melissa Hom
Valentine's Day approaches, and unless you're one of those "it's nothing but a Hallmark-holiday" haters, it's time to start looking into dinner reservations for February 14. If, like Grub Street, you're a lover of restaurants, not to mention a lover of New York, you may find most of the city's restaurants romantic, each in its own way. But here we present arguments for the very best romantic restaurants, good for any time of year.
1. Zenkichi
77 N. 6th St., nr. Wythe Ave., Williamsburg; 718-388-8985
Pretty much everything about Zenkichi is quietly sexy and vaguely illicit-feeling, from the mysterious, windowless, wood-planked exterior to the mood-lit, spalike lobby and the dark staircase that leads up to the dining area: a mirrored labyrinth of narrow walkways lined with stones and bamboo stalks and the city's coziest wooden booths, each made just barely private by a rattan blind that servers gently roll up and down each time they approach and depart. The soundtrack is jazz, of course. The menu is izakaya-inspired, so most dishes are on the daintier side and easy to share: airily fried seasonal vegetable tempura with truffle salt; buttery-fleshed, miso-marinated grilled black cod; a delicate grilled rice ball with a brûléed cap of spicy roe mayonnaise. For a little more pomp and circumstance, or if you're extra hungry, you can opt for a $75 eight-course omakase, but no matter what, you're unlikely to leave in a food coma.
2. Eleven Madison Park
11 Madison Ave., at 24th St.; 212-889-0905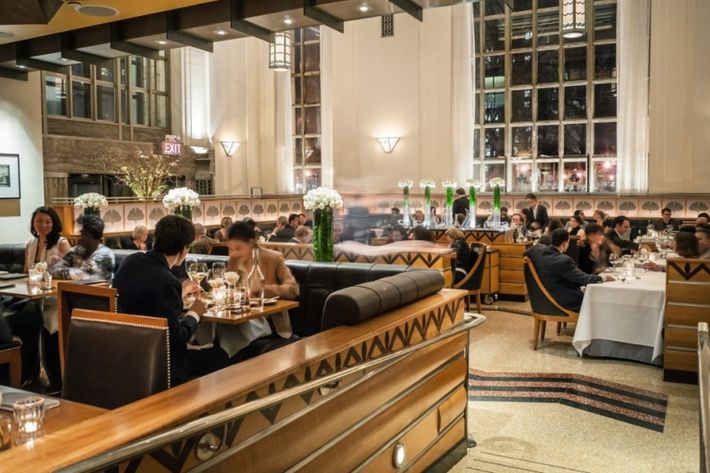 Widely considered to be one of the city's very best restaurants, period, Eleven Madison Park is an obvious destination for a special occasion. It's incredibly expensive, at $145 per person for the bar-area tasting menu and $295 for the dining room ($175 and $350 on Valentine's Day), including service but not wine. But the meal in itself is a special occasion, a theatrical experience to be savored and shared. The soaring-ceilinged Art Deco dining room is one of the most beautiful in Manhattan, and perched on the edge of one of the island's most charming parks, to boot. Reservations made well in advance are a good idea but walking in at the last minute is sometimes possible, too, if you're willing to sit at the bar, where you can even order à la carte. That might be the most romantic option of all: dropping in for a light meal of caviar with Benton's ham or a foie gras tart and a glass of wine, just because you feel like it. It won't be cheap, either, but it might make you feel like the city's most exclusive doors are open to you, and like spontaneity can yield great rewards.
3. Katz's Deli
205 E. Houston St., at Ludlow St.; 212-254-2246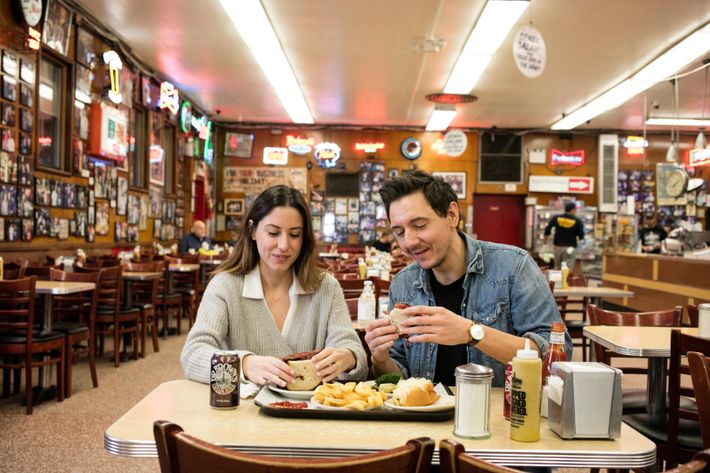 Forget that scene from When Harry Met Sally — that's not why Katz's is romantic. Or don't forget it, but let us explain why it's not the only reason Katz's is romantic. It's because it's one of the great, astonishingly unchanged New York institutions, utterly true to itself, utterly appealing for all its quirks and imperfections, all neon lights and nostalgia. There's absolutely no pressure, just plenty of ordinary-looking diner-style, seat-yourself tables, a charmingly gruff and efficient old-school counter staff, and the promise of damn good deli food — which is especially romantic if you're introducing it to someone who's never had it. They'll fall in love with the pastrami sandwich, and with you.
4. Vinegar Hill House
72 Hudson Ave., nr. Water St., Vinegar Hill; 718-522-1018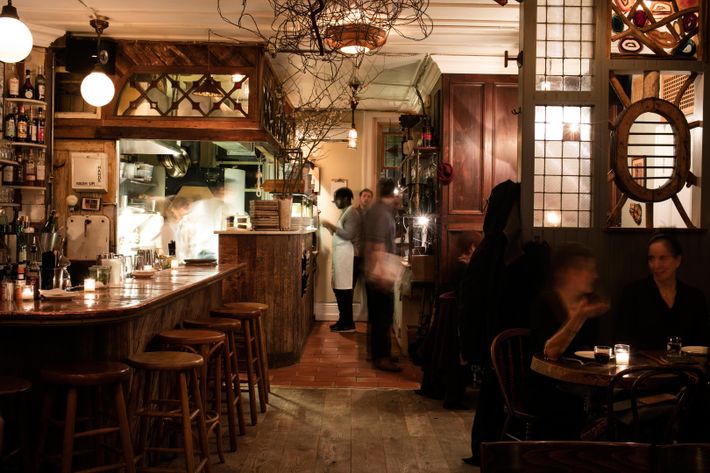 On the other hand, sometimes all you want to do is get out of the city, and if you can't make it all the way to Blue Hill at Stone Barns (or can't afford it), the cobblestone streets of the tiny, DUMBO-adjacent neighborhood known as Vinegar Hill can feel positively, romantically bucolic. The vibe of its best-known restaurant is transportative too, exceptionally cozy and more convincingly rustic than many, from the genuinely antique farmhouse décor to menu mainstays like the wood-roasted, Red Wattle pork chop and the cast-iron chicken. (Balanced out by a trendy gem-lettuce salad and plenty of craft cocktails, of course.)
5. Buvette
42 Grove St., nr. Bleecker St.; 212-255-3590
It's something of a challenge to find a restaurant in the West Village that's not romantic, so picture-perfect is the neighborhood, and French food is lusty by nature. Buvette has managed to be so romantically and authentically Parisian that its American owner, Jody Williams, has actually opened an outpost in the city of love, in the 9th arrondissement, a kind of reverse import. There's often a wait for a table, and once you're seated you may end up as close to a stranger as you are to your date, but everything about the experience is darling and the food is both elegant and comfortingly homey. Pretty much everything is delicious but the tartinette with salted butter and anchovy tastes a lot like love.
6. I Sodi
105 Christopher St., nr. Bleecker St.; 212-414-5774
If Jody Williams knows from romance, it stands to reason that her wife and fellow restaurateur Rita Sodi would too, and indeed, Sodi's namesake restaurant, I Sodi, just around the corner, trades on a slightly different but equally potent brand of it. It's a bit more polished and formal but even smaller and more intimate, with warm but unintrusive servers who know precisely how to work the room and put you at ease. The food, unfussy Tuscan here, is just as appealingly accessible and reliably exceptional; the wine list is wonderful; reservations are accepted. All the trappings of a perfect night.
7. Lalo
104 Bayard St., nr. Baxter St.; 646-998-3408
The food at Lalo, a "New Age '70s Mexican Diner" dreamed up by the singular young chef Gerardo Gonzalez, late of El Rey Coffee Bar and Luncheonette, will give you something to talk about, the first requirement of any good date. There are ingredients you've never heard of and unlikely combinations galore: a snack of dehydrated chile strawberries and rose-flavored peanuts; a vegan Caesar salad with nutritional yeast; squid stuffed with hibiscus and chorizo. And you'll want to share, so you can try everything; helpfully, both the excellent carnitas and the milk punch come in portion sizes ranging from "single" to "familia" — with "lovers" in between. Plus, there are banquettes with curved corners, which make for easy snuggling.
8. Prune
54 E. 1st St., nr. First Ave.; 212-677-6221
The magic of Prune is in the chef and owner Gabrielle Hamilton's ability to make the ordinary seem extraordinary. On paper, her slip of a dining room in the East Village sounds like nothing special; in person, it feels like a Place to Be. And who knew that Triscuits and sardines could prove to be the most elegant appetizer in town, or shaved dark chocolate on a piece of crusty, olive-oil drizzled bread a revelation? Dinner at Prune can change the way you look at things you took for granted, and make you feel grateful for them — a very romantic feeling indeed.
9. al di la
248 Fifth Ave., at Carroll St., Park Slope; 718-783-4565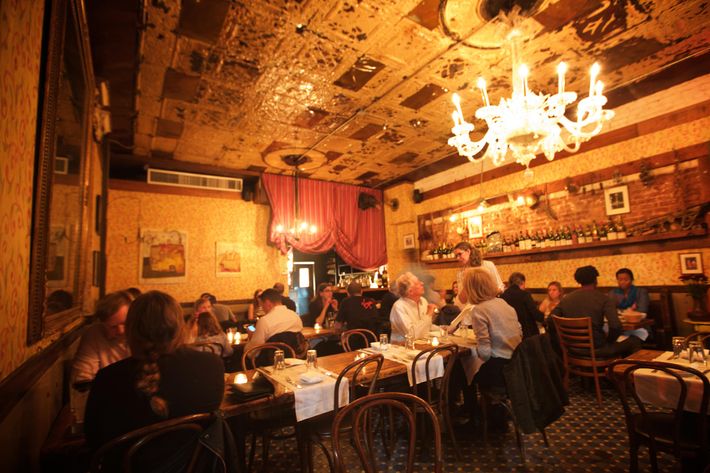 Fingers crossed, al di la will never change: It's the ultimate neighborhood restaurant in the most neighborhood-y of Brooklyn neighborhoods. Park Slope has become such a punch line that it's easy to forget it's actually still a lovely place, and pushing through the heavy drapery to get past the restaurant's front vestibule gives you the subtle, relaxing feeling that you're entering an ideally warm and cozy corner of it. The menu doesn't change much, meaning that old couples can rely on revisiting that dish of oxtail and cuttlefish over polenta or tagliatelle with ragu they remember so fondly — and new ones can discover them.
10. Russ & Daughters Cafe
127 Orchard St., nr. Delancey St.; 212-475-4881
If you've stayed in bed all day, there's perhaps nowhere better to have breakfast for dinner, whether it's silky smoked Nova and buttery sable on a bagel, or potato latkes with caviar and Champagne. If it's daytime, even better: It's perfectly romantic at breakfast and lunch, too, dappled with the sunlight that pours through windows in both the front and the back, and on a weekday, you might be able to linger.
11. Dumpling Galaxy
42-35 Main St., nr. Franklin Ave., Flushing; 212-518-3265
It's much easier to find great food in Flushing than it is to find atmosphere, and though Dumpling Galaxy is technically in a shopping mall, it's the rare establishment to offer both. There are plenty of sleek, semi-private-feeling booths to cozy into, and over 100 varieties of excellent dumplings to choose from — and what kind of person is not passionate about dumplings?
12. La Grenouille
3 E. 52nd St., nr. Fifth Ave.; 212-752-1495
For the oldest-school, oldest-world kind of formal elegance, complete with miniature shaded lamps on every table, lush flower arrangements, gracious service, and hopelessly, romantically extravagant classic French dishes like truffle souffle, filet mignon with foie gras, and flambéed crêpes.
13. Hangawi
1 E. 32nd nr., Madison Ave.; 212-213-0077
There might be nothing so disarming — or relaxing, for some — as being asked to remove your shoes and sit on or near the floor for dinner. This is not to suggest that Hangawi is casual; instead, it's a temple to vegetarian Korean food, and feels both ceremonial and comfortable. The menu, centered around the idea of balance, offers dishes like rice with todok, a root considered to be an aphrodisiac.
14. Karasu
166 DeKalb Ave., at Cumberland St., Fort Greene; 347-223-4811
Secrecy can be a shortcut to sexiness, and while Karasu, accessible only through a door in the back of another restaurant (Walter's, in Fort Greene), isn't a particularly well-kept secret, it does manage to feel extremely private and exceptionally quiet. It's a glowingly lit, well-appointed little hideaway, with a much fuller menu than you'd expect from a place that looks like a cocktail bar, with entrées and all, including a koji prime rib for two.
15. Minton's
206 118th St. nr., Adam Clayton Powell Blvd.; 212-243-2222
Minton's already had a lot going for it in the romance department — a plush retro vibe, live jazz, great cocktails — before the talented young chef J.J. Johnson, of the lauded Cecil, next door, took over the kitchen. Johnson was working both kitchens for a while but as of this month the Cecil is no more; the restaurants have merged. With J.J. Johnson focusing all his energy in one place, the food at Minton's can only get better.
16. Semilla
160 Havemeyer St., nr. S. 2nd St., Williamsburg; 718-782-3474
Semilla, which lives in the quieter, slightly grittier half of Williamsburg that hasn't yet quite turned into Soho, has all the romance and intimacy of a sushi bar or chef's counter but sets itself apart by being unusually vegetable-centric, which means that the dishes are at least surprising and at most thrillingly spectacular. It also means that the cost of the tasting menu, at $85, feels appropriate for a special occasion but not like an enormous splurge.
17. Lucali
575 Henry St., nr. First Pl., Carroll Gardens; 718-858-4086
If you're in the mood to take your chances, or to hole up at a bar for a few hours while you wait for a table, you can do no better than Lucali, which is an intensely romantic experience once you do get seated. It's one of the coziest, most perfectly lit dining rooms in town, warmed by the big brick oven in the back, intimate but definitively uncramped, with many fewer tables than could be crammed into the space. There's not much to think about other than how many excellent pizzas you should order and if you're hungry enough for a calzone, too. The servers, who you get the sense are part of the family, are lovely. Plus, it's BYO.
18. Diner
85 Broadway, at Berry St., Williamsburg; 212-486-3077
The neighborhood has changed tremendously since Diner opened in 1999, but the things that made Diner charming from the start hold strong: It's still in a cozy, converted-but-minimally-so retro train car; it's still just a short walk from the East River bank with its fantastic views of the Manhattan skyline; and the daily changing menu is still straightforward and top-notch.
19. Nathan's Famous Hot Dogs
1310 Surf Ave., nr. Stillwell Ave., Coney Island; 718-946-2022
You can get a Nathan's hot dog pretty much anywhere these days, and the branding lacks charm, but the original location, just steps from the boardwalk, still makes for one of the greatest cheap dates of all time.