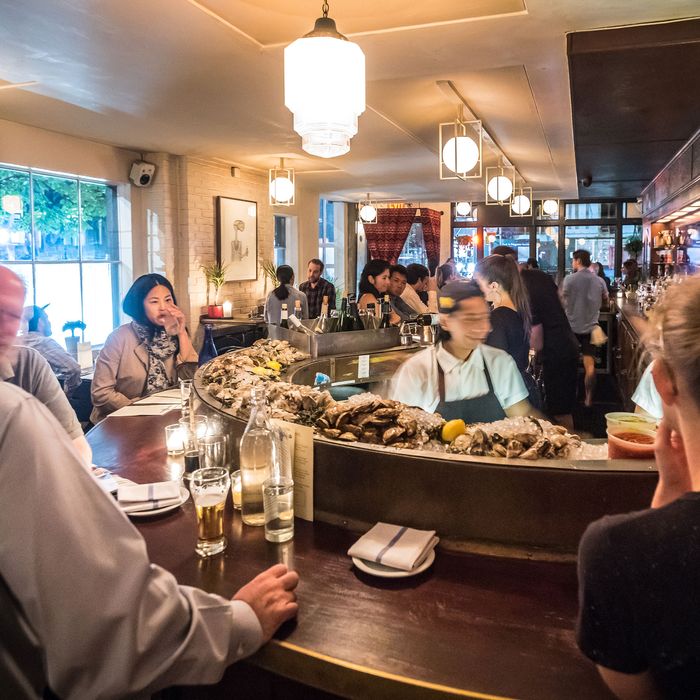 Grand Army is the quintessential neighborhood pub.
Photo: Noah Fecks
The handful of blocks framed by Atlantic Avenue, Flatbush Avenue, Tillary Street, and Court Street has seen an explosion of development and gentrification in the last decade. While the area may not yet have much of an identity beyond "new," it does have some surprising, under-the-radar gems. (It was even home, briefly, to César Ramirez's vaunted Chef's Table at Brooklyn Fare, before the chef and his Michelin stars decamped to Manhattan.) Whether you're a local, or just visiting the area to see a movie at Alamo Drafthouse, these are the absolute best places to grab some food while you're there.
1. Grand Army
336 State St., at Hoyt St.; 718-643-1503
Let's be honest: "Downtown Brooklyn" is less a traditional neighborhood and more a cluster of new high-rise condos. Yet the area is home to Grand Army, which embodies all of the ideals of a perfect neighborhood pub. There are the drinks, from co-owner Damon Boelte and bar director Kevin Baird, which change seasonally — the summer menu was My Little Pony–themed; the fall drinks are named after Townes Van Zandt songs and lyrics — and always manage to be filled with all sorts of intriguingly esoteric ingredients (chile liqueur, Oloroso sherry, tequila, mezcal, and passion fruit all show up in the Skies Full of Silver and Gold). And there is chef Kimberly Plafke's raw bar, which overflows with crab legs, local oysters, and as many cocktail-sauced shrimp as you could ever want. While considering the rest of the menu, one finds that it's filled with the kinds of steak tartares and fresh, vaguely healthful veggie dishes that a regular could happily eat multiple times a week. And speaking of frequent visits, the overall vibe is so comfortable and welcoming that it practically begs people to drop in anytime they're within a ten-block radius — even if it means taking the elevator from their new condo down 30 flights to get there.
2. Circa Brewing Co.
141 Lawrence St., nr. Willoughby St.; 718-858-0055
The soaring industrial space feels a bit out of place, both for this particular part of town, and for New York in general. But the fluffy, blistered pizzas that emerge from the kitchen — originally run by Luke Bruckert and now overseen by chef Danny Brown — are some of the city's most criminally underrated, especially a version topped with soppressata that arrives fully crisped by the heat of the wood-burning oven. Given the name (and the massive steel mash tuns that loom over the space), you also expect beer. Mark Szmaida handles brewing duties and keeps a rotating supply of expertly made, you-can-only-get-them-here saisons, stouts, and hoppy, hazy IPAs ready to go.
3. DeKalb Market Hall
445 Albee Sq. W., nr. DeKalb Ave.; 929-359-6555
A food market is defined by its roster of vendors, and DeKalb Market Hall's collection makes an impressive statement. To start, there is a Katz's stand, which lacks the ramshackle fluorescent-lit charm of the full delicatessen but nevertheless turns out textbook pastrami sandwiches that live up to the reputation of the Lower East Side originals. Elsewhere in the market, pulled-pork sandwiches, saucy chicken kebabs, pickle-packed chicken sandwiches, gooey cheeseburgers, and Ample Hills ice cream are all accounted for, as well. And even though they aren't technically part of the hall itself, you'll also find pizza from Fortina, or face-melting dan dan noodles from Han Dynasty if you're in the mood for a sitdown dining experience. Hey, there's even a Trader Joe's if you'd rather just buy some rosemary-fig crackers. Really, the only thing holding DeKalb Market Hall back is the fact that, as one descends the City Point escalator into this neon-lit, hypercaloric food court, it's impossible to shake the feeling that you are, without a doubt, eating in the basement of a mall. It's a nice mall, and the food is uniformly impressive, but the subterranean space can be both a literal and figurative downer.
4. Yaso Tangbao
148 Lawrence St., nr. Willoughby St.; 929-337-7599
When it opened in 2015, the clean brick-walled space, gentle prices, and speedy counter service made this Shanghainese street-food destination feel like a chain in waiting. And in fact, two more locations have sprung up since, all built on a foundation of twirled-top soup dumplings, with yielding skins and hefty liquid fillings. (Go for the pork and blue crab.) The big surprise might be that everything else on the menu delivers, too: Firm cold noodles stand up to their peanut dressing; chunks of chilled cucumber are tossed with garlic; and the pan-fried baos, with their pillowy tops and toasty bottoms, are among the best dumplings in New York.
5. Junior's
386 Flatbush Ave. Ext., at DeKalb Ave.; 718-852-5257
Is Junior's a diner? A deli? Some mash-up of the two? At this late stage of its life — the restaurant opened in 1950 — it's mostly a tourist trap. But it's a New York icon and it is almost impossible to sit down for a meal without leaving happy. (Even if the signature cheesecake is too dense and overly sweet.) The staff is always in a good mood, there is a 100 percent chance that the sprawling menu will include anything in the world that you might want to eat, and at the very least the portions are huge. Also, the cocktail bar in back is a friendly place for a Manhattan on the rocks if you just want to relax without having to worry, in the slightest, about any faux-speakeasy, mixology nonsense. All told, Junior's is like a Disney version of "classic New York," and it would be an actual tragedy if anything happened to change that.