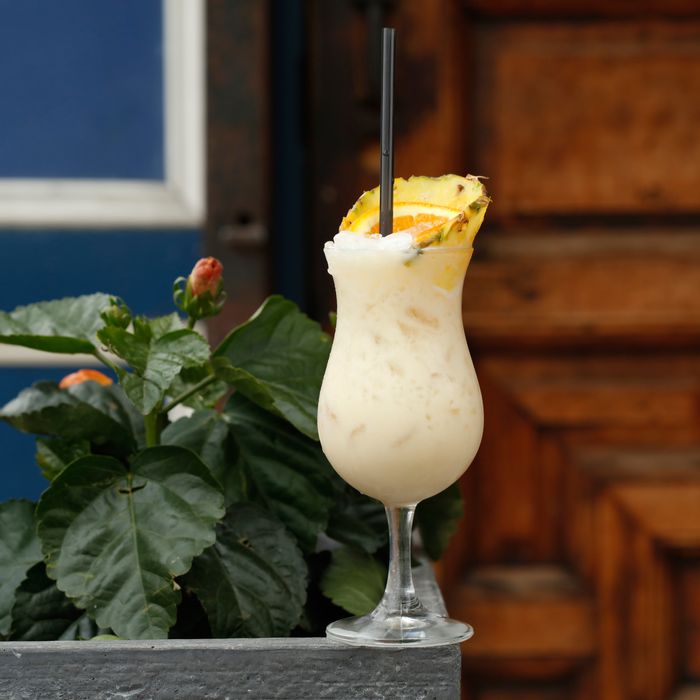 Shaken, not blended, and just the right amount of trashy.
Photo: Melissa Hom
A piña colada is not the first cocktail you think of in New York, but when made right it's one of the world's great drinks. Here are the seven spots that make the best in New York:
1. Fort Defiance
365 Van Brunt St., at Dikeman St., Red Hook; 347-453-6672

A bartender's bartender and one of the city's grand bon vivants, Fort Defiance owner St. John Frizell is also a piña colada savant. The version he serves at his Red Hook bar is based on the "original" recipe: El Dorado five-year rum; Coco Lopez, which is just the right degree of trashy; a significant amount of pineapple; some heavy cream, often excluded these days; and a hit of lime, a welcome addition that helps cut through the drink's richness. That's all then shaken, not blended, creating a surprising texture that's almost fluffy.
2. Suffolk Arms
269 E. Houston St., at Suffolk St.; 212-475-0400

One way to upgrade almost any piña colada: Add a floater, maybe some overproof rum or a nice liqueur. Or, in the case of the so-named Improved Piña Colada at this Lower East Side bar, the bitter Italian aperitivo Campari. It's weird, but it works. The Campari amplifies the sweetness of the other ingredients — including passion fruit and spiced Sailor Jerry rum — while also cutting through the drink's richness.
3. Donna
27 Broadway, at Dunham Pl., Williamsburg; 646-568-6622

Head bartender Jeremy Oertel once admitted that it would be his head if he dared take the Brancolada off the menu. The "Branc" in the name refers to Branca Menta, the decidedly un-Caribbean, bracingly minty amaro that tastes not unlike fancy mouthwash. But in Donna's slushie machine, it melds with the Appleton V/X rum and coconut cream to create a delicious drink that's eerily reminiscent of a tropical riff on mint-chocolate-chip ice cream. Have another.
4. Old Stanley's
226 Wyckoff Ave, nr. Menahan St., Bushwick; no phone

It's custardy thick, packs a wallop of rum, is just a little sweet, and sets you back a mere $8. The piña colada at this Bushwick faux dive is also dispensed from somewhere under the bar — a point of origin that becomes even less clear as you get a few more drinks into the night. No matter. The most important thing to know is that it's also far better — and more consistent — than versions that sell for twice as much in fancier establishments.
5. The Rum House
228 W. 47th St., nr. Broadway; 646-490-6942

Despite this midtown bar's name, there's no piña colada on the menu. And if you order one, the bartender will tell you that the drink they serve isn't really a piña colada at all. Do not be deterred. All it means is that there's lime in this recipe, and that it's served in a goblet, poured over four oversize ice cubes. So it's not a proper piña colada. Yet the drink, with smooth El Dorado rum serving as the base, is excellent — no matter what you want to call it.