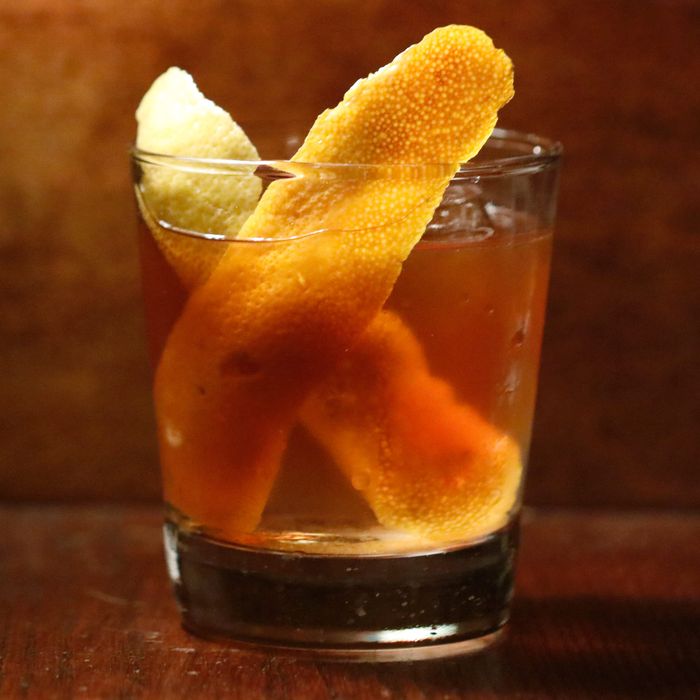 Austere, fiercely traditional, and absolutely perfect.
Photo: Melissa Hom
To help find New York City's best old-fashioned, Grub Street turned to Robert Simonson, the author of The Old-Fashioned. (In other words, he wrote the book on the subject.)
1. Dutch Kills
27-24 Jackson Ave., nr. Dutch Kills St., Long Island City; 718-383-2724

Dutch Kills stands in here for what could be called "the Sasha Petraske standard." This is the kind of old-fashioned you will get at any of the bars founded by the late visionary tavern keeper or his many disciples. (This includes Little Branch, Middle Branch, Fresh Kills, Seaborne, and Attaboy.) The Petraske old-fashioned is austere and fiercely traditional, with a muddled sugar cube and Angostura bitters, and festooned with his classic "rabbit ears" lemon-and-orange-twist combo. It's as dry and strong as any in the city. And for some reason, Dutch Kills has always served the best version of the family specifications. If I could only choose one old-fashioned to drink the rest of my life, it would be this one.
2. Amor Y Amargo
443 E. 6th St., nr. Ave. A; 212-614-6818

A rock-solid, super-simple old-fashioned. Nothing fancy about it, just impeccably built, with Old Overholt rye, cane syrup, and Angostura bitters all seamlessly stitched together. Barman Sother Teague asserts a little individuality by throwing in a couple dashes of orange bitters and insisting on a lemon twist only. Added points for serving the drink in a true (that is: tiny) old-fashioned glass, rather than the more typical double old-fashioned glass.
3. Gallagher's Steakhouse
228 W. 52nd St., nr. Broadway; 212-245-5336

A sad fact of city life for the old-fashioned drinker is that the burg's ancient steakhouses and taverns — the places that should be making the best old-fashioneds in the city, simply because they've kept in practice throughout the decades — in fact make the worst. Bad well liquor, chemically treated maraschino cherries, muddled fruit, squirts of seltzer, antiquated methods, and lazy bartending all lead to old-fashioneds that provoke (and probably wouldn't be ruined much by) salty tears. An exception is the recently revamped Gallagher's Steakhouse in midtown. Veteran mixologist Dominic Venegas consulted on the cocktail menu when the eatery reopened in 2014, and the bar staff has stuck by his instructions. Two years and more on, the house old-fashioned remains sturdy and satisfying.
4. Prime Meats
465 Court St., at Luquer St., Carroll Gardens; 718-254-0327

As a general rule, interesting touches that help define a joint's signature old-fashioned — maple syrup instead of sugar, a touch of Oloroso sherry, unusual bitters, etc. — are just that: interesting. They don't make a better drink, just a different one. The Prime Meats old-fashioned, however, is the exception. It is made the same as many other traditional, pre-Prohibition rye old-fashioneds, with the exception of the bitters. They are Bartlett pear bitters, first concocted by bartender Damon Boelte, who discovered a pear tree in the backyard of the restaurant. It's an unorthodox touch. But it transforms the drink into one of the best, and brightest, examples of the cocktail in the city.
5. Quarter
676 Fifth Ave., nr. 20th St., Sunset Park; 718-788-0989

Old-fashioned old-fashioneds — that is, pre-Prohibition, fruit-free expressions — tend to be executed with a mindful hand, whereas old-fashioneds with muddled fruit are often sloppy, slapdash affairs. The exception is the old-fashioned at South Slope's Quarter, which owner David Moo correctly terms "carefully considered." The orange, housemade cherry, and sugar are tightly muddled, the rye lovingly stirred in, and the ice is good. It's all very controlled. The result tastes like what muddled-old-fashioned advocates say their version of the cocktail is supposed to taste like: a delightful fruit punch.
6. Blueprint
196 Fifth Avenue, nr. Berkeley St., Park Slope; 718-622-6644

Blueprint has quietly been doing the craft-cocktail thing on Fifth Avenue in Park Slope for five years, to little fanfare. Which is why you may not have heard of their old-fashioned, which is as good as any in the city. They confidently opt for bourbon (any bar that reaches for Elijah Craig for their old-fashioned knows what they're about), use raw sugar instead of syrup, and, to show they're entirely doctrinaire, plop an unmuddled, house-macerated cherry on top. Watch the bartenders as they make them. They pay attention. It shows.