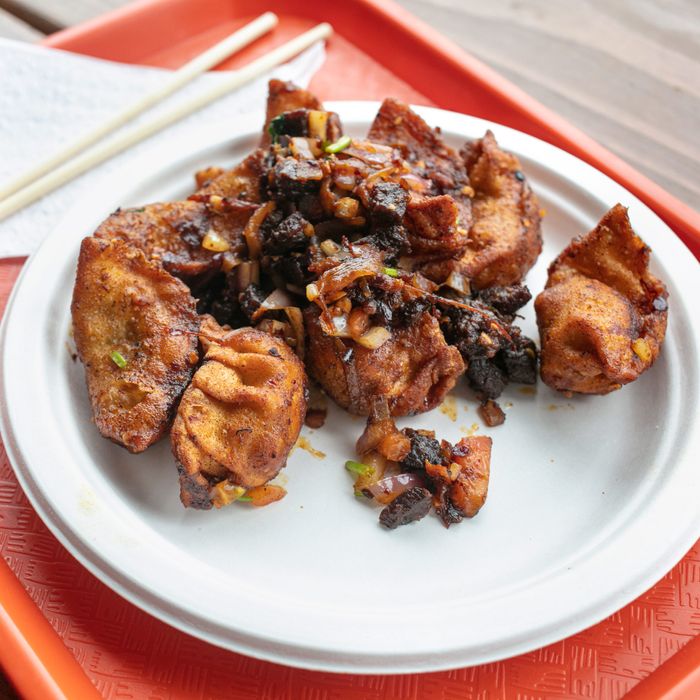 Momo Crave's sukuti momo.
Photo: Melissa Hom
The juicy Himalayan dumplings called momo make an excellent introduction to the cuisines of Tibet and Nepal, and can be found in great profusion and variety throughout Jackson Heights, Woodside, and Elmhurst, where many expats reside. That part of Queens is so blessed with superior specimens, it hosts an annual momo crawl that crowns a winner every September, and draws devotees from the borough and beyond. Here, a guide to the absolute best momo in Queens (and, therefore, New York).
1. Momo Crave's Sukuti Momo
38-07 69th St., Woodside; 718-255-1714
Kathmandu-born Mingma Sherpa specializes in what can be best described as fusion momo at the restaurant she opened in 2018. Taco momo festooned with guacamole, tomato, and black beans is a tribute to the Mexican food trucks that line nearby Roosevelt Avenue, and tandoori momo served on a skewer nod to Nepal's neighbor India. They're both as tasty as they are inventive, but the most crave-able variety happens to be one of the most traditional, the sukuti momo. Golden fried beef-filled crescents are tossed with soy sauce, chiles, and ginger and topped with meaty nubs of "buff jerky" — the air-dried buffalo called sukuti — along with fresh cilantro, tomatoes, and onions. The resulting buff-on-beef combo with its savory, slightly sweet flavor may may call to mind Indian-Chinese cuisine, but according to Mingma, it's Nepali all the way.
2. Lhasa Fast Food's Sha Momo
37-50 74th St., Jackson Heights; 646-256-3805
Despite the name, there's nothing fast about the momo at chef-owner Sang Jien Ben's legendary hidden Tibetan restaurant in Jackson Heights. Once you spot the sign located in the vestibule, trek to the back where you'll be rewarded with the heady aroma of sha momo, juicy beef dumplings filled and steamed fresh to order. Seasoned with Sichuan peppercorn, celery, ginger, and garlic and served in a bamboo steamer, the round pleated dumplings call to mind xiao long bao, or Chinese soup dumplings, and are almost as juicy but sturdier of wrapper. Like XLB, they take well to the black vinegar on the table, but the aggressive chile sauce also has its fans. These cult momo have not only made the humble place a dumpling destination, but can also be found on the menu of a spiffier Elmhurst outpost called Llasa Fresh Food.
3. Phayul's Fried Beef Momo
Phayul 1, 37-65 74th St., second fl., Jackson Heights; 718-424-1869; Phayul 2, 37-59 74th St. (entrance on 37th Rd.), Jackson Heights; 718-433-9696
Chef-owner Chime Tendha's Phayul is surely the only Tibetan restaurant in New York with two locations directly across the street from each other. The original lies up a narrow staircase, and like several other of the neighborhood's momo parlors has the ramshackle aura of a hidden establishment complete with open kitchen. The newer location is decidedly fancier, featuring flocked wallpaper, a chandelier with blue-and-red lights, and round gilt plaques of Buddhist religious imagery. Both serve truly amazing fried beef momo. Frying transforms the pleated round packages into golden-brown delights whose crackly mantle encloses a juicy, piping-hot core filled with beef seasoned with Sichuan peppercorn, ginger, and red onion. They are excellent on their own and even better with a bit of black vinegar and either of the two hot sauces: one a chile paste of the sort commonly seen at Chinese restaurants, the other an orange-hued Tibetan sauce known as sepen that gets its zing from a mixture of chile, ginger, garlic, and onion.
4. Woodside Cafe's Momo in Pink Cream Sauce
64-23 Broadway, Woodside; 347-642-3445
Back when Woodside Cafe opened in 2010, the awning promised Italian food in addition to Indian, Nepali, and American fare. The menu even offered pitch-perfect pasta puttanesca. Today, it's almost all Nepali, but thankfully New York City's only momo with an Italian accent — essentially momo alla vodka — remain. Chef-owner Purushotam Khadgi hails from Kathmandu, Nepal's capital, but he worked for a decade at Sotto Cinque on Manhattan's Upper's East Side, hence his signature "momo in pink cream sauce" which draw their culinary DNA from the classic pasta dish. Since many South Asians don't partake of alcohol, Khadgi leaves out the vodka, but the dumplings are lovely nonetheless. For an added kick, ask for some fiery house hot sauce.
5. Momochai's Beef Jhol Momo
57-16 Woodside Ave., Woodside; 347-730-6089
"If it's hot, then it's soup momo," says Subash Lama when asked about the room-temperature, sesame-scented broth that bathes the jhol momo at this small restaurant situated well outside of the momo ground zero of Jackson Heights in Woodside. Every other restaurant that makes jhol momo, or dumplings in broth, serves them in a piping-hot spicy soup, but Lama's sister, Januka Maskey, decided to prepare the dish the way they do in the summertime in Nepal. The result is a wonderful contrast, piping-hot beef dumplings in cool sauce made of sesame, ground soybean, and cilantro that tastes more Middle Eastern than Himalayan. The meat in the thin-skinned crescent-shaped momo is ground fresh daily, resulting in an almost fluffy texture.
6. Nepali Bhancha Ghar's Goat Jhol Momo
74-15 Roosevelt Ave., Jackson Heights; 718-806-1409
The jhol momo — dumplings in a head-clearing chicken-and-tomato soup seasoned with garlic and green chile — is a revelation at this restaurant whose name means "Nepali eating house." Most people get beef, but the sleeper hit is the goat. The musky meat is wrapped in a sturdy green wrapper that gets its color from spinach and stands up well to the soup.
7. Lungta Asian Bistro's Beef C Momo
75-16 Broadway, Elmhurst; 917-745-1777
"C" stands for chile at this Elmhurst spot named for the wind horse, a common figure on Tibetan prayer flags. Order the C momo and you'll be presented with eight crescent-shaped dumplings glazed in sweet-and-spicy chile sauce atop a sizzling bed of onion and cabbage. The blazing-hot platter lets off almost as much steam as a horse climbing the chilly peaks of the Himalayas. Take in the show while the orange-red dumplings cool. If you happen to look up while eating them you'll notice the ceiling, which bears a golden wheel of dharma, is the same color as the C momos, an auspicious and tasty coincidence indeed.
8. Prince Ama Himalayan Halal Kitchen's Emchi Momo
37-56 74th St., Jackson Heights; 718-406-9036
When is a momo not quite a momo? When it's an emchi momo, a fluffy steamed bun filled with ground beef, seasoned with soy sauce and black pepper. This novelty is served in a set of four along with fiery radish pickle, an equally incendiary hot sauce, a small bowl of beef broth, and a side salad from a hidden kitchen in the back of Prince Kabab & Chinese Restaurant. Walk past the steam tables to find a red-and-gold seating area decorated with large photos of life in Tibet. As at many Tibetan restaurants, there's an altar high above the cash register featuring a photo of the Dalai Lama; caught mid-bite, he still manages a smile. When asked the meaning of emchi, the woman behind the counter said it means American. Perhaps the American part of this set meal is the side salad.