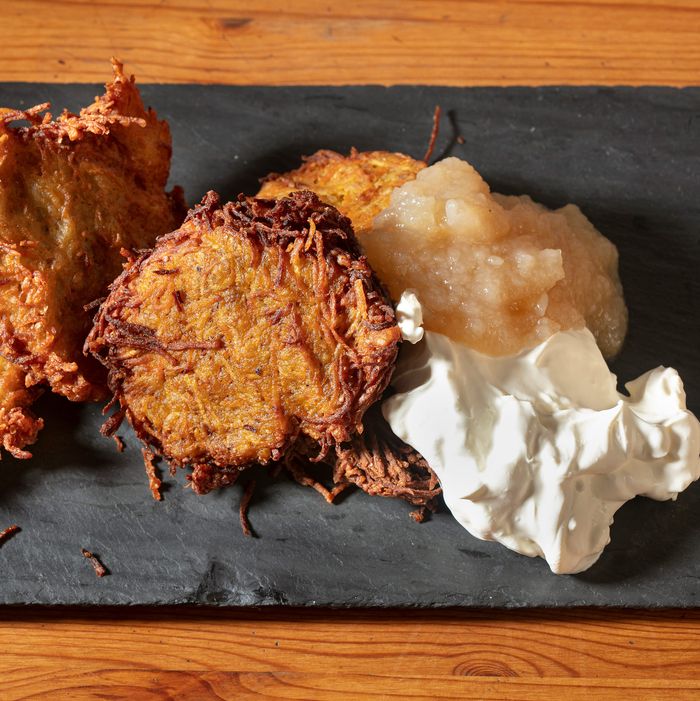 Shelsky's latkes.
Photo: Melissa Hom
It's hard not to love a latke. The golden-brown potato fritters, which are a hallmark of Hanukkah celebrations and a ubiquitous menu item at Jewish delicatessens, tick all the comfort-food boxes: crunchy, starchy, salty, and (when dolloped with applesauce) a little bit sweet. But not all latkes are created equal. The best specimens are light rather than leaden and have multidimensional flavor. Fortunately, New York is rife with great latkes of all persuasions, from crisp disks of lacy potato shreds to what are essentially fried mashed-potato patties. Whether your consumption is limited to the week of Hanukkah or you indulge year-round, here are the best latkes in New York.
1. Shelsky's of Brooklyn
141 Court St., nr. Atlantic Ave., Cobble Hill; 718-855-8817
The potato latkes at Cobble Hill's smoked-fish shop and delicatessen are textbook perfect — toasty and golden with onion-forward flavor and copious flecks of flinty black pepper. But the true showstoppers are the sweet-potato-and-celeriac latkes. The sunset-colored fritters are custardy and gently sweet with a flavor at once familiar and unexpected. And the lacy, caramelized edges are obsession worthy. Both versions are takeaway-only (with or without sour cream and housemade chunky applesauce), but the counter staff will gladly griddle one up for immediate snacking gratification.
2. Russ & Daughters
Multiple locations
The latkes at New York's appetizing icon prove that when it comes to starchy satisfaction, size doesn't matter. The petite fritters are abundant in flavor, with creamy shredded potatoes hiding under the coppery crust and wisps of onion curling out along the edges. Latkes are available for takeout at the Manhattan shop and Brooklyn Navy Yard outpost. For sit-down latkes, grab a booth at the Orchard Street café where the fritters come with either applesauce and sour cream or crème fraîche and pearls of salmon roe. The Lower Sunny Side breakfast plate also pairs latkes with eggs and smoked salmon.
3. Mile End Deli
97A Hoyt St., nr. Pacific St., Boerum Hill; 718-852-7510
Brooklyn's Montreal-inspired delicatessen turns out latkes that would satisfy noshers on either side of the border. The half-inch-thick patties are tender and savory with a mahogany cap and generous crunch around the edges. Order them straight up — they come three to an order with sour cream and applesauce dressed up with cinnamon, maple syrup, and cider vinegar. Or gild the lily with the Mont Royal breakfast platter, which pairs the fritters with smoked salmon and caviar.
4. B&H Dairy
127 Second Ave., nr. St. Marks Pl.; 212-505-8065
The general rule at this beloved all-day kosher diner is that if it goes on the griddle, it is bound to be great. The latkes are no exception. The mashed-potato base has ample oniony flavor and a polentalike creaminess. The crust, meanwhile, achieves the trifecta of golden, crisp, and not overly greasy. Pair your order with a bowl of B&H's rosy, cabbage-studded borscht for unparalleled comfort.
5. Katz's Delicatessen
Multiple locations 
Katz's may have built its five-generation reputation on juicy pastrami, but the latkes are also top-notch. The generously sized fritters are sturdy and full-flavored with a just-right ratio of tender insides and crisp, bronzed patina. Latke cravers can skip the mad crush in front of the sandwich counter and head for the latke station in the back. Brooklynites, meanwhile, can skip Manhattan entirely and visit the Katz's outpost at Dekalb Market Hall.
6. Barney Greengrass
541 Amsterdam Ave., nr. 87th St.; 212-724-4707
Tucking into a plate of latkes in the vintage dining room at this Upper West Side temple of appetizing is the stuff of New York legend. But the oval-shaped potato pancakes, with their paper-thin crust, pillowy interior, and flavor reminiscent of potato leek soup, are just as tasty packed into a plastic clamshell at the takeaway counter.
7. Essen New York Deli
1359 Coney Island Ave., nr. Ave. J, Midwood; 718-859-1002
Don't expect sour cream with your latkes at this glatt kosher delicatessen — with meat on the menu, dairy is verboten. Here's what you can expect: latkes as rich and savory as potato kugel, a satisfying layer of toasty crunch around the edges, and a stainless-steel gravy boat brimming with applesauce. Chances are good that you won't miss the dairy.
8. Veselka
Multiple locations
Late-night carb seekers know to head to the East Village's 24-hour Eastern European outpost. Along with pierogi, stuffed cabbage, and other classics, the latkes serve serious comfort-food vibes. The snow-white interior — essentially a mound of finely shredded hash browns — is bound by a crackly crust. They are tasty as is, but even better serving as the starchy base for Veselka's salmon and latke eggs Benedict.
9. Shalom Japan
310 S. 4th St., at Rodney St., Williamsburg; 718-388-4012
Williamsburg's Jewish-Japanese restaurant celebrates Hanukkah by giving its okonomiyaki (savory Japanese pancakes) the latke treatment. Its cabbage, onion, and bean-sprout batter gets augmented with heaps of shredded russet potatoes. After a bath in hot oil, the pancakes are topped with crème fraîche and salty ikura roe, then garnished with scallions, ao-nori, and bonito flakes for a dazzling combination of earth and sea. Shalom Japan's "okonomi-latke" is available this year from December 17–31.
10. 2nd Avenue Deli
Multiple locations
Celebrate Hanukkah (or any night) in old-school style at the 2nd Avenue deli. There, the football-shaped latke patties arrive dense and peppery with a delightful crackle around the perimeter. Skip the sour cream (which is dairy-free in accordance with kosher tradition) and slather them with housemade applesauce instead. Or opt for their cheekily named Instant Heart Attack, which sandwiches corned beef, pastrami, turkey, or salami in between two potato pancakes.