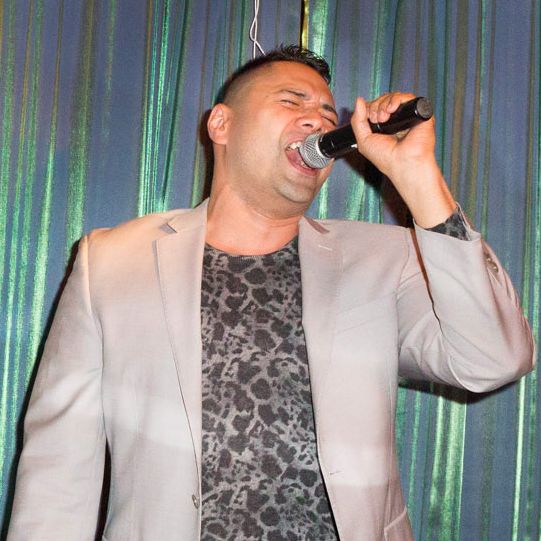 Crooners on the mike at Sid Gold's Request Room.
Photo: Camilo Fuentealba
Here are the best karaoke bars in the city. They're all lively, spirited spots to pour your heart into the microphone, and they run the gamut from glitzy (Sid Gold's) to lovably dingy (Up Stairs).
1. Sid Gold's Request Room
165 W. 26th St., nr. Seventh Ave.; 212-229-1948
The best karaoke experience New York has to offer is at this sophisticated piano bar. One low-key recent Sunday night, an intimate crowd sat around the baby-grand Baldwin that anchors the bar. Someone performed, of all songs, "Flagpole Sitta," checking the lyrics on an iPad and receiving a backup-vocal assist from that night's hyperskilled pianist, Drew Rakowsky. (Up next was "Memory" from Cats.) A gentleman who had just come down from the stage rhapsodized, "Sid Gold's is a magical place," then resumed imploring everyone around him to sing. Magical it is, and sing you should: Sid Gold's can transform even the most self-doubting karaoke virgin into a performer, quelling any anxiety you may have about singing in front of an audience, let alone with a live pianist. The electrifying Shannon Conley — she of Lez Zeppelin fame — hosts Sundays and goes out of her way to make everyone comfortable, and to make sure everyone's having fun. That's the main objective (e.g.: The night ends at 1 a.m. with a mandatory slow dance to "Rainbow Connection"). And it's not only Sundays that are home to the best karaoke in the city; the whole weekend is great here. Sid Gold's co-owner Joe McGinty is a onetime keyboardist for the Psychedelic Furs, and crowds of musicians both would-be and professional flock to his Friday and Saturday night shows. The acoustics are excellent at the piano and in the metallic-painted booths, and there's even a full food and drink menu.
2. Baby Grand
161 Lafayette St., at Grand St.; 212-219-8110
Tiny Baby Grand would seem at first glance an intimidating place to perform: The minuscule space has only a handful of bar stools, a table off to the side, and a small stage at the end of the bar, so you're always singing just feet from your audience. (This size does make it nice for private rentals, which can be booked on Sundays, without the eerie windowless-space quality of standard private-room karaoke.) But what better way to make a group of new best friends than by belting out R. Kelly's "When a Woman's Fed Up" to a tiny cadre of karaoke fiends? Singing's affordable ($2 per song), and the quirky details here are fun — there's Fortune Cookie-oke (names of popular karaoke songs replace fortunes); Pop-Tarts are offered as dining options.
3. Gagopa
28 W. 32nd St., nr. Fifth Ave.; 212-967-5353
If private rooms are your thing, and you want nothing to do with barroom live-band-accompanied karaoke, head to this K-town standard, where the party — well, your private party — runs till 4 a.m. nightly. Prices are reasonable (a colorful room for seven people is $50 an hour; there's spaces for up to 30), drinks including soju and sake are plentiful, and the song list is online, so you can plan your Missy Elliott covers in advance.
4. Montero's Bar & Grill
73 Atlantic Ave., at Hicks St., Brooklyn; 646-729-4129
Being at this onetime longshoremen's hangout is always a trip (and a cheap one at that). But it's especially fun on nights when KJ Amethyst runs the karaoke show here. The night can start a little slow — there's no stage or cordoned-off singing area, so it can take a few beers to relieve stress about singing among the crowds of drinkers — but things liven up quickly. You'll be singing Oasis at last call before you know it.
5. Up Stairs
59 Canal St., 2nd fl., nr. Orchard St.; 917-608-6978
Probably the best quality of Up Stairs is the bizarre B-roll that plays behind whatever song you choose; it's not of the accompanying music videos for songs like "No Scrubs" but of things like young women walking around slowly in airy beach attire. Up Stairs (which is located on the second floor of a residential complex) has two large songbooks — one for Chinese songs, the other for English songs — and a lively crowd (lots of young and beautiful types, presumably singing after a fashionable dinner at Dimes down the street). The acoustics aren't the best, but it is one of the most charmingly weird karaoke experiences in New York.
6. Arlene's Grocery
95 Stanton St., nr. Ludlow St.; 212-358-1633
In the same vein as Sid Gold's (it even sometimes shares a host, Shannon Conley) is Arlene's long-running live-band Monday night karaoke, which is popular and wild and has no cover. Put your name down early to perform with the experienced live band (bass, guitar, and drums; you take the mike); you can sing Iggy Pop, the Cure, Jane's Addiction, and more. Plenty of the singers are talented enough that you'd be forgiven for thinking you were at a "real show."