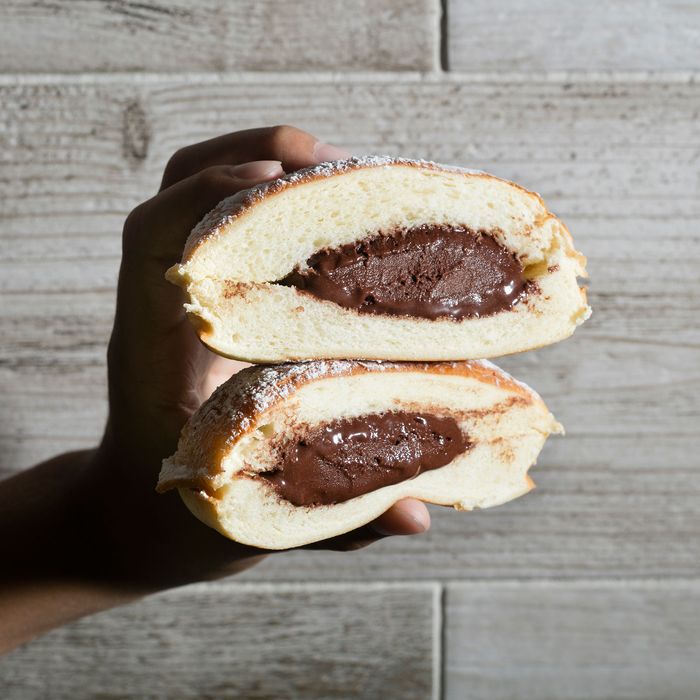 Polosud's dark-chocolate sorbetto con brioche.
Photo: Melissa Hom
Say "ice-cream sandwich" and thoughts turn to the Chipwich, the Flying Saucer, and Good Humor's iconic classic. But there is more to the portable seasonal snack than what you might find in your corner bodega's freezer case. There is Italian brioche, French macarons, and Spanish wafers, just for starters — all handy vehicles for containing ice creams of every imaginable flavor persuasion. And there are serious pastry chefs baking their own cookies and churning their own gelato, all in service of new riffs on an old treat said to have been invented on New York's own gritty streets in the 1890s. Before summer takes its leave, here's where to find the best ice-cream sandwiches in New York.
1. Polosud
166 Mott St., nr. Broome St.; 646-476-6172
The thing about ice-cream sandwiches is that, generally speaking, they're a pain to eat. While many are perfectly harmless, a lot are disasters waiting to happen. Not so the ice-cream sandwiches Giacomo d'Alessandro whips up at Polosud gelateria on Mott Street — a neatnik variation on the Sicilian-style gelato con brioche that came into fashion a few years ago. Here's how it works: Once you choose your filling (you want the Peruvian dark-chocolate sorbetto), d'Alessandro slices a housemade brioche bun in half, plops a minimalist scoop in the center of the bottom slice, closes the bun, then gently cooks the sandwich for ten seconds in a contraption that looks like a jury-rigged waffle iron. The result is fantastic: The bun is warm, the ice cream cold, and the whole thing as neat as a pin, like a regular gelato con brioche crossed with a cucumber sandwich.
2. Villabate Alba
7001 18th Ave., at 70th St., Bensonhurst; 718-331-8430
That said, neatness can be overrated. For an old-fashioned five-napkin Sicilian-style gelato con brioche orgy, as opposed to the newfangled panini-pressed experience above, there's no better place to go than Villabate pasticceria gelateria in Bensonhurst, Brooklyn. A sweet, yeasted housemade roll gets split like a hot-dog bun then stuffed like a goose with two scoops of gelato. (Try the bacio with the pistachio.) You can have at this substantial specimen with a tiny plastic spoon, chipping away at the gelato until something manageable emerges, but pros use their hands from the get-go.
3. Morgenstern's Finest Ice Cream
88 W. Houston St., at LaGuardia Pl.; 212-209-7684
Invented in San Francisco circa 1928 by a visionary named George Whitney, the It's-It is an oatmeal-cookie ice-cream sandwich dipped in chocolate like an Eskimo Pie, and one whiff of the thing can send the average San Franciscan into a Proustian reverie that lasts for days. Bay Area native Nick Morgenstern's tribute version stays true to the original, with the exception of a few tweaks befitting a man whose career ambition is "to define what it means to serve American ice cream in the 21st century." He puts extra-virgin olive oil in the chocolate dip, and sprinkles flakes of sea salt over the top.
4. Empellón
510 Madison Ave., entrance on 53rd St.; 212-858-9365
While Proust had his madeleines and Nick Morgenstern his It's-Its, Alex Stupak had Hood-brand ice-cream sandwiches. That is what he grew up eating in Massachusetts, because that is what his mom bought. And that is how they became the inspiration for the deeply flavored Oaxacan-chocolate version he serves at his midtown location. These old-school-style snacks are rich and smooth and properly soft. And the chocolate wafer shell even sticks to your fingers a little, just like the ones you get after chasing the Good Humor truck down the block. Obviously, Mom is proud.
5. La Mercerie Café at the Guild
53 Howard St., at Mercer St.; 212-852-9097
Don't grow too attached to any particular ice-cream sandwich flavor at this just-so, très français design-store canteen, where the kitchen counter discreetly dispenses frozen concoctions during the summer months. Only one variety is offered at a time and the flavors change frequently, which means last week's shatteringly chewy fuchsia macarons slathered with fruity raspberry jam and sandwiched with tart and tangy lemon-yogurt ice cream might give way to this week's sleekly streamlined white-on-white, all-vanilla number. The constant is the macaron, a cookie so well suited for the job that we're baffled why this approach didn't take off sooner. Le sandwich comes in a pretty logo'd paper bag, and might be the most elegant ICS out there — a homespun American treat given impeccable French style.
6. One Girl Cookies
Multiple locations
The official state treat of Maine, the whoopie pie is traditionally sandwiched around a gob of marshmallow fluff or a buttercream-like frosting often enhanced with cream cheese. But we're going to go ahead and say that the highest calling a whoopie pie can aspire to is to be dressed with a well-tailored puck of Il Laboratorio del Gelato vanilla gelato, which is how they do it at One Girl Cookies in Brooklyn. The tender, cakey, slightly sticky texture of a whoopie pie, it turns out, is ideal for making ice-cream sandwiches that are impervious to the dreaded sandwich squeeze-out factor. And unlike the burger-bun-size whoopie pies they produce up north, this one is almost petite. It's a whoopie pie you could eat alongside some crumpets, with a nice spot of tea.
7. Davey's Ice Cream
Multiple locations
David Yoo makes his ice cream and bakes his cookies in his Greenpoint factory, and that's where he produces his "O.G." ice-cream sandwiches, too. But connoisseurs know to bypass the neat, ready-made chocolate-dipped and sprinkle-coated specimens in the freezer case (not that there's anything wrong with them), and instead request a messier, scooped-to-order creation. Of all the mix-and-match possibilities, we're partial to chocolate-white-chocolate cookies and one of the best versions of mint-chocolate-chip ice cream around: pepperminty but not overpoweringly so, refreshing rather than super-rich, and permeated with unobtrusive chocolate flakes, thin enough to signal their presence without getting in the way.
8. Oddfellows
75 E. 4th St., nr. Second Ave.; 917-475-1812
Another accomplished practitioner of the hot-cold panini-press gelato con brioche (see Polosud) is Oddfellows in the East Village, home of the Oddpocket sandwich. What distinguishes an Oddpocket from the gelato-panino pack is you get to gussie it up to your heart's content. If it's corn season, get the cornbread ice cream topped with cornflake crunch and fresh whipped cream.
9. Jacques Torres
Multiple locations
The prolific confectioner known as Mr. Chocolate has long made seasonal sandwiches from his dense and super-chocolatey chocolate-chunk cookies, but new this year is a foray into French-macaron territory. In their frozen state, the almond-floured cookies meld perfectly with their ice-cream filling, providing a delicately crisp and yielding package that coheres even as its contents begin to melt. Torres produces three varieties in his Sunset Park plant — red macarons with chocolate ice cream, green with strawberry, and chocolate with vanilla-caramel swirl — and the only downside is that limited production makes them a bit elusive. We've had good luck in the Dumbo and Grand Central Terminal locations; call ahead.
10. Levain Bakery
1484 Third Ave., nr. 83rd St.; 917-464-5578
You almost feel sorry for the vanilla Ample Hills ice cream squeezed between two supposedly "mini" cookies at this cookie mecca, where it can't help but take a back seat to the chip-studded, gooey bookends that encase it (chocolate-chip walnut or dark-chocolate chocolate chip). This is a cookie-eater's sandwich, brazen in its jaw-challenging proportions. You don't approach without a game plan: Squish, lick, and nibble, then, in a move familiar to Oreo experts, twist off the top and deconstruct the thing.
11. Mercado Little Spain
10 Hudson Yards, Tenth Ave. at 30th St.; 646-495-1242
The paper-thin Spanish wafers don't look like they could support the weight of an underdeveloped feather, let alone a two-inch-tall brick of Oddfellows ice cream. Somehow they're not only equal to the task, but, Zen-like, they become one with the ice cream, which makes them surprisingly easy to eat. Among the four flavor combinations, we're partial to the coffee-banana option.
12. I Love Panzerotti
220 Varick St., at Downing St.; 646-596-7113
Gelato con brioche is a hard enough sell for a populace reared on the mass-produced treasures of the ice-cream truck, but the Italians behind this house of panzerotti, the deep-fried stuffed-dough pockets of Puglia, are confident their passion for their product will rub off on carbivorous New Yorkers. When sliced in half and stuffed with imported Bindi-brand pistachio, vanilla, chocolate, or custardy "cream," these dessert sandwiches take on a distinct San Gennaro zeppole quality. A tip on technique: push the ice cream deep into the dough pocket, where the texture turns from crisp-fried to soft and chewy.
13. Bive
95 Orchard St., nr. Broome St.; 646-707-0911
Bive (rhymes with "alive") specializes in frozen desserts that are not only vegan but infused with nutraceuticals purported to rev you up, calm you down, make you strong, or even somehow keep you "comfy." If that's what you require of your ice-cream sandwich, the kindly folks here will layer a plant-based flavor of your choice between two gluten-free cookies. Go with the Pick Me Up: Even if it weren't rumored to alleviate inflammation, aid digestion, promote brain function or stimulate growth, we'd still recommend the bitter dark chocolate enriched with coconut milk and cream and given chewy texture from chia seeds and amaranth.
14. Win Son
159 Graham Ave., at Montrose Ave., East Williamsburg; 347-457-6010
A hunk of vanilla ice cream tucked into a fried mantou bun with sweet condensed milk cascading down the sides. (The secret ingredient: Breyers.) Get it topped with fried peanuts and chopped cilantro.
15. Nutella Café
116 University Pl., at 13th St.; 800-861-4888
Yes, it's a global tourist attraction and the branding is insane, but if you have a soft spot for the chocolate-hazelnut spread, you'll like this simple confection of a split brioche roll filled with a scoop of almost-frosting-soft, Nutella-flavored Artigianale gelato. You could also opt for fior di latte, but that's defeating the purpose.