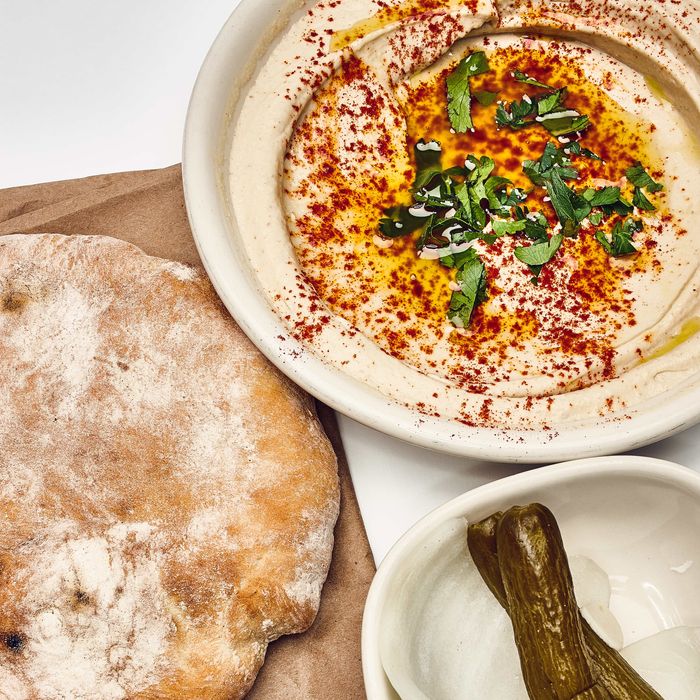 Dizengoff's hummus is a blank (but delicious) canvas for myriad toppings.
Photo: Bobby Doherty
Many Americans first encountered hummus in the form of forgettable mass-produced stuff lining supermarket shelves. This is not unlike initiating someone into the cult of New York pizza with a third-rate DiGiorno knockoff. Like many great foods, hummus comes in multiple variations: enhanced with tahini and whipped until smooth, say, or chunky with garlic and lemon, or hot and with whole chickpeas, as in masabacha. Served with pita and garnishes like spiced meats and tender fava beans, it's a substantial, soulful meal. You could even say — thanks to new upstarts strengthening a scene built by earlier waves of Middle Eastern restaurants — that New York is experiencing a golden age of puréed chickpeas.

1. Dizengoff
75 Ninth Ave., at 15th St.; 646-833-7097
At Chelsea Market's colorful, counter-service outpost of the Philadelphia sensation, chef Mike Solomonov and his cooks tease extraordinary amounts of flavor out of their chickpeas for their excellent hummus. Everything about it is on point, from the thick texture and the garlic-and-lemon-infused tahini that's aerated and then mixed with the puréed chickpeas to the high-quality olive oil drizzled on top. Then there's the pita that's baked in house, speckled from the oven, and fluffy but stiff enough to hold up against the weight of a generous helping of the spread. You could keep it basic with just tahini, but then you'd be missing a major part of Dizengoff's appeal: the constantly rotating, always interesting toppings that are unlike anything served at competing hummus spots. They change weekly, but recent offerings, demonstrating the variety and creativity, include fried Italian long hot peppers with toasted hazelnut, coffee-braised brisket, and ground lamb with zhug, the Yemeni hot sauce.
2. Local92
92 Second Ave., nr. E. 5th St.; 212-432-2232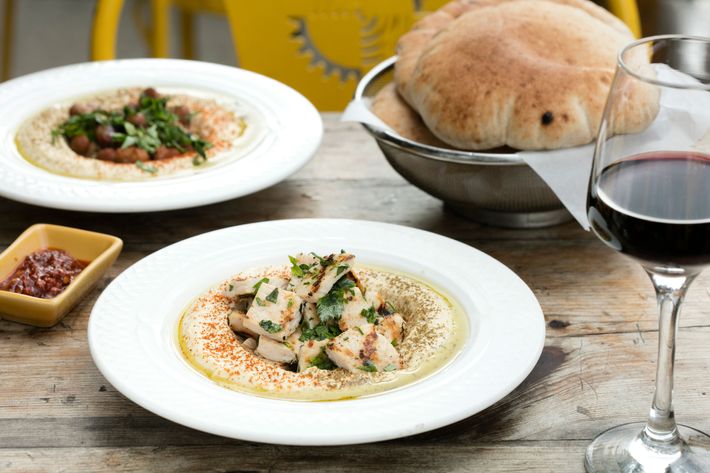 With its brick walls, exposed pipe, and blonde wood bar, Local92 looks like an ordinary, somewhat anonymous neighborhood spot. And its mix-and-match menu of Middle Eastern specialties and American standards obscures the fact that it's a bona fide hummus destination. The kitchen makes the dish throughout the day (every two hours, they say), and the benefit of that emphasis on freshness is evident in the clear, pronounced chickpea flavor that comes through in every bite. It's thick and practically buttery, sprinkled with paprika but not adulterated with much seasoning chiefly because it really doesn't need any doctoring. In fact, it tastes like it could be used by some experimental vegan chef in a non-dairy beurre blanc. Toppings veer toward the classic, including the dark, tender fava beans and well-seasoned chunks of chicken that are best used like meat bread. Speaking of bread: It's too bad, given the attention showered on the hummus, that the pita, though properly warmed, is stiff and second-rate. Still, this is top-tier stuff — just don't waste your stomach space on the carbs.

3. Mimi's Hummus
Multiple locations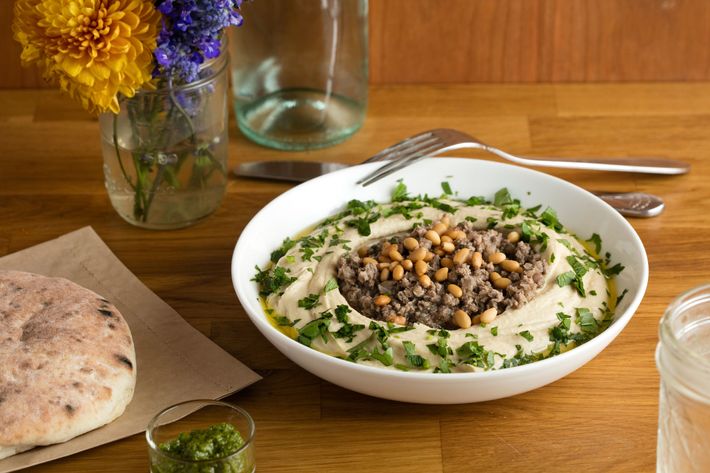 The popularity of Israeli chef-owner Mimi Kitani's hummus propelled her expansion from a homespun Ditmas Park café to outposts in Manhattan. The product has not suffered in transit: It remains superlatively silky-smooth while still retaining enough heft to feel filling. The simplest variety is garnished with fruity olive oil and a handful of whole chickpeas; additional toppings include crumbly ground beef with crunchy, floral pine nuts. And the pita is fat and fluffy, offering plenty of room for stuffing much more than a reasonable portion inside.
4. Hummus Joonam
Available at Holyland Market; 122 St. Marks Pl., nr. Ave. A., 212-477-4440
Even in this frenzied new age of straight-to-you food businesses, Joonam may be the first specialty hummus-delivery service. The process is a bit mysterious, as online orders for Manhattan placed through Big Cartel before Thursday seem to show up once a week … at some point. Or maybe the next week. (Those in Brooklyn and New Jersey can order through Kosher Valet, which indicates a 10 a.m. cutoff.) If you want to know when you'll get your hummus, better to hit up East Village market Holyland, which receives the goods on Thursdays and, the owner says, runs out by Sunday. It's worth the hassle. Joonam's owner, real-estate broker Ohad Fisherman, descends from hummus royalty — his family owns Tel Aviv's famed Mifgash Hasteak — and it shows in his virtuoso chickpea work. Fisherman says he uses his family's time-honored recipe, though he doesn't say much else besides claiming to go to the added length of sourcing Israeli sesame seeds to make his own tahini, which contributes a bump of lush nuttiness. Equally excellent is the delivery-only moist and tender pita, nothing like the inflexible breads plaguing many Middle Eastern spots.
5. Sahadi's
187 Atlantic Ave., nr. Court St., Brooklyn Heights; 718-624-4550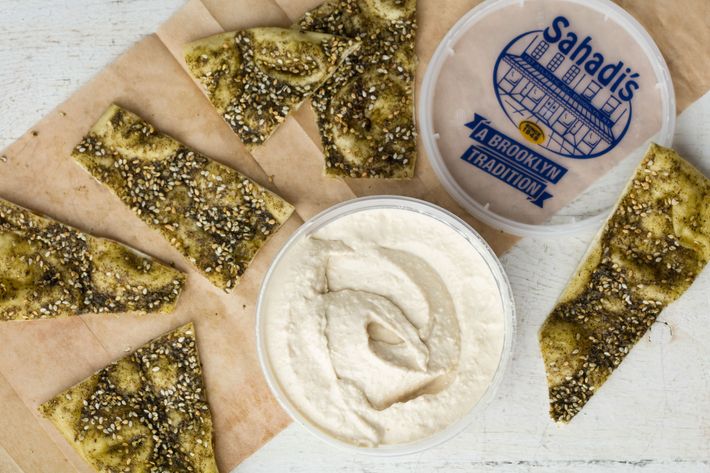 The sprawling family-run market, Kings County's answer to Kalustyan's, is rightfully known as a hub for spices, tubs of tahini, and countless other pantry staples Middle Eastern and not. But the Sahadi family also maintains a deli case of prepared foods, which includes a mean hummus that has long enjoyed a devoted following and preceded the current boom by decades. Hit the store today, and you may hear a couple of veteran customers, strangers or friends, hobnobbing about how the place makes the best in town. Thankfully, Sahadi's hasn't lost its touch. There's a spicy variation painted red with chiles if you want yours hot, though the heat is a little unbalanced, and really the plain-jane version is excellent without any additional seasoning. It's exceedingly light, with a sharp bite of garlic backing up the distinct, full chickpea flavor, and it'll make you question why you ever bothered with any of the pedestrian store-bought stuff when this was always available by the pound.
6. Tanoreen
7523 Third Ave., at 76th St., Bay Ridge; 718-748-5600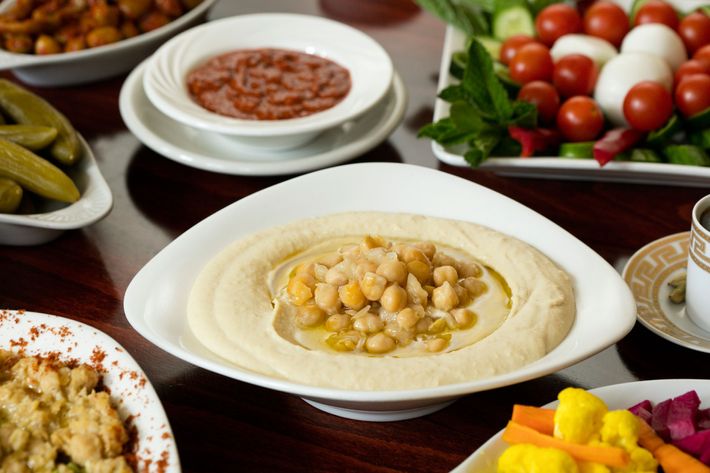 Any proper mezze spread at Palestinian chef-owner Rawia Bishara's restaurant requires an order of her hummus. Comfortingly earthy, it's invigorated with a particularly heavy dose of lemon and served in an elegantly sloped bowl, spread like a very thick brushstroke around a pocket of whole chickpeas. And while Bishara's made her restaurant one of Brooklyn's modern institutions through cooking that's creative while remaining faithful to the spirit of the cuisine, her hummus is by the books. Not that anyone's complaining.
Honorable Mentions
Azuri Cafe
465 W. 51st St., nr. Tenth Ave.; 212-262-2920
Wedged into a tiny storefront, with its steam table and checkered floor, the kosher counter-service spot is the definition of a hole in the wall. It remains a reliable destination for cheap eats in the heart of midtown, a place to go to score an inexpensive, creamy hummus that, while it won't change how you feel about chickpeas, will certainly make you regret all of those sad desk lunches.
Bedouin Tent
405 Atlantic Ave., nr. Bond St., Boerum Hill; 718-852-5555
The peaceful backyard patio and charming, colorful dining room, with its wall-hung rugs and hanging lamps, don't really make the hummus here taste better. Not that the kitchen needs any help. The hummus it produces is satisfyingly hearty without being so heavy that it'll weigh you down, and, if not exactly exemplary, still has enough chickpea flavor to make it an excellent neighborhood option.
Bustan
487 Amsterdam Ave., nr. W. 84th St.; 212-595-5050
You can get your bowl of earthy hummus topped with beef cheeks at this Upper West Side restaurant. What you should do, though, is double down on the chickpeas, and get it with the superb falafel, some of the best in New York. Properly fried and enlivened with pickled mango and spicy zhoug, the falafel enhances the smooth spread with a dose of crunch and heat.
Duzan
2411 Steinway St., nr. Astoria Blvd. S., Astoria; 718-204-7488
The Steinway Street shawarma specialist, which rebranded itself to be more Chipotle-esque in 2015, is one of Astoria's premier dining establishments. Seven different versions of lip-smacking hummus include a basic "classic" as well as masabacha; the signature Duzan is the classic hummus served with aromatic ground beef with parsley and olive oil. But the pro move is to get the best of both worlds and go for the Shawarma Hummus, topped with a mound of thinly sliced, succulent chicken.
Taïm
Multiple locations
The focus at Einat Admony's quick-service chainlet is on the falafel and smoothies, but the Israeli-born chef isn't a one-hit wonder when it comes to chickpeas. She blends the legumes with tahini and some olive oil, which she also applies as a garnish along with a sprinkle of red pepper. The hummus is served straight up on a platter, but it's also available in more portable sandwich form, stuffed in a pita along with Israeli salad, pickled cabbage, and more.