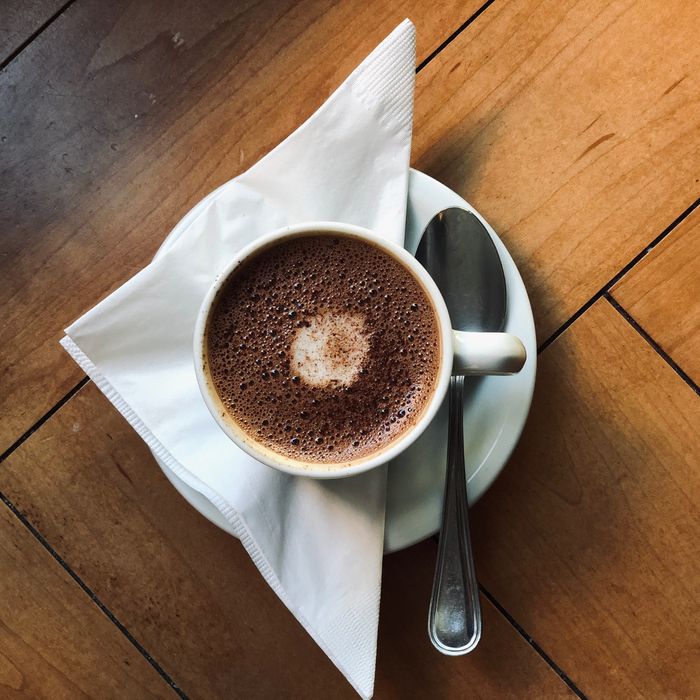 L.A. Burdick's drinking chocolate.
Photo: Melissa Hom
Defining hot chocolate perfection is a deeply subjective pursuit. Some folks prefer theirs mild and milky while others scoff at anything short of melted pudding. Then there are the toppings — a sprinkling of marshmallows, billowy piles of whipped cream, or, for purists, nothing at all. And yet a cup of great hot chocolate, no matter the style, is still a cup of great hot chocolate. And its allure is undeniable, especially when the National Weather Service issues one of those new snow squall warnings. Despite the crushing blow of the City Bakery's recent closing (and the silver lining of founder Maury Rubin's forthcoming chocolate company), there are still many craveable cups out there. Here's where to get your fix.
1. L.A. Burdick
156 Prince St., nr. W. Broadway; 212-796-0143
The Soho boutique chocolatier offers several takes on hot chocolate — including single-origin varieties — but the standout is the dark drinking chocolate. Dense and deep yet eminently sippable, its velvety texture, clean chocolate flavor, and espresso undertones border on addictive. The dark hot chocolate is served both straight up or tingling with chile powder. Either way, a spoonful of whipped cream is a lovely touch, but hardly necessary.
2. Brooklyn Farmacy & Soda Fountain
513 Henry St., at Sackett St., Carroll Gardens; 718-522-6260
The hot chocolate at Carroll Gardens' retro soda fountain is elegant and understated — all the better to go overboard with extravagant toppings. Choose a sticky, snowball-size scoop of house-made marshmallow fluff plopped, root beer float–style, into the cup. The soda jerk will singe the fluff with a mini blowtorch, infusing the whole cup with the flavor of campfire s'mores — a treat for kids and grown-ups alike.
3. Mariebelle
484 Broome St., nr. Wooster St.; 212-925-6999
The Aztec (65 percent cacao) hot chocolate at this posh chocolatier is surely the most decadent of the bunch — thick and molten. Opt for the small which, at four ounces (just a touch larger than an espresso cup), satisfies without overwhelming. If you absolutely need more, tins of their custom hot-chocolate powder are available for purchase.
4. Obsessive Chocolate Disorder
63 E. 4th St., nr. Cooper Sq.; 212-777-6363
Sebastian Brecht's approach to chocolate making borders on mad scientist, and the hot chocolate he makes at his subterranean chocolate laboratory and storefront follows suit. Brecht experimented with every permutation of cocoa powder, melted chocolate, cream, and milk before landing on a desired formula. Ultimately he uses some of each, yielding a cup that is bittersweet and lush with or without a cap of whipped cream.
5. Bar Pisellino
52 Grove St., at Seventh Ave. S.; no phone
West Village restaurant icons Jody Williams and Rita Sodi's take on hot chocolate is decidedly grown-up: rich and mildly sweet with a puddle of whipped cream bobbing on top. Your hot chocolate comes perched on an antique silver tray alongside a glass of sparkling water. Bar Pisellino doesn't sell takeaway drinks. But the light-flooded, impeccably appointed space offers plenty of reasons to sip and stay awhile.
6. Sweetleaf
Multiple locations
Hot chocolate isn't the main draw at this coffee roastery and cafe but it is the sleeper hit. Chopped slivers of bittersweet chocolate and steamed milk mingle in a frothy, just-sweet-enough cup. When at the flagship location on Jackson Avenue in Long Island City, bring your chocolate to the record room in the back and sip while thumbing through their impressive collection of vinyl.
7. Grom
1796 Broadway, nr. 58th St.; 212-974-3444
Grom's cioccolata calda is every bit as indulgent as hot chocolate made at a gelateria ought to be. A mixture of melted dark chocolate, whole milk, and sugar is ladled into the cup and whirred until warm and silken. The paddle of freshly whipped cream — so firm that it practically stands at attention — is optional, but it would be a shame to skip it.
8. Fine & Raw
288 Seigel St., nr. Bogart St., East Williamsburg; 718-366-3633
The candy produced at this East Williamsburg chocolate factory is raw, vegan, and sweetened with coconut sugar, but every bit as satisfying as its more conventional counterparts. The hot chocolate served at the in-house takeaway counter begins with 70-percent-cacao bars. A generous scoop of melted chocolate is ladled from a slow cooker, mixed with a little milk (cow or oat), and buzzed with a small, handheld frother for a liquified chocolate-bar effect.
9. Breads Bakery
Multiple locations
For those who prefer their hot chocolate on the light and sweet end of the spectrum, Breads Bakery delivers. Thirty-five percent chocolate disks from French chocolatier Cacao Noel are mixed with steamed whole milk, giving the cup a creamy cap of foam and the allure of Willy Wonka's chocolate river.
10. The Chocolate Room
Multiple locations
This chocolate-centric dessert cafe with branches in Park Slope and Cobble Hill helped popularize drinking chocolate across Brownstone Brooklyn, and for good reason. Made with both 61 percent Belgian chocolate and Valrhona cocoa powder, the dark hot chocolate is luxurious — particularly when topped with a cloudlike house-made marshmallow. During the colder months, the Chocolate Room also offers a spiced version, flavored with cloves, ancho and chipotle peppers, and cinnamon.
11. Caffè Panna
77 Irving Pl., at 19th St.; 917-475-1162
The hot chocolate served at this ice cream shop and coffee bar is plenty tasty. But the true star is the panna. The small ice cream scoop's worth of thickened cream is so dense and fudgy it sinks to the middle of the cup, imparting a sour cream–like tang and glossy richness throughout.
12. Dominique Ansel Bakery
189 Spring St., nr. Sullivan St.; 212-219-2773
Just about everything at Ansel's innovative patisserie is extra, and the blossoming hot chocolate is no exception. A flower-shaped marshmallow bound by a curl of white chocolate unfurls as it hits the warm liquid. The special effects are brief but beautiful, and leave behind a delightful cup of bittersweet chocolate and gooey marshmallow foam. For those who prefer their hot chocolate without the spectacle, the menu also offers the drink sans blossom.
12. Jacques Torres
Multiple locations
Fans of ultraplush hot chocolate flock to the famed pastry chef's shops. The dark hot chocolate has gained a cult following for its silken texture and rich, dairy-forward flavor. Even better is the wicked hot chocolate, which is intensified by a blend of cinnamon, allspice, ancho chile peppers, and smoked chipotle.
13. La Newyorkina 
240 Sullivan St., nr. W. 3rd St.; 646-861-0727
Pastry chef Fany Gerson's take on Mexican-style hot chocolate offers a frothy cup where cinnamon and chocolate share top flavor billing. Skip the water-based A la Antigüita version, which can skew a little thin, and opt for the dairy-based Clásico or chile-spiked El Picosito instead. Add a fried-to-order churro (or several) for traditional hot-chocolate-dipping nirvana.