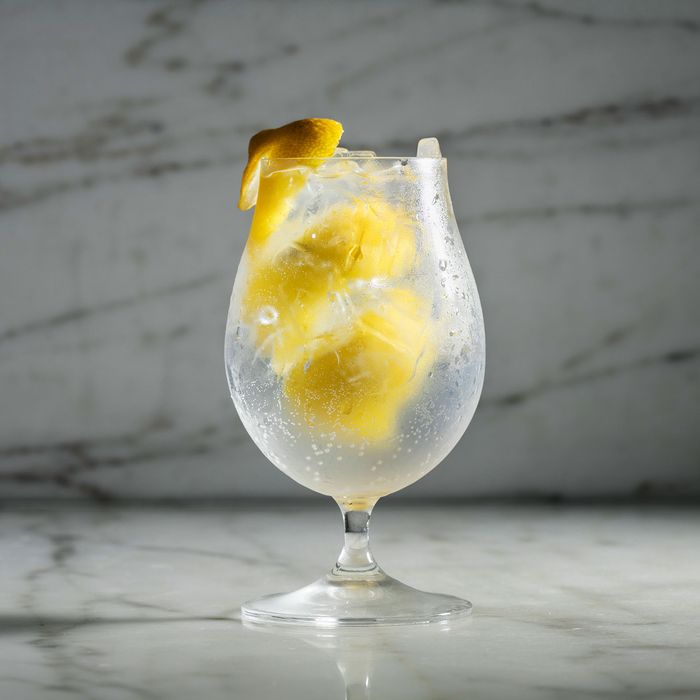 La Vara's garnish-forward "gintonic."
Photo: Melissa Hom
The beauty of a gin-and-tonic is its simplicity. On sweltering days guaranteeing pit stains, there's nothing better. Its origins trace back to the 19th-century British Raj, when officers hoped to ward off disease by mixing bitter-tasting anti-malarial quinine with gin, water, sugar, and (possibly) lime. Despite advancements in malaria prevention, the cocktail's use of quinine for its chemically perfect taste would persist in 20th-century British pubs, American country clubs, and come mid-July, bars everywhere. Many bars today elevate the cocktail's fundamental recipe; others draw inspiration from Spain's garnish-happy gintonics, or push the boundaries of what could fit between the G and the T. Regardless, the best versions are super-cold and bubbly, embrace the botanical flavors, and leave your thirst quenched. Here are the absolute best gin and tonics in New York.
1. La Vara
268 Clinton St., nr. Verandah Pl., Cobble Hill; 718-422-0065
You can't throw a lime or a lemon these days without hitting a gin and tonic influenced in some way by the Spaniards — top-quality gin, garnishes of outlandish proportions. And when you're talking about Spanish-inspired G&Ts in New York, you're talking about the work of chefs Alex Raij and Eder Montero. For well over a decade, the pair have fine-tuned their version of the highball at their Iberian-focused restaurants (El Quinto Pinto, Txikito, La Vara), drawing on the memories of trips to Montero's family home in the Basque countryside. Our favorite is the one they serve at La Vara. In a tulip glass, soft Plymouth gin and Fever-Tree Indian tonic water emit a blast of orange and lemon, although the key here is the actual lemon garnish. Specifically, it's a whole horseneck's peel that practically swallows one side of the glass, with fragrant oils permeating the air like a bittersweet mist. It's a simple thing really, but the result is a drink that's dry, fruity, and more refreshing than a dip in McCarren Park Pool during a heatwave.
2. Amor y Amargo
443 E. 6th St., nr. Avenue A; 212-614-6818
Like vodka sodas or ham-and-cheese sandwiches, gin-and-tonics are sold to some on merits of universal consistency and buttered-toast-like simplicity. This is to say, there's a reason beverage director Sother Teague tells those who order one at his bitters palace Amor y Amargo "we can make that, but …" The specs for the off-menu G&T conform to Teague's house rules of making cocktails only out of alcohol and pure water or seltzer, with Bittermens Commonwealth tonic cordial and hopped grapefruit bitters adding an extra-strength floral bite, while maraschino liqueur imparts sweetness without cloy. Topped off with Topo Chico mineral water, the drink is light going down yet spicy and unabashed with its bitter herbal backbone.
3. The Hidden Pearl
621 Manhattan Ave., nr. Nassau Ave., Greenpoint; 718-383-3291
An easy way to revamp a gin-and-tonic is just to rejigger the cocktail's citrus component. The Hidden Pearl's Jeremy Oertel and Natasha David took this layperson's approach by incorporating yuzu into their version of a gin-and-tonic, called Cloud Busting, but wound up with a minor masterpiece. Roku gin, which is distilled with yuzu along with gyokuro tea and sanshō peppercorns, finds its kindred spirit in the sake-based Ume No Yado yuzushu. (There's also some lime juice for traditionalists.) Despite Fever-Tree's vice grip on supplying tonic to New York's cocktail bars, tamer Canada Dry tonic is the preferred quinine source here, letting the zestier complexities grab the spotlight.
4. Jungle Bird
174 Eighth Ave., nr. 19th St.; 646-868-8422
Jungle Bird is a gorgeous Chelsea haunt with California airiness and tropical climes built into its DNA. The gin-and-tonic riff called Look for the Silver Lining follows suit. Bartenders pour a liquid potpourri of Principe de los Apostoles, an Argentinian gin distilled with maté, pink grapefruit, eucalyptus, and peppermint, topped off with Fever-Tree's rosemary-forward Mediterranean tonic. With a glug of Giffard Creme de Pamplemousse rosé, lime and a pungent eucalyptus sprig, the first sip hits you with an inescapable spa-like mentholated coolness, followed by the delightful grapefruit and earthy notes that quietly linger.
5. Existing Conditions
35 W. 8th St., nr. MacDougal St.; 212-203-8935
The setup here can be best described as a mad cocktail scientist wonderland; to wit, cocktail savants Dave Arnold, Don Lee, and Greg Boehm let their staff go wild with tools like the Spinzall centrifuge and ingredients like malic acid and lab-grade quinine sulfate, which might conjure imagery of test tubes and goggles. For the Admiral Ford, Fords Gin Officers' Reserve is mixed with a housemade lemongrass tonic, the aforementioned quinine sulfate, and a lime cordial, making each sip exceptionally floral and tangy. Its sweeter and spritzier kin — the Sunday Brunch — features clarified citrus juices along with Elderflower liqueur and a quinine-lemon cordial, and answers the question you've probably never asked: What if you tried to make orange-flavored Emergen-C taste complex, clean, refreshing, and, well, delicious?
6. Mercado Little Spain
10 Hudson Yards, 30th St., at Tenth Ave.; 646-495-1242
You cannot build a shrine to Spanish gastronomy without paying tribute to the nation's favorite cocktail, and so it is at José Andrés's bustling West Side marketplace. The chef–slash–global ambassador has described the gintonic as "an obsession" back home, and his own mania reveals itself here with riffs incorporating vermouth or bitters. But the go-to is the comparatively bare-bones yet highly quaffable Ultimate G&T: A mini-vase-size glass filled to the brim with ice, 1.75 ounces of Hendrick's stored in the freezer, Fever-Tree Indian, and a medley of garnishes that includes a lime wheel, lemon twist, lemon verbena sprig, and juniper berries.
7. Lilia
567 Union Ave., at N. 10th St.; Williamsburg; 718-576-3095
In keeping with the theme at Missy Robbins's Williamsburg restaurant, the Malfy Con Limone gin comes from Italy, and when combined with Fever-Tree Indian tonic, it makes for a drink that evokes a drier, piney cousin of limoncello and would be all the rage among the nonnas on the Amalfi Coast. It's also available at the adjacent Lilia Caffé, where one or two will make your hours-long wait for a table go much faster.
8. The Shanty
79 Richardson St., nr. Leonard St.; Williamsburg; 718-878-3579
This low-key bar functions as a tasting room of sorts for New York Distilling Company next door, and each cocktail is intended to showcase the flavor nuances of the various house spirits. Q tonic and a lime wedge help the wildflower-honey sweetness in Perry's Tot Navy Strength Gin sing, and further elevate the creamy vanilla and baking-spice notes in the Dorothy Parker Gin. At only $8 a cocktail, you might consider conducting your own DIY gin-and-tonic taste test.
9. Katana Kitten
531 Hudson St., nr. Charles St.; 212-243-3007  
Before serving you a frosty mug of neon-green shiso gin-and-tonic, bartenders will pull a lever on the bar's Toki highball machine to unleash a stream of jacuzzi-strength carbonated water. The cocktail's got a lot going for it already, including Fords gin, lime juice, and a pungent shiso-quinine cordial which, together with the soda, creates the namesake tonic. But it's these prickly bubbles (and a seasonal palm-sized shiso-leaf garnish that co-owner Masahiro Urushido grows in his Brooklyn garden) that distinguishes this izakaya's version from the competition.
10. Mace
505 E. 12th St., nr. Ave. A; 347-866-7739
The love child of bubble-tea-and-milk punch, wrapped up in a gin-and-tonic. It's the sort of left-field wizardry that's come to be expected of Mace co-owner Nico de Soto of Experimental Cocktail Club fame. And somehow, it works. The components are a mouthful — Citadelle gin, honeydew, lemon juice, clarified milk, spices, Fever-Tree tonic, and Rare Tea Cellar's sakura Kyoto cherry-blossom tea — but its endpoint is an effervescent delight, with a rounded sweetness reminiscent of White Cherry Icees and the crowd-pleasing bonus of sucking down chewy sakura-flavored boba through a wide straw.