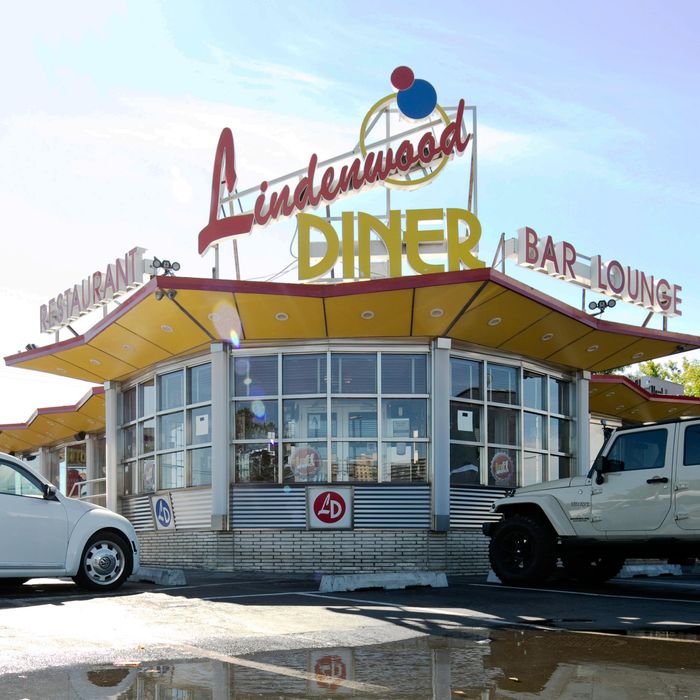 Head to Lindenwood Diner for specialties like mofongo you won't find at most city lunch counters.
Photo: Melissa Hom
Defining a diner in New York can be tough: There's plenty of anonymous restaurants throughout the city serving a laminated menu of relatively inexpensive food, often around the clock, thus serving as places equally suited to 4 a.m. studying for grad students, early-morning coffee meetings with neighborhooders, and UES private-schooler post-bell hangout sessions. These reliable places are sometimes good, sometimes less so, but most of all convenient. Then there's the places that bear the names but are actually not a part of the breed at all (Diner, El Rey Luncheonette). Which brings us to the class of these restaurants that are worth paying a special visit — a group of truly great, mostly old-school, worth-going-out-of-your-way diners. They all have cooks almost magically skilled at the grill, but perhaps more important they've got history, stories busting out their chrome-plated doors. In the latest issue of New York, Adam Platt wrote about, and lamented, the great diner die-off. Don't let these diners and lunch counters listed below fall in the gentrification wars, like so many Platt wrote about and others: the Moondance, the Cheyenne, etc. Our favorites that are still kicking, below.
1. Lindenwood Diner
2870 Linden Blvd., nr. 78th St., East New York
The tabletop jukeboxes may be gone (in favor of outlets for cell-phone charging), but Lindenwood Diner's still around — and still super-busy. Lindenwood has plenty of what you expect from a diner: a many-paged laminated menu with salads, burgers, pastas; milkshakes, syrups dispensed with a metal pump; a glass cake display up front. It excels thanks to its specialties, though: Caribbean, Latin, and Southern dishes, including Creole halibut, curry goat with plantains, great and gigantic mofongo. Plus: The diner is gorgeous, with a fantastic, colorful, old-school sign, chrome plating, geometric walls, and even an umbrella-shaded outdoor patio.
2. Square Diner
33 Leonard St., at Varick St.; 212-925-7188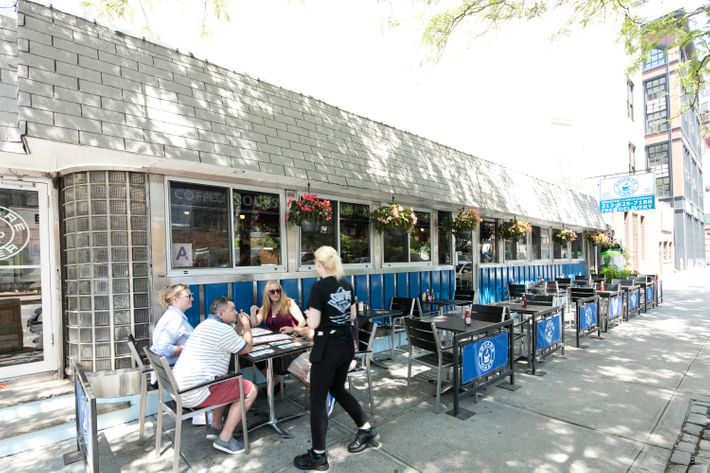 Skinny, non-square, and charming, Square Diner has been around since the '40s in its current incarnation and today is a great place to spot Tribeca locals (on a recent morning, parents in fashion-y leisurewear having late breakfast with a kid home from college; four high-schoolers discussing the previous night's party) and tourists enjoying the little patio alike. Sit at one of the 16 booths and order a Greek omelette; admire the framed celebrity photos on the wall (e.g., Jerry Orbach's); and ask for a triangle of baklava to go on your way out. There's really nothing else like this left in the neighborhood.
3. Cup and Saucer
89 Canal St., at Eldridge St.; 212-925-3298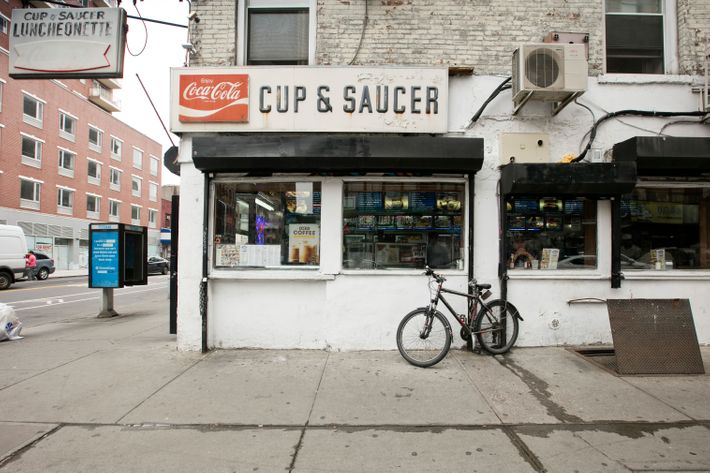 It's always fun sitting at the counter at a diner with a totally open kitchen, because the skill and precision of the cooks is astounding to watch. The whole scene is cinematic, almost operatic: the clanking of the spatula when the cooks flip eggs, etc. It makes everything feel romantic, to the point that when you pour the sugar into your coffee, you, too, will feel as if you're creating a waterfall. Grab a swirling counter stool and order an omelette with feta.
4. Odessa
119 Ave. A., nr. 7th St.; 212-253-1482
What's not to like about Odessa? If you're ever feeling worried about the disappearing grittiness of the old East Village, pop in here for crispy fried pierogies and sweet blintzes, and you'll find that grit in spades. On a recent visit, we were seated next to a group having a very loud 12-step-style meeting. In general, the people-watching is top-notch. You could sit here for hours, drinking coffee to your heart's content. Then grab dessert next door at Ray's.
5. Mansion
1634 York Ave., at 86th St.; 212-535-8888

One thing that makes this 1945-opened UES favorite great is its sourcing. A bagel sandwich uses smoked salmon from Acme, the lauded Greenpoint fish vendor; there's cold-brew coffee; bottles of Moët Champagne are in the wine racks. Don't worry: It's not so upscale that you can't still watch the Mets game, and you'll see cops shooting the breeze, politicians schmoozing, families taking kids out after ballet lessons, etc.
Anopoli
6920 Third Ave., at Bay Ridge Ave., Bay Ridge; 718-748-3863

A terrific place to catch up on Bay Ridge gossip, the kind of place where kids stop by to say hi when they're home from college. This has the incredible effect of making you feel like you're in a small town instead of a city of 8 million people. The railcar-style diner is terrifically old — as in pre-1900 — and is frequented for its soda-fountain treats.
Cozy Soup 'n' Burger
739 Broadway, nr. Astor Pl.; 212-477-5566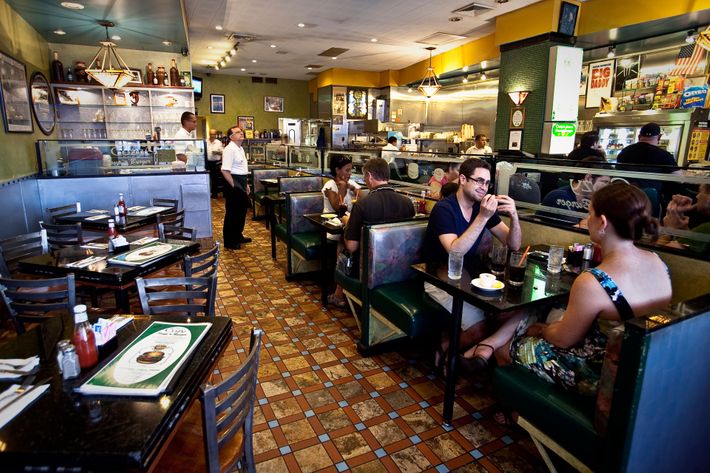 This place is easy to love for nostalgic reasons, and it's fun to look at the Big Daddy poster on the wall and recall the scene shot here. (Other celebrities with signed photos gracing the wall: Emilio Estefan, Arnold Schwarzenegger in a muscle tank, Alf: "All my best, Love, Alf.") And really, the soups are pretty good; get the split-pea.
Cross Bay Diner
160-31 Cross Bay Blvd., Howard Beach; 718-848-9401
Useful when returning from a day trip to Rockaway for its spacious dining room. Is the food the best we've ever had? Maybe not, but it's perfectly decent, and the staff are efficient and friendly. Look for the model-diner ornament behind the counter — you'll start to notice such knickknacks everywhere as you visit more city diners.
Kanes Diner
44-15 College Point Blvd., Flushing; 718-463-5787
The 1970-opened 24-hour spot serves fun breakfast food around the clock, virtually guaranteed to please kids (silver-dollar pancakes with whipped cream and berry syrup) and attract politicians (check out the photos on the wall). Also the kind of place where you'll see photos of the owner's family behind the counter, underneath a TV playing the Yankee game. Spectacularly charming.
Landmark Diner
158 Grand St., at Centre St.; 212-334-0040

So attuned to the idiosyncrasies of their regular customers are the cooks at Landmark Diner that they seem almost able to start entire orders for guests the second they walk in the door, and will have coffee to their table in another second. There's also lots of tourists here, likely owing to its Soho location. But that's another quality of diners — they're often crowded with tourists. Why? I asked the question on Twitter and of friends, who had varied, believable responses: Namely, that they're familiar, and you know what you're going to get; they look like New York on television.
Tibbett Diner
3033 Tibbett Ave., Bronx; 718-549-8893

The place starts to get crowded for the dinner rush around quarter to five, and the regulars were devastated when it was closed for nine months in 2009 following a fire. It's an old-school, stand-alone diner, of which there are disturbingly few left in the city. Tibbett's affordable — specials like a football-size flaky-crusted chicken pot pie are often around $15 and come with a side salad, typically, and a bread basket, which is increasingly hard to come by gratis in New York diners.