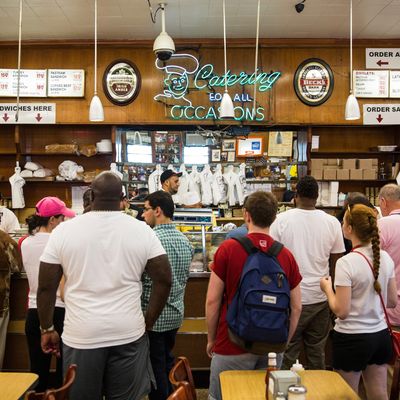 For many, deli means pastrami, and pastrami means Katz's.
Photo: Andrew Burton/Getty Images
Below, the top delicatessens in New York, where the pastrami is juicier, the franks snappier, and the matzo balls fluffier.
1. Katz's Delicatessen
205 E. Houston St., at Ludlow St.; 212-254-2246
The Germans might have invented delicatessen, but New York made it its own: a style of restaurant, a culinary tradition, a pervasive flavor, heavy on the onions and garlic. For most New Yorkers, deli means pastrami, and pastrami means Katz's. This is simply a fact of life, like death and taxes. But Katz's exceptionalism is based on more than the meat — which, in and of itself, can be great or middling, depending on the day and the cutter. It's based on the establishment's insistence on hand-slicing and the intimate relationship it fosters between customer and cutter (tips appreciated). It's based on the clanking, chaotic living history of the place itself — less stuck in time than beyond time, somehow. And it's based on the fine line Katz's alone walks between unabashed tourist attraction and beloved local joint, where every segment of society strolls in, takes a ticket, and surrenders to the ebb and flow of the archaic ordering, seating, and payment system (cards accepted for waiter service, cash only at the register, don't lose your ticket!). When everything else is uncertain, comfort yourself with Katz's Ur–New York hot dog, all snap and salt under a mantle of mustard and kraut. If New York has terroir, this is what it tastes like.
2. Pastrami Queen
1125 Lexington Ave., nr. 78th St.; 212-734-1500
A small, almost nondescript descendant of Kew Gardens' late, great Pastrami King, this mini-deli punches way above its weight. And even though there's lots worth ordering — jumbo knishes; a vinegary, vibrant "health" salad; garlic-laced fries — the pastrami is the thing. No less a deli maven than Mimi Sheraton is a devoted fan; she takes her smoky, spicy meat half-lean, half-fatty. Request it hand-cut, which does make a difference. So does the Orwasher's rye it's served on.
3. 2nd Ave Deli
162 E. 33rd St., nr. Third Ave.; 212-689-9000
Like most New Yorkers, we have a soft spot for 2nd Ave, from back when it was actually on Second Avenue, before it relocated to Kips Bay and the Upper East Side. Many fans never get past the ever-popular pastrami and even better corned beef (we like them served as a pair, on twin rolls). But there are other worthy attractions, namely rich, earthy mushroom-barley soup; relative rarities like cholent, the long-cooked Sabbath stew; and especially chicken in the pot, which has doubtless cured many a cold in every neighborhood in the delivery zone.
4. Mile End
97A Hoyt St., nr. Atlantic Ave.; 718-852-7510
When Noah Bernamoff and Rae Cohen arrived here from Montreal, they revived a tradition that had been growing as stale as a day-old bagel. (They also brought us Montreal-style bagels, but that's another story.) Besides introducing New Yorkers to smoked meat, the Canadian version of pastrami, the young couple challenged current deli convention by taking a seasonal approach and doing all their own curing, smoking, baking, brining, and pickling. Their locavore delicatessen belongs to a brave new breed that is attempting to preserve the grand tradition by returning to its hand-crafted roots. And let's not forget what may be Mile End's greatest contribution to the canon: smoked-meat poutine.
5. Frankel's Delicatessen & Appetizing
631 Manhattan Ave., at Nassau Ave.; 718-389-2302
It would be easy to write off this combination delicatessen and appetizing shop as a bandwagon-jumping, hipster-infested exploitation of a current food-nostalgia trend. Plus, the place has only been open for a minute. But truth be told, we're downright impressed. The young brothers Frankel seem to take their ancestral cuisine (Zabarsian, a.k.a. Upper West Side Jewish) quite seriously. In a tiny retail space inspired by places like appetizing shrine Russ & Daughters, they make a smartly streamlined selection of deli classics from top-notch ingredients. The pastrami, prepared to the brothers' specifications at a nearby facility under the characteristic veil of deli secrecy, is remarkably on point, and can be had on classic rye or as a fiendish pastrami-egg-and-cheese breakfast sandwich. But the true specialties of the house are homemade items like a savory, almost buttery matzo-ball soup, and a sensational hot brisket that's sweet and lush and based on a Frankel family recipe. It's available on Amy's challah as a sandwich, or as a platter with smallish, thickish latkes and cucumber salad. You can't go wrong either way.
6. Liebman's Delicatessen
552 W. 235th St., at Johnson Ave., the Bronx; 718-548-4534
In an effort to expand its appeal, this Riverdale redoubt added Middle Eastern mezze to its standard deli offerings. But it's the old-world soul food that makes it stand out. We're talking stuffed cabbage, stuffed derma, stuffed veal breast … do you detect a theme? In addition to mastering the rib-sticking gut-bombs, Liebman's also serves a satisfying sandwich and a mighty fine bowl of soup.
7. Sarge's
548 Third Ave, nr. 37th St.; 212-679-0442
So named because it was opened by a retired cop in 1964, Sarge's is a sentimental favorite for its haimish vibe, its lovably dated Tiffany-lamp décor, and its 24/7 hours, which makes it a beacon in a city that, as you learn when you're searching for a late-night latke, does indeed sleep. Souper Soup boasts not only a fluffy, grapefruit-size matzo ball, but also noodles and a delicious kreplach. There's a $41.95 stunt sandwich called the Monster, and a trio of titanic cheese blintzes with sour cream that might be even worse for you than that. The place has character, and so does the menu, which suggests the unfettered reach of a Greek diner, with such deli digressions as fish and chips, barbecued ribs, and an entire burger section.
8. David's Brisket House
533 Nostrand Ave., nr. Herkimer St.; 718-789-1155
A onetime Brooklyn Jewish deli now owned and operated by Yemenite Muslims serving serious sandwiches to a mostly African-American clientele? Absolutely. Despite the name, you'd be wise to opt for corned beef or, even better, the pastrami, with mustard on rye.
9. Mill Basin Kosher Deli
5823 Ave. T, nr. 59th St.; 718-241-4910
You can get all the classics at this South Brooklyn standby. But why would you, when there's such exotica as the PLT, with fried pastrami playing bacon, or the twice-fried latke chips, or the pastrami egg roll, which artfully marries two of New York's most iconic ethnic cuisines? Purists will dismiss such shenanigans and gravitate to more classic strengths, like the corned beef and hot garlic wurst.