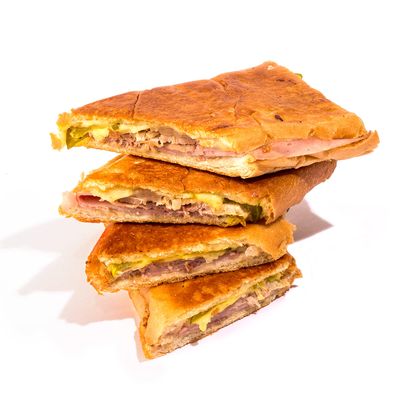 Perfect proportions, smooshing technique advanced.
Photo: Jed Egan
Here, the top Cuban sandwiches (a.k.a., Cubanos), ranging from an old-school classic that calls for minimalist restraint to another that swaps out Swiss for bandage-wrapped Cheddar and artisanal fromage from the Loire Valley.
1. La Flor de Broadway
3395 Broadway, at 138th St.; 212-926-4190
It's pretty generally agreed that a Cuban sandwich in its ideal form consists of sugar-cured ham, roast pork marinated in the garlic-citrus sauce called mojo, Swiss cheese, sour pickles, and Cuban bread slicked with butter or, depending on the lunch counter, margarine. Mustard is up for debate — some say the juice and tang from the sour pickle is all you need by way of condiments and accessories. You layer the ingredients on the bread, close it up, and smoosh it on a plancha until the outside is as smooth and glossy as the pages of a magazine. (What you don't do is use a panini press or a George Foreman grill or anything that leaves grill marks, which is considered to be a terrific faux pas, like wearing socks with sandals, or cowboy boots and a suit outside of Texas.)
While gussied-up Cubanos abound in New York, this classic model has become rare. But there is an excellent holdout up in Harlem at La Flor de Broadway. It's relatively thin and practically airy. The balance and proportion are perfect, the smooshing technique advanced. No one ingredient outshines another. It's a whole-is-greater-than-the-sum-of-its-parts sandwich, an eloquent argument in favor of authenticity. The bread, sourced from a Bronx bakery, is key. It's built wide and rectangular for sound construction, and has a paper-thin crust that when properly plancha'd achieves a profound crispness. Also key is Luis Pantaleon, who's manned the sandwich station at La Flor (here and at the restaurant's previous location up the block) for more than 25 years. Pantaleon's modus operandi is to approach his Cubanos the way Thanksgiving cooks approach turkeys, lavishly basting and generally babying the things so that the flavors meld harmoniously and each sandwich stays crunchy outside and steamy within down to the last bite.
2. Margon
136 W. 46th St., nr. Sixth Ave.; 212-354-5013
This bustling old Latin luncheonette (bright red counter, bright yellow menu board) dishes up good cheer and soulful chow in equal measure, and also smooshes the city's second best Cubano. Unlike La Flor's version, it's on the sloppy, sluicy side thanks to a no-holds-barred approach to lubrication that calls for garlic sauce, hot sauce, and — most controversially — mayo. More controversy: In addition to slices of roast pork and ham, they toss on salami the way they do in Tampa, Florida, the city that much to Miami's consternation claims the Cubano as its own invention.
3. Porchetta
110 E. 7th St., nr. First Ave.; 212-777-2151
Tampa sandwich scholars theorize that the Cubano is actually a culinary mash-up, a mulligatawny soup of a sandwich, reflecting the ethnic diversity of that city circa the late 19th century. In other words, it's Spanish ham, Cuban pork, Jewish pickles, and Italian salami, all pitching in and doing their part. That sets a precedent of sorts for Sara Jenkins's terrific interpretation, which consists of smoked ham from the Ukrainian butcher down the block, housemade porchetta, Jarlsberg, Israeli pickles, Dijon mustard, and Kewpie mayo — essentially a tasty United Nations of East Village foodstuffs well pressed on a Sullivan St Bakery ciabatta roll.
4. The Spotted Pig
314 W. 11th St., at Greenwich St.; 212-620-0393
If it wasn't restricted to lunch, April Bloomfield's upscale-ingredients supersize Cubano (confit pork shoulder, prosciutto, Gruyère, pickled chiles, chopped cornichons, arugula salad on the side) might be as popular as her Roquefort burger. It takes as long to make as a La Grenouille soufflé. It costs $20. And you may have to eat it while perched like a shoe salesman on one of the restaurant's notorious footstools. Worth it, though, for forward-thinking Cubano gobblers.
5. Bunk
740 Driggs Ave., nr. S. 2nd St.; 347-763-0434
Bunk's Cuban sandwich strikes a nice balance between innovation and tradition. Modernists will like the Frankenpork fusing of two cuts of roast pig (belly and butt) into a single slab, while classicists can get behind its streamlined good looks, if not the addition of mustard and hot sauce.
6. Casellula Cheese & Wine Cafe
401 W. 52nd St., nr. Ninth Ave.; 212-247-8137
On paper, this is a Cubano purist's worst nightmare. It has two types of cheese, Fiscalini Cheddar from California and the French Fol Epi from the Loire Valley, not to mention Rick's Pick's bread-and-butter pickles and aioli. (Putting aioli on a Cuban sandwich is considered a criminal act in certain parts of Florida.) To be fair, they don't dare call it a Cubano but rather a Pig's Ass Sandwich, alluding to the two types of pork butt (a.k.a. shoulder) they cram into the thing — one that's been brined and glazed with maple syrup like a baked ham, the other one rubbed with a slew of spices and Peet's coffee then slow-roasted. But what can we say? It's in the Cuban-sandwich ballpark, and it's damn good.