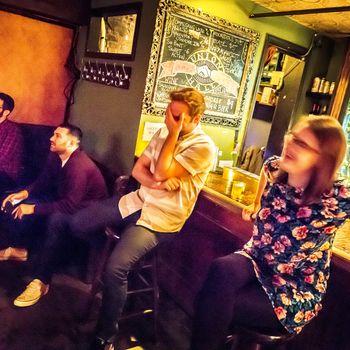 Union Hall hosts one of the city's best shows: 2 Dope Queens.
Photo: Noah Fecks
In these comedy boom times, where you're able to see comedy everywhere from a traditional brick-walled club to a black-box theater to Madison Square Garden, you'll need guidance to separate the wit from the chaff. Here, the best comedy venues in New York from Vulture senior editor Jesse David Fox.
1. Union Hall
702 Union St., at Fifth Ave.; 718-638-4400
To get to the best comedy venue in New York, you have to enter Park Slope's Union Hall, pass the bookshelf by the fireplace, ignore the patrons playing bocce, and walk downstairs to the basement. There you'll find the perfect comedy space. Though largely known as a music venue when it first started, comedy was always part of the mix at Union Hall, with Eugene Mirman hosting a weekly show there until 2010. Now, ten years into its run, the place boasts an incredibly diverse schedule of comedy, including one of the best shows in the city: 2 Dope Queens, hosted by stand-up/Vulture contributor Phoebe Robinson and The Daily Show's Jessica Williams. Also, the venue will often give some of the best in New York the time and freedom to do a full hour of stand-up, a rarity in the city. In 2014, Wyatt Cenac released one of the best stand-up specials of the year in Brooklyn, which was filmed at Union Hall and displayed everything that's great about the beautiful room, in particular the intimacy that comes from having comedy's greatest architectural asset — low ceilings. And the kicker, because of its Brooklyn basement location, Union Hall has no cell-phone service.
2. Upright Citizens Brigade Theatre
307 W. 26th St., nr. Eighth Ave.; 212-366-9176
Nearly 20 years after the Upright Citizens Brigade founders moved to New York, it's hard to argue that UCB Theatre is still the hot new thing, especially after more and more and more of its students have departed for Los Angeles. Instead, UCB has settled into its place as a New York comedy institution. It's still home to New York's best improv and one of its best stand-up showcases, WHIPLASH. And with shows like The Female Gaze, The Terry Withers Mysteries, and the truly brilliant Ridgefield Middle School Talent Night, the UCB Theatre remains firmly on comedy's cutting edge.
3. Comedy Cellar
117 MacDougal St., nr. Minetta Ln.; 212-254-3480
A holdover from the boom, the Comedy Cellar has become a force over the last decade or so, thanks in no small part to Louis C.K. performing stand-up there in almost every episode of Louie. There are many frustrating things about the cellar — namely the cost (with weekend tickets running $20 to $24, not including a two-item minimum) and an audience largely made up of tourists and college students that results in occasional broadness or repetitiveness — yet it's still the club comedians who live here want to play. It's where you'll most likely see a thoroughly vetted group of up-and-comers, but also potentially a drop-in from Chris Rock.
4. Littlefield
622 Degraw St., nr. Fourth Ave., Gowanus; 718-855-3388
Not unlike Union Hall, Littlefield evolved from doing predominantly music to doing predominantly comedy. And it's also a similarly beautiful space, albeit a bit big for my taste. Its big structural advantage is a real stage, i.e., one that is well above the audience. Most New York venues have the audience look down on or directly at the comic, but the elevation here brings a nice theatrical element to the performance. There's also a terrific and consistent calendar of shows. Having two industry powerhouses in the form of Wyatt Cenac's weekly stand-up showcase Night Train and Jo Firestone's monthly Punderdome 3000 is no small feat.
5. Annoyance Theatre
367 Bedford Ave., nr S. 5th St.; 718-569-7810

Last year, I wrote that New York's Annoyance Theatre might be the best place to see "comedy's next generation." Though the place has been around for 30 years in Chicago, it's only been open in Williamsburg for about a year and a half. Though two venues on this list are also underground, you can really feel it at the Annoyance: There are pipes, errant noises, and the sound from a jazz club upstairs. But it all works with the often brash and absurd version of improv and sketch comedy on display here, best seen at the weekly sketch comedy offensive The Holy Fuck Comedy Hour.