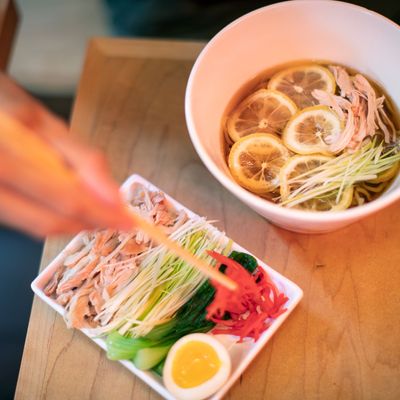 Karakatta's cold lemon ramen.
Photo: Erinn Springer
In the dog days of summer, few foods are as satisfying as cold noodles. From an old-school Chinatown classic to a luxe West Village take on a rustic Korean summertime soup, and from fiery Tibetan mung bean jelly to Thai dessert noodle soup, there's a slurpable strand for every palate. Here are the absolute best cold noodles in New York.
1. Karakatta's Cold Lemon Ramen
230 Thompson St., nr. W. 3rd St.; 917-261-6297
Takatoshi Nagara opened Karakatta as a ramen-ya devoted to fiery soups, so it's ironic that it happens to be home to the city's best cold noodle dish: cold lemon ramen. The superb palate refresher consists of a chilled bowl of broth and wavy wheat noodles blanketed by a half-dozen slices of lemon accompanied by a tray with chicken, bok choy, julienned leeks, and half a soft-cooked egg. Add the contents to the soup, gently pressing down on the citrus slices, and dive into a bracing concoction that's as restorative in the dog days of summer as Jewish chicken soup is in the dead of winter. It straddles the line between rich and refreshing thanks to two types of bonito and a goodly amount of amazu (sweet vinegar). For the record, Nagara counts himself a fan of lemonade.
2. Jeju Noodle Bar's Truffle Kong Gook Su
679 Greenwich St., at Christopher St.; 646-666-0947
There are many restaurants in Manhattan's K-Town and Queens' Murray Hill where you can get a bowl of kong gook su (cool noodles in an icy, nutty soy-milk broth), but there's only one place that serves an upscale take on this classic Korean summertime comfort food: Jeju Noodle Bar. Chef Douglas Kim's frothy snow-white broth is super savory and slightly sweet. At $38, it's probably the most expensive cold vegetarian noodle soup in New York City, but also the most decadent thanks to a tableside shaving of Australian black truffle. Thin slices of cauliflower lend a nice nuttiness to the whole affair. And the springy wheat noodles are eminently slurpable.
3. Hanjan's North Korean Pyongyang Naengmyeon
36 W. 26th St.; 212-206-7226
Dozens of Korean spots in Manhattan and Queens serve the edible air-conditioning that is mul naengmyeon, but chef Hooni Kim says his $24 bowl is the only one that doesn't use MSG as a shortcut, and derives its remarkable depth of flavor from only long-simmered beef brisket, pork shoulder, and chicken breast. "This is the only one in Korea they line up for," Kim says of the country's most popular noodle dish, which consists of strands of slippery chilled buckwheat noodles in an icy broth along with slices of meat and other toppings. At Hanjan those toppings include sliced brisket, lightly pickled kirby cucumbers, half a hard-boiled egg, and crunchy Korean pear. Double down on the zingy refreshment by adding hot mustard and vinegar.
4. Old Luo Yang's Spinach Cold Skin Noodles
136-20 Roosevelt Ave., at New World Mall, Flushing; 646-331-0645
Xi'an Famous Foods introduced liang pi, or cold skin noodles, to New York City back in 2005, when it began slinging the spongy wheat-gluten blocks and starchy noodles in Flushing's Chinatown. Now they're fairly common, but one of the most interesting takes on this Western Chinese specialty is bo cai liang pi, or spinach cold skin noodles. Verdant slippery green noodles and blocks of squidgy gluten are piled high atop a lake of reddish sauce that sings with the flavors of five-spice, chile, and tahini, which imparts a tannish hue. Balance out all the carbs with a premium pork burger. The flaky flatbread sandwich is wonderful dipped in the red liang pi liquor.
5. Hwa Yuan's Cold Noodles With Sesame Sauce
42 E. Broadway, nr. Catherine St.; 212-966-6002
Cold sesame noodles, a dish that first came to New York City in the 1970s thanks to legendary chef Yu Fa "Shorty" Tang, have been imitated so often that they've become the dollar slice of the Chinese noodle world, that is to say marginally tasty, but nothing like the original. The only thing that takeout versions get right is the temperature. All too often they're cloyingly sweet and gloppy with peanut butter. Thankfully Shorty's son, Chen Lieh Tang, started serving his father's recipe at Hwa Yuan. The first thing you'll notice about these noodles is that it's possible to pick up an individual chilled strand with your chopsticks. The next thing you'll notice is the complexity of the sauce coating that strand. It goes far beyond sesame, peanut butter, sugar, and chili to include star anise, tiny crunchy bits of pickled mustard greens, and tingling Sichuan peppercorns. The resulting symphony of texture and flavor is sure to win new converts and evoke waves of nostalgia in New York diners of a certain age.
6. TsuruTonTan Udon Noodle Brasserie's Uni Ikura Hotate Udon
21 E. 16th St., nr. Union Sq. W.; 212-989-1000
Whether you're luxuriating in Maine or toughing it out in the sweltering streets of Manhattan, cold seafood is a refreshing summertime staple. It's even more refreshing when combined with chilled noodles, as is the case with TsuruTonTan's uni ikura hotate udon. Salmon roe, sea urchin, and sweet scallops are crowned by a bit of seaweed and shiso leaf. While you have the option of thick udon, go for the thinner one and save the thick variety for winter's hot soups. The combination of the chewy noodles, wasabi, and dashi broth along with the trio of maritime delights is most invigorating on a hot summer evening.
7. Raku's Ja Ja
48 Macdougal St., nr. King St.; 212-989-4797
Fiery orbs of spicy miso and pork designed to be mixed into bowls of ramen soup are nothing new, but chef Norihiro Ishizuka takes a unique approach with his cold ja ja men, a dish inspired by Chinese zha jiang mian. A ball of ground pork loin cooked for hours with miso, chili paste, ginger, bamboo shoots, and shiitake sits atop a tangle of cucumbers. Below that lie slippery strands of Inaniwa-style udon in a cold dashi broth. Stir in the accompanying poached egg and mix the whole lot. Upon first slurp, ja ja refreshes and then the heat kicks in, but not in an overbearing way. The richness of the miso pork combined with the egg along with the chewy linguinelike noodles call to mind a cold Japanese Bolognese.
8. Khao Nom's Lod Chong Singapore
42-06 77th St., Elmhurst; 929-208-0108
Despite the name, this icy cold Thai dessert of verdant pandan noodles in chilled sweetened coconut milk with bits of jackfruit found at Khao Nom in the heart of Elmhurst's bustling Little Bangkok has nothing to do with Singapore. Lod Chong Singapore is named for a stand in Yaowarat, Bangkok's Chinatown that was next to the Singapore Theater. The slippery tapioca noodles have a pleasant chewiness and bear the haunting perfume of pandan, a scent that lies somewhere between vanilla and the aroma of cooking rice. Khao Nom's version is especially refreshing thanks to a small glacier of frozen coconut milk.
9. Lhasa Liang Fen's Lhasa Liang Fen
80-07 Broadway, Elmhurst; 718-806-1712
The signature dish — Lhasa liang fen — at this tiny restaurant named for the capital of Tibet is a bowl of slippery whitish mung bean noodles submerged in a reddish lake topped with peanuts and green onions. The cool noodles have a slight chew and are so slippery that you'll want to skip chopsticks in favor of a spoon, which is also a great way to enjoy the dressing, a mix of garlic, chili, soy, vinegar, and just a hint of yerma, the Sichuan peppercorn's more fragrant Tibetan cousin. Don't be surprised to find a table of modern day maroon-robed Tibetan Buddhist monks dining below black-and-white photos of their historic counterparts.
10. Cafe at Your Mother-in-Law's Kuksu
3071 Brighton 4th St., nr. Ocean Pkwy.; 718-942-4088
Cafe at Your Mother-in-Law, a casual spot in Brighton Beach, serves cuisine of the Koryo-saram people, who were forcibly relocated from the far eastern reaches of the Soviet Union to Uzbekistan, including kuksu the best cold beef noodle soup in Kings County. Four distinct quadrants — shredded beef, lightly pickled kirby cukes, strands of omelette, and crunchy shredded cabbage — float atop a broth that tastes like a sweeter, beefier version of Korean naengmyeon. Chewy wheat noodles lurk below. Balance out the sweetness with some of the fiery chili paste if you like.