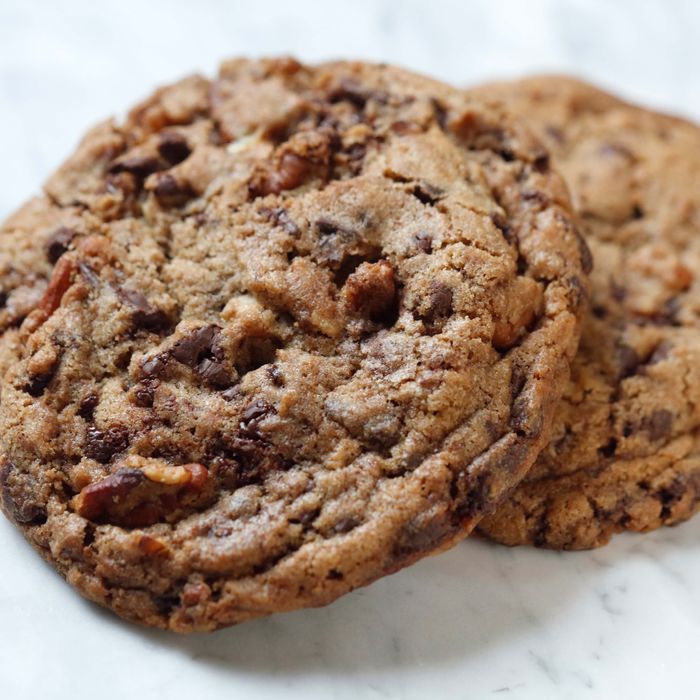 Petrossian's pecan-chocolate-chip cookie.
Photo: Melissa Hom
It turns out that, yes, there is a conversation to be had beyond popular favorite Levain Bakery; the iconic American treat is masterfully interpreted by French, Israeli, and Greek bakers — and even a British sandwich chain. Below, the best chocolate-chip cookies in New York.
1. Petrossian Boutique & Café
911 Seventh Ave., nr. 58th St.; 212-245-2217
The best chocolate-chip cookie is a hot, fresh-from-the-oven chocolate-chip cookie. But because it is impossible, sadly, to time one's life to retail bakeries' cookie-baking schedules, other criteria must be applied. Underbaking helps, but not to the exclusion of a sufficiently crisp crust that crackles slightly upon contact with teeth. Chip coverage is crucial, of course: Bites absent any trace of melty chocolate flavor are bites not worth taking. Nuts are secondary players, but their selection and preparation can ultimately make or break an otherwise worthy contender. All of which is to say that the chocolate-chip cookie at Petrossian comes closest to this ideal. It's crisp-edged but with a tender, yielding interior; boasts ample (but not overwhelming) chip coverage; and even integrates a judicious helping of pecans, which lend some welcome texture and toasty flavor. Also: In stark contrast to the prevailing cookie-dough camp of extreme undercooking (see Levain, et al), Petrossian's cookies are practically well-done, with a burnished brown color and appealing caramelized flavor.
2. L'Imprimerie
1524 Myrtle Ave., nr. Gates Ave., Bushwick; 929-295-6464
Gus Reckel is a French investment banker turned baker, and his Bushwick establishment is mostly devoted to his homeland's elegant baguettes, croissants, and tartines. But he does make certain concessions to the junkier American appetite — chief among them his chocolate-chip cookie, based on his mother's recipe. Its surface crispness is balanced by an enticing interior chew, and a smattering of sea salt serves to counteract an almost indecent quantity of dark French chocolate.
3. Dominique Ansel Kitchen
137 Seventh Ave. S., nr. Charles St.; 212-242-5111
Dominique Ansel's stunty cookie milk "shots" get all the Instagram attention, but it's his unassuming chocolate-chunk cookie that's won us over. Puffy and pillow-soft, it's endowed with that critical thin, crisp shell that provides the perfect foil for slightly underbaked innards. And while the melting dark-chocolate chunks might appear few and far between, on the palate, the ratio is just right.
4. Maman
239 Centre St., nr. Broome St.; 212-226-0770
Domed in shape and lush in texture, Maman's contribution to New York's cookie pantheon is an artful marriage of French and American tradition. The batter is precisely (under)cooked, the chocolate top-notch. To be honest, we're not sold on the legitimacy of macadamias and almonds as chocolate-chip-cookie nuts; the texture is a bit jarring. It's nice that they'll offer to warm them up for you, though.
5. Levain Bakery
167 W. 74th St., nr. Amsterdam Ave.; 212-874-6080
It's true, the craggy monsters at this cookie mecca are underbaked bordering on raw, and hefty enough that lesser appetites will concede midway. But the turnover is so high, the mouthfeel so sumptuous, and the flavor so rich and buttery that Levain's chocolate-chip-walnuts are nearly impossible to dethrone as the city's most popular cookie. (A silent minority considers the dark-chocolate-peanut-butter-chip the one to beat.)
6. Untitled
99 Gansevoort St., nr. Washington St.; 212-570-3670
Gluten-free is usually the sad also-ran of the baking world, but at Danny Meyer's Whitney Museum restaurant, it's the glorious default. When pastry chef Miro Uskokovic was recipe-testing his jumbo triple-chocolate-chunk cookies, he experimented with a batter made from Thomas Keller's Cup4Cup GF blend and preferred it to the conventional-flour control. The menu (wisely) doesn't bill the confection as gluten-free, and you'd never know otherwise, though the dough does possess a certain granular crumbliness. Clarified butter, though, and lots of it, is what gives it its richness and ultrasoft texture, which is most apparent when the cookies are at their optimal warmth and freshness. That's when the chocolate (melting disks of Guittard milk, dark, and white) shows best, too. And if you don't feel like staying for the plated dessert, which comes with a mini bottle of vanilla-scented milk, you can grab a cookie to go at the bar, or at the eighth-floor Studio Cafe.
7. Breads Bakery
18 E. 16th St., nr. Union Sq. W.; 212-633-2253
Nothing about the triple-chocolate-chocolate-chip's appearance (cratery flat surface, uniform dull brownness, lack of protruding chocolate shards) hints at its excellence. It's the epitome of the thin, flat, caramelized style — the anti-Levain, if you will — and its various charms include a crisp outer surface, a soft, chewy interior, and a thorough dispersion of milk, dark, and (not to the cookie's detriment, notably) white chocolate.
8. The Smile to Go
22 Howard St., nr. Crosby St.; 646-863-3893
Adding salt to balance out sweet is a necessary tactic, but no one takes it quite as far as this Soho shop. The wide, flattish cookie is instantly recognizable, both in appearance and tongue-tingling taste: Guittard dark-chocolate disks decorate the surface under a flurry of Maldon sea salt flakes.
9. Boubouki
120 Essex St., at Delancey St.; 718-344-4202
Better known for its baklava and spinach pies, this Greek stall inside Essex Market dispenses a surprisingly winning cookie, flavored with not only chocolate chips, but orange zest, walnuts, and the signature ingredient: grape-must syrup.
10. Pret a Manger
Multiple locations; pret.com
What makes these chain cookies so tasty? They're baked fresh throughout the day, and held in a warmer to preserve their crisp-edged, melty texture. This heat-lamp approach might sound kind of lame, but the result is lowbrow brilliant.