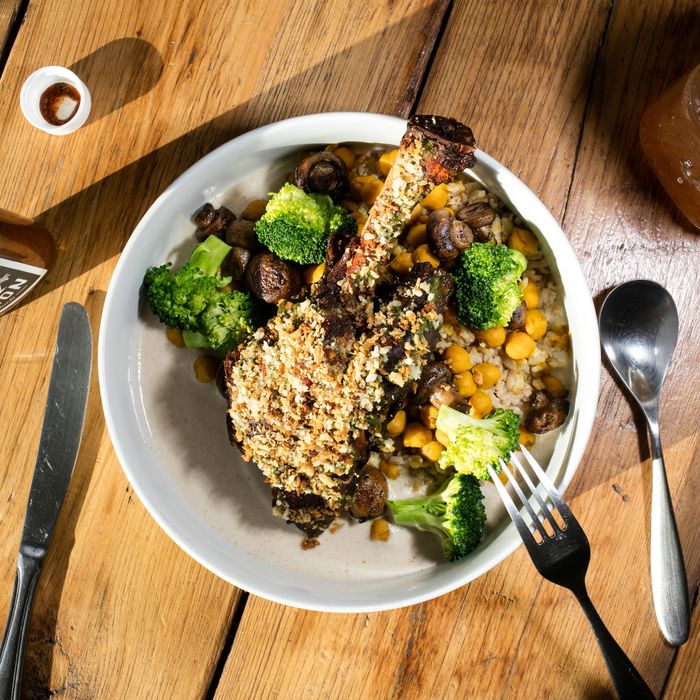 The Food Sermon.
Photo: Melissa Hom
In the late 1960s, waves of Caribbean immigrants landed in Brooklyn, coalescing in neighborhoods such as Flatbush and Crown Heights. Today, the area still contains an incredibly dense concentration of Caribbean culture. While millions flock to the neighborhood to dine during Labor Day's annual West Indian Day Parade, you don't need to fight the crowds to feast in Crown Heights. Almost every day of the week, you can island-hop from restaurants specializing in Trinidadian rotis, Jamaican jerk chicken, and patties bursting with spicy beef. The best of class pay deep attention to detail, preparing food to order, utilizing high-quality ingredients, and both honoring time-tested culinary traditions and updating them for the 21st century. Here, the absolute best Caribbean food and restaurants in Crown Heights.
1. The Food Sermon
355 Rogers Ave., nr. Sullivan Pl., Crown Heights; 718-484-7555
In no time flat, the Food Sermon will make you a true believer. The minister of deliciousness is self-taught chef Rawlston Williams, who offers a brief menu of build-your-own "island bowls" at this cheerful corner spot, equipped with little more than a couple of communal tables and a self-serve stand for silverware and water. Choose a main (lamb, halal jerk chicken, seared tofu, panko-crusted salmon); white or brown rice; red beans or chickpeas; and a sea of sauce, piquant tomato or coconut ginger. No matter the combo, your four elements combine to create a flavorful alchemy, the sum so much more delicious than the parts. You stick a fork in the braised lamb shank and tender shards cleave off like a meaty iceberg, each bite perfect, heavenly even. The crispy, squishy tofu is better than any bean curd has a right to be; the jerk chicken cooked to just this side of juicy; the tamarind-mango-pineapple hot sauce a perfect marriage of sweet and spice. Know before you go: Williams, a devout Seventh-day Adventist, shuts the restaurant on Fridays at sunset, reopening it on Sunday afternoon.
2. The Islands
671 Washington Ave., nr. St. Marks Ave., Crown Heights; 718-398-3575
When the Islands' longtime home was demolished last year, Jamaican-food acolytes feared that they'd never again get a leg of fiery jerk chicken so tender, it sloughs from the bone with pressure from a pinkie. Happily, the Islands was recently reborn a half-dozen blocks north — in a former Caribbean restaurant, no less. The digs are bigger and they now include a bar (the liquor license is pending), but owner Marilyn Reid's soulful cooking remains unchanged. You'll find all of the greatest hits, including gooey wedges of mac 'n' cheese, simmered oxtail to gnaw on like meat coins, and tender curried goat served with coconut-infused rice. Our favorite is the calypso shrimp, jumbo crustaceans swimming in a savory coconut sauce that you'll want to slurp with a spoon. And good news, vegetarians: The offerings now include an expanded range of meat-free meals, with the curry vegetables being the standout.
3. Glady's
788 Franklin Ave., at Lincoln Pl., Crown Heights; 718-622-0249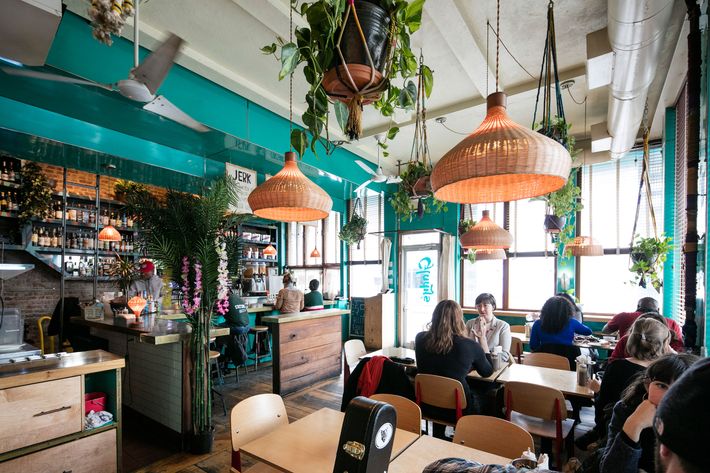 It's the rare Jamaican restaurant that offers jerk seitan alongside flights of aged rum, but such touches make Glady's a great Caribbean canteen for modern Brooklyn. The lively restaurant and bar, where lush plants dangle from the ceiling and sunlight slants in from window blinds, is best enjoyed with a clutch of friends, the better to share platters of smoke-stained jerk chicken and pork cooked on the wood-fired grill. You'll want sides of spicy slaw and rice and beans, plus a few cups of the daily rum punch, a frozen Dark 'n' Stormy, and, why not, a bucket of Red Stripes for the table.
4. Trinidad Golden Place
788 Nostrand Ave., nr. St. Johns Pl., Crown Heights; 718-735-7065
From lunchtime till the dinner rush, there's pretty much always a permanent line at this Trinidadian bakery, where you can peek through the kitchen door to watch flour-covered workers shape crave-worthy baked goods like fluffy raisin buns and sweet breads. The savory side, though, is where Golden Place sings, including hot sauce–dabbed doubles — twin circles of puffy fried bread sandwiching chickpeas — and pliant rotis (flatbreads filled with a layer of ground yellow split peas) wrapped around your preferred protein. (Tip: Try the shrimp.) Also of note are the fried-chicken and chow-mein and lo-mein dishes, Chinese immigrants' lingering contribution to Trinidad and Tobago's culinary culture.
5. Gloria's Caribbean Cuisine
764 Nostrand Ave., at Sterling Pl., Crown Heights; 718-773-3476
Gloria's is a greatest-hits album of Trinidadian food. The friendly, low-frills restaurant humbly, and handily, crushes all of the classics, including pholourie (spongy, deep-fried orbs made from split-pea flour) dressed in chutney and saucy doubles, requiring a clutch of napkins. The roti fillings here extend to lesser-seen items, including duck, curried conch, soy chunks, and pumpkin paired with bhagee, or spiced potatoes. The stewed oxtails make for a fine dinner served atop a generous mound of rice and two sides — you can't go wrong with fried okra and sautéed callaloo, a nutritious leafy green. For dessert, try the peanut punch, a sweetly milky concoction seasoned with nutmeg.
Honorable Mentions
Exotic Roti Express
807 Nostrand Ave., at Union St., Crown Heights; 347-405-7345
Exotic Roti Express, which shares a cramped storefront with a flower shop, makes some of the neighborhood's best and most offbeat roti skins. Owner and Guyanese native Bradley Henry fills his flatbreads with the likes of spinach or flaky codfish, adding a flavorful strata when paired with our favorite, the boneless chicken curry topped with chickpeas, pumpkins, and a flamethrower stripe of hot sauce.
Ital Kitchen
1032 Union St., nr. Franklin Ave., Crown Heights; 347-405-9727
Rastafarians adhere to an ital diet, favoring pure foods that aren't chemically altered or addled with additives. Here, Jamaica native and Le Cordon Bleu grad Michael Gordon cooks a meat-free menu counting jerk-style veggies, ideally sided with baked sweet plantains, and coconut milk–based turmeric stew brimming with grilled asparagus and roasted corn.
Little Miss Muffin 'N' Her Stuffin'
768 Washington Ave., nr. Sterling Pl., Crown Heights; 718-857-4963
The namesakes are moist marvels at the Washington Avenue bakery, particularly the lemon poppy, but we favor the flaky, golden, steaming patties filled with chicken, be it jerk, honey BBQ, or best of all, curry.
Original Vegetarian Restaurant
752 Nostrand Ave., nr. Park Pl., Crown Heights; 718-778-6660
Incense often wafts through this railroad car of a restaurant, where the flaky patties arrive stuffed with curried soy protein, ideally dabbed with one of the Scotch bonnet–laced hot sauces near the front counter. Our advice: Ask them to slice open a patty and, for an extra dollar, stuff it with the daily sautéed greens.
Peppa's Jerk Chicken
791 Prospect Pl., nr. Nostrand Ave., Crown Heights; 718-450-3976
The second location of the Brooklyn jerk giant is every bit as exceptional as the original in Prospect–Lefferts Gardens), with a coop's worth of chickens getting a blackened finish on the grill. The juicy fowl, its skin rendered like fatty candy, won't light your mouth on fire. For that, you'll want a few judicious squirts of the five-alarm jerk sauce, the thick condiment soaking into the accompanying rice and beans.
Royal Bakery & Roti House
618 Nostrand Ave., nr. Pacific St., Crown Heights; 718-604-0200
The takeout-only Trinidadian bakery and restaurant delivers a dizzying variety of island specialties, from dense bricks of decadent bread pudding to bulging roti rolled up with plump shrimp and aloo pie, a forearm length of puffy fried bread split and painted with mashed potatoes — the couple-bucks carb bomb of your dreams.
Tony's Pizza on Nostrand Avenue
850 Nostrand Ave., at Union St., Crown Heights; 718-363-8300
The pizza at Tony's is fairly forgettable, no better or worse than the million slice joints blotting the city like grease stains. Instead, the get here is jerk chicken, cooked in the pizza oven and hacked into dozens of lightly charred bits, best dunked into a side of the singeing jerk sauce. Grab a $25 half-tray, a silver tureen big enough to feed four, coco bread included.
Triple D's Place  
771 Washington Ave., at St. Johns Pl., Crown Heights; 718-623-2310
Locals crowd the closet-size takeout shack for traditional Jamaican dishes, such as stewed cow foot and tripe and beans, as well as fatty chunks of jerk pork, packed to overflowing in Styrofoam containers. They're all well and good, but Triple D's secret power is fried chicken, cooked hot and craggy, and available by the piece, meaning you can make your own mix-and-match box of legs, wings, and breasts to tote to a picnic in nearby Prospect Park.
Tropical House Baking
265 Schenectady Ave., nr. Eastern Pkwy., Crown Heights; 718-773-9523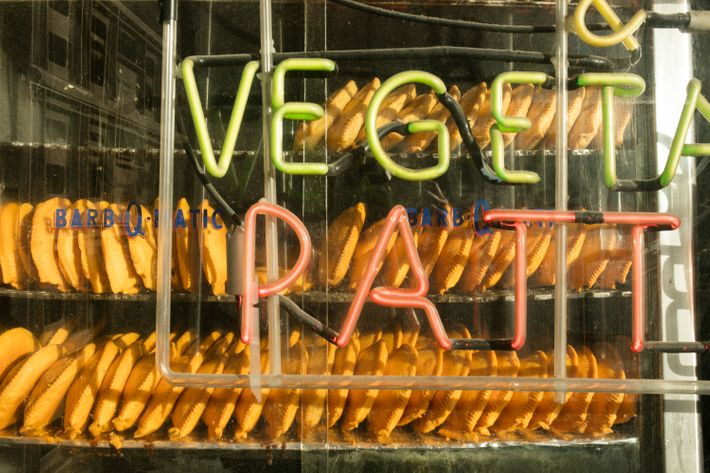 Since 1982, brothers Douglas and Dennis Young have been turning out some of Brooklyn's best patties — firm, baked fresh, and crammed with beef, chicken, or vegetables, a mix that often includes corn and peas. Bring a few to nearby Eastern Parkway to chomp on the benches, watching life parade past.