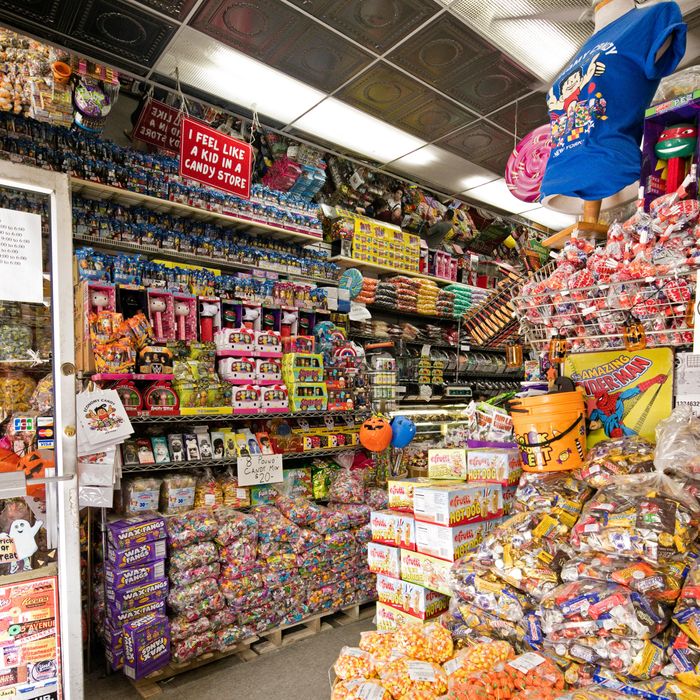 Economy Candy is a virtual time machine.
Photo: Melissa Hom/New York Magazine
With Halloween fast approaching, the impulse to phone it in and buy standard sacks of sweets for trick-or-treaters online or at a big-box drug or grocery store is understandable. But if ever there were a mom-and-pop worth fighting for, it would be the old-fashioned candy shop: museum (and creator) of nostalgia, bequeather of absolute joy (and cavities), site of masterful parent-child negotiations. New York's numbers are dwindling, but those that have survived, along with some newcomers, deliver big time — and make every day feel like October 31.
1. Economy Candy
108 Rivington St., nr. Essex St.; 212-254-1531
"If we don't have it, they don't make it anymore," Economy Candy's third-generation proprietor, Mitchell Cohen, once told the New York Daily News. "And if they do, we'll find it." The store is a virtual time machine, spanning the decades since 1937, when it first opened. Wander through the maze of densely packed, narrow shelves, which tower up to the high tin ceilings, and you're sure to encounter a beloved treat (or ten) you may have completely forgotten existed despite its outsize presence in your childhood — whether you're 18 or 55 or 92, whether you grew up in the Bronx or London or Tel Aviv. Spindly, chalky candy cigarettes; wax lips; Pez dispensers; Leone pastilles from Sicily, made since 1857; Aero bars from England; glossy packets of Big League Chew emblazoned with Cal Ripken's grit-toothed cartoon face; Nintendo Wii gumballs; Harry Potter jelly beans. There are boxes and buckets and bins full of chocolates and nuts and gummies; racks of rainbow-colored whirly pops; eight-pound, $20 grab bags of assorted wrapped goodies. There's even a little halvah station, which looks sort of like a shrine to the Jewish Lower East Side of yore — it's also where the U-Bet chocolate syrup, brand of choice for egg creams, is kept. On a recent afternoon, a woman watched with an expression of pleasurable disbelief as Jerry Cohen, Mitchell's father, rang up her selections. "I could spend all my money here," she said. Cohen, smiling, replied, "You should!"
2. The Sweet Shop
404 E. 73rd St., nr. First Ave.; 212-960-8685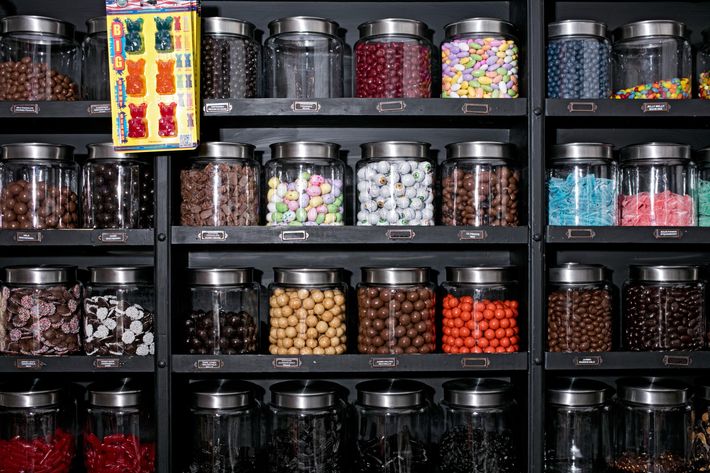 This three-year-old spot may be small, but it's mighty — "carefully curated," says the jolly 26-year-old Matthew Jaime, whose father, Kelly, owns the place. The younger Jaime can often be found behind the counter, wearing a 1950s-style bowling shirt stitched with his nickname, "Pie Guy," and a baseball cap turned sideways, like a latter-day Willy Wonka. And those buzz words are not just savvy marketing, although Jaime Sr. (the "Candyman") does have a background in sales. The thoughtfully arranged selection in the tiny shop feels unusually precise, and Matthew will expound happily on any item, from retro classics to new discoveries: small-batch Meyer-lemon-flavored soft chews handmade by a woman just across the river in Long Island City; a candy "pizza" that comes in a miniature cardboard pizza box (great for birthday parties); a bar of peanut-butter milk chocolate branded with the Mets logo that Matthew proclaims, correctly, as some of the best peanut-butter milk chocolate on the market.
3. Dylan's Candy Bar
1011 Third Ave., nr. 60th St.; 646-735-0078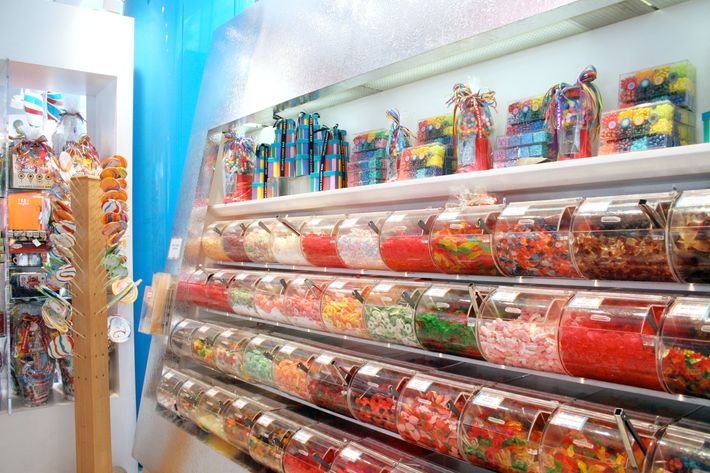 The original location of Dylan Lauren's empire is not for the faint of heart. Visitors are greeted at the door by a terrifyingly large sculpture of a chocolate Easter bunny. The deafening soundtrack is on the nose, to say the least: Mandy Moore's "Candy," Marilyn Manson's cover of "Sweet Dreams (Are Made of This)." The stairs to the labyrinthine lower level are made of resin that appears to contain sweets, as if suspended in amber. For a cynical adult, it's all a bit much, but for the young — and the young at heart — it's an absolute pleasure dome, picking up where F.A.O. Schwartz left off in celebrating consumerist excess. It's impossible not to at least be awed by the exhaustiveness of the store's merchandising team, which has amassed not only every conceivable category of candy, often arranged by color, but also an endless array of candy- and, more generally, junk-food-themed toys and accessories: lip balms and onesies and pool floats and lunch boxes and board games and bathrobes. (Snackwave is alive and well at Dylan's.) There's even a 3-D candy printer that can create an edible gummy likeness of your face.
4. Sockerbit
89 Christopher St., nr. Bleecker St.; 212-206-8170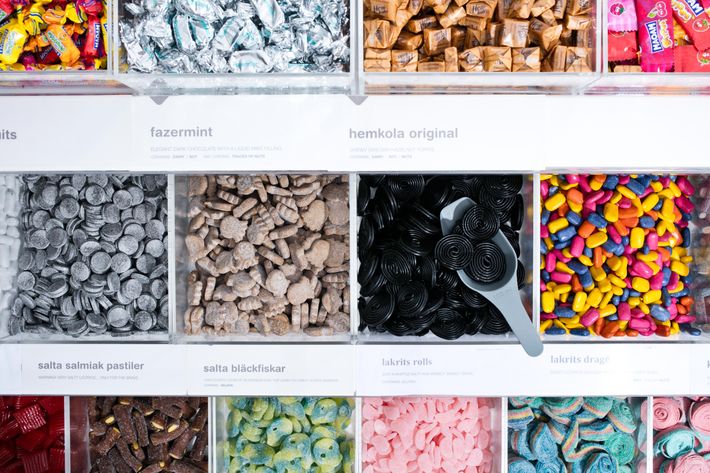 In Scandinavian countries, candy is a Big Deal — almost every supermarket and gas station functions as a legitimate candy store, selling much-better-than-you'd-expect bulk chocolates and gummies and, especially, licorice by the pound. Sockerbit's Swedish owners sought to bring that tradition to New York in the form of this sleek West Village shop, a bastion of minimalism, all clean geometry and bright white space with just one wall lined with neat rows of bins containing colorful treats. Each is labeled with a line or two of chatty, arch description or instruction: "UMMMM…YES THE SWEDES HAVE THEIR OWN JELLY BEAN…NOT TOO SHABBY :)" "WARNING! VERY SALTY LICORICE…ONLY FOR THE BRAVE" All candy is made without trans fats, artificial coloring, and GMO ingredients. And the owners couldn't resist introducing New Yorkers to a few of their native region's other best exports, including jarred herring, frozen meatballs, pancake mix, and Fjallraven knapsacks.
5. Myzel's Chocolate
144 W. 55th St., nr. Seventh Ave.; 212- 245-4233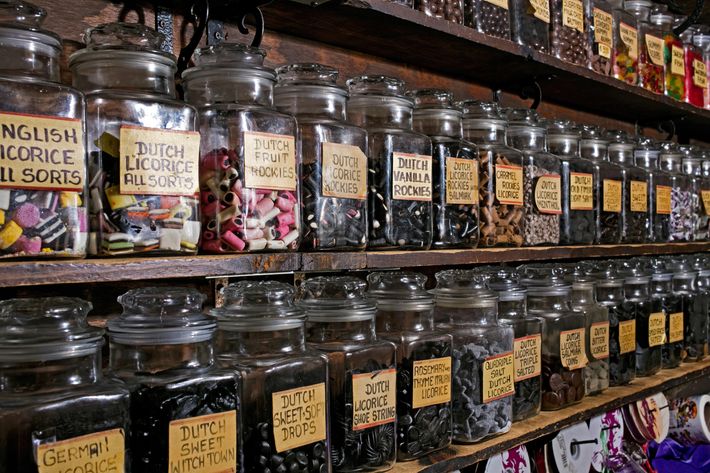 Kamila Myzel, the Polish expat who opened this shop in 1990 with her mother, considers herself a "traditional European chocolatier," and she certainly offers an impressive array of handmade chocolates, truffles, cookies, and barks. But to think of Myzel's as only a chocolate shop does a disservice to its incredible selection of licorice: more than 100 varieties in all shapes and shades and flavors, imported mostly from Europe (especially Holland) and Australia and displayed alluringly in long rows of apothecary jars lining the wall behind the chocolate counter, along with all of the usual-suspect jelly beans and gummies. The midtown storefront is unassuming, but the shop's dimly lit interior gives off a baroque, Old World, forgotten-by-time vibe, and the elaborate seasonal displays and frilly tchotchkes are charmingly over-the-top.
Honorable Mentions
Handsome Dan's
186 First Ave. nr. E. 11th St., East Village; 917-965-2499
The snow cone and candy stand in a Williamsburg mall has expanded to Manhattan and taken over a proper-size shop. It's a shiny, cheerfully cartoonish exercise in nostalgia, targeted toward everyone from baby-boomers to millennials, offering old favorites from Mallo Cups to Nerd Ropes, plus snow cones (Pop Rocks topping optional) and cotton candy in flavors like Earl Grey and rose.
Philips Candy
8 Barrett Ave., nr. Forest Ave., Westerleigh; 718-981-0062
The MTA pushed this Coney Island institution, opened in 1916, out of its original home in 2001, but it was back up and running by the following year, now on Staten Island, where the owners live. A big chunk of business is bulk catering orders — of their signature candy apples, pink sugared popcorn, and cake and marshmallow pops — but a small quadrant of the warehouselike shop is devoted to counter service, where walk-ins can take home fruit dipped in chocolate, gummies and hard candies by the pound, and even order an egg cream or a lime rickey, best enjoyed while reading old articles about the shop's history, displayed for posterity in a big glass case.
Schmidt's Confectionery
9415 Jamaica Ave., Woodhaven; 718-846-9326
Since 1927, Schmidt's Confectionery, in the shadow of the elevated J-train tracks, has held strong and hardly changed even as the neighborhood around it has transformed. The handsome interior, with a narrow tiled aisle running back between two long wood-and-glass display cases, is presided over by Margie Schmidt, the third-generation owner, who is so warm and welcoming that the shop surely owes as much of its customer devotion to her as to its handmade-on-the-premises chocolate-covered raspberry jellies, chocolate mint cremes, and the honey drops she makes to soothe sore throats when the weather starts to cool.
The Sweet Life
63 Hester St. nr. Ludlow St. Lower East Side; 212-598-0092
A neighborhood fixture since 1982, the small, tidy shop has a vaguely Parisian feel, decorated with checked café curtains. They sell a wide selection of bulk and packaged candy, nuts, chocolate, and even teas and other pantry items, with a particular emphasis on imported offerings, including a section devoted to the kinds of wrapped hard candies and chews that grandmothers around the world, from Italy to Indonesia, carry in their purses.
Sugar Shop
254 Baltic St., nr. Court St., Cobble Hill; 718-576-3591
Tucked just off the neighborhood's main drag, this sunny, white-tiled store is popular with the after-school crowd, offering a highly serviceable array of typical sweets by the pound, movie-concession classics, and locally made Brooklyn brands like Salty Road taffy and Liddabit caramels — plus music classes for babies, in an adjoining room that's also available to rent for parties.
Williams Candy
1318 Surf Ave., nr. W. 15th St., Coney Island; 718-372-0302
The promise of Coney Island is kept alive in its last-standing old-school candy store, which has been open seven days a week for more than 75 years. Just a stone's throw from Nathan's and the boardwalk, it snapped back fast after Sandy. Rows of candy and caramel apples, coated in waxy sprinkles, beckon from the front window, bags of pink and blue cotton candy dangling above them. Inside, there's ice cream, a popcorn machine, and plenty of cheap treats like sour belts, licorice laces, Swedish Fish, and jawbreakers.