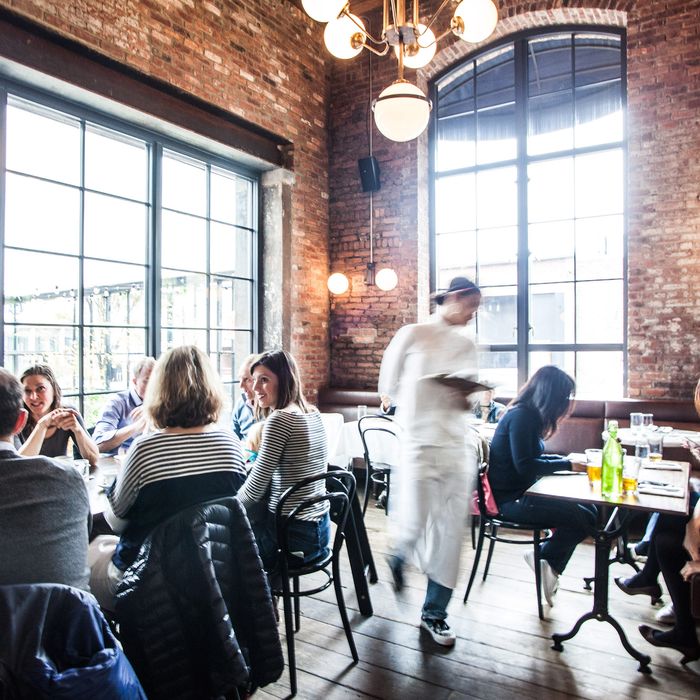 In the early afternoon, this is the borough's loveliest dining room.
Photo: Konstantin Sergeyev
Below, the very best places to get brunch — the much-maligned, though still totally worthwhile midday meal — in Brooklyn, as judged by both the quality of the food and the overall pleasantness of the experience (read: you won't find any bottomless brunches here).
1. Reynard
80 Wythe Avenue, at N. 11th St., Williamsburg; 718-460-8004

In the early afternoon, there's no more agreeable place in Brooklyn than Andrew Tarlow's dressed-down restaurant in the Wythe Hotel. The charm of the handsome room is obvious, with its marble bar and nicely spaced tables, iconic mosaic floor, high wooden ceiling, and tall windows that flood the space with light. Even better, there's the food: brunchy in the right way, tweaked just enough to be interesting, and changing all the time, as tends to be the case at Tarlow's restaurants. Think labneh subbed in for cream cheese on the gravlax toast, orange-scented loaf cake, and jelly-filled doughnuts, or heartier braised spare ribs with olive oil potatoes that spread like butter. It doesn't hurt, either, that the coffee is so good, or that the brunch cocktails go well beyond the basics.
2. Okonomi
150 Ainslie St., nr. Lorimer St., Williamsburg; no phone

This is not your traditional Brooklyn brunch. There's no hollandaise, the main attraction is a Japanese omelette called tamagoyaki, and there's no bacon in sight. The Williamsburg restaurant's set multi-course meal includes roasted local seafood like bluefish, a duo of mild pickles, and the tamagoyaki, a soothing miso soup, and austere brown rice. If you like, you can also luxe up your meal with supplements like sea urchin and a poached egg, but there's something endearing about a room full of people all eating the same breakfast, one that happens to be among the most thoughtful, and interesting, in town.
3. Vinegar Hill House
72 Hudson Ave., nr. Water St., Vinegar Hill; 718-522-1018

This seasonally focused secluded restaurant on a quiet street near Dumbo hits all of the farm-to-table must-haves — buttery grits, luscious Red Wattle pork, poached eggs aplenty — but during weekend brunch it also surprises by taking standard-issue hangover helpers and improving them. That means sourdough pancakes with seasonal-fruit fillings, biscuit sandwiches with mortadella and hot honey, or even a side of home fries with pickled jalapeños.
4. Tom's Restaurant
782 Washington Ave., at Sterling Pl., Prospect Heights; 718-636-9738

The home-style diner Tom's is, really, much better than it has to be. The endearing and long-tenured Prospect Heights institution draws long lines of eager customers no matter what, and could easily coast on its reputation. Instead, the egg creams are solid, the beef sausage is crisp and juicy, and the lemon-ricotta pancakes are even fluffier than you might hope. The coffee is diner-style, and infinite, and the service is friendly, efficient, and fast but never frantic.
5. The Long Island Bar (Sunday only)
110 Atlantic Ave., at Henry St., Cobble Hill; 718-625-8908

This refurbished Cobble Hill diner turned cocktail bar is particularly relaxed during the weekend brunch. The menu is short but effective: a brunch burger, chilaquiles with textbook salsa verde (the Texas-born chef trained at Uchi and Alinea), as well as rösti-style hash browns — greaseless, well-fried squiggles of shredded potato — served with runny fried eggs and creamy breakfast gravy. To drink: a spicy Bloody Marijke, made with horseradish vodka and caraway-infused aquavit, or the Manmosa, a shockingly excellent mix of beer and orange juice.