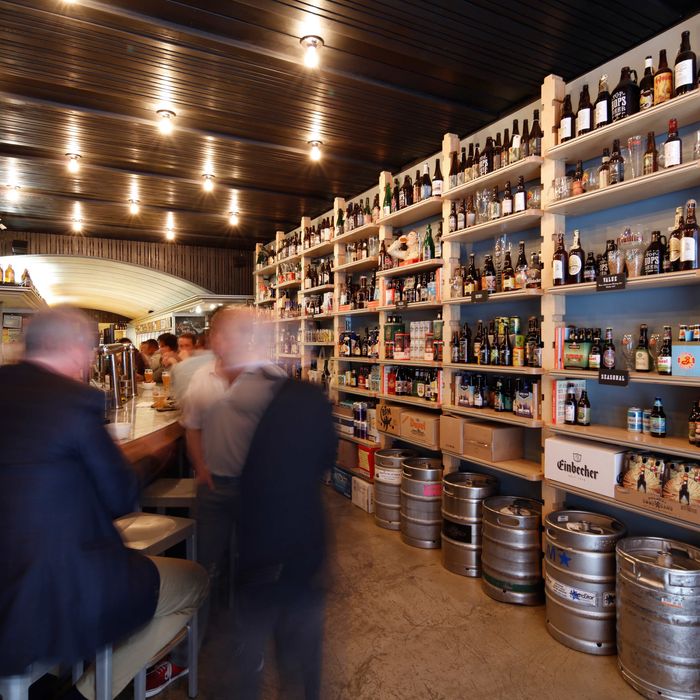 Top Hops, which is very aptly named.
Photo: Melissa Hom
Below, the very best shops to hit when you absolutely need outstanding, and sometimes obscure, beer from all over the world.
1. Top Hops
94 Orchard St., nr. Delancey St.; 212-254-4677
There are 750 different beer options available in cans and bottles, 20 constantly rotating selections on tap, and a steady supply of sought-after brews like Goose Island's Bourbon County Stout, Firestone Walker Parabola, or AleSmith Speedway Stout. (When Westvleteren XII, the ultimate beer-geek trophy bottle, came Stateside for the first and only time in 2012, Top Hops snagged half the city's supply.) Lately, the shop's owners have also been busy expanding an education program to ten different classes, and they continue to proudly source bar snacks from neighborhood purveyors like Saxelby Cheesemongers. You can also drink in the store: Choose any of the shop's bottles and cans and sample them on site for a small corkage fee that's still less than what you'd pay at most dedicated beer bars.
2. Beer Table to Go
Grand Central Terminal, Graybar Passage; 212-922-0008
New York's most meticulously crafted beer store is arguably run out of 300 square feet in Grand Central Terminal's Graybar Passage. Justin Philips closed his celebrated Park Slope beer bar in 2013, focusing instead on this takeout spot. The shop is small, but the long line of commuters during rush hour attests to the sheer number of beers in back — around 100 different options, both local and obscure. Philips, a former beer distributor, has also made a habit of releasing vintage bottles from the cellar on Sundays, selling incredibly rare offerings like a 2005 Gale's Prize Old Ale or a 1995 Thomas Hardy's Ale. (And there's good news for people who don't make it to Grand Central too often: The Philipses have opened a second shop at Westfield World Trade Center, and there's a third location in the works.)
3. Good Beer NYC
422 E. 9th St., nr. Ave. A; 212-677-4836
Since opening in 2010, David Cichowicz's East Village beer emporium has steadily kept pace with the city's growing thirst for craft beer, now stocking close to 700 varieties (the selection of canned beers is particularly strong) and running 12 taps, with growler fill-ups going for about $12 to $30. The refrigerated case is giant, meaning there's room to chill bottles from even the most offbeat brewers, and and you can stock up on bar snacks like jerky, nuts, and beer corn.
4. New Beer Distributors
167 Chrystie St., nr. Rivington St.; 212 260-4360
Many of New York's original craft-beer destinations have closed lately, but this little family-owned emporium, located in a dank Chrystie Street warehouse, remains. Customers are mostly left to fend for themselves, but the 800-plus bottles are organized geographically, and staff are happy to assist if asked. New Beer isn't without its downsides: It's massive, so bottles can literally sit idle for years, and it's not air-conditioned, meaning the summer heat can take a toll on hoppier beers. But enterprising shoppers know this also means they can score vintage beers that wouldn't be available elsewhere — pre-aged and ready to go.