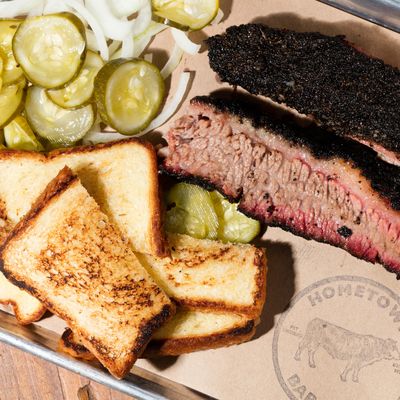 Hometown Bar-B-Que serves a brisket with a super-peppery bark.
Photo: Melissa Hom
In 2014 Daniel Vaughn — the barbecue editor of Texas Monthly — told the Times that the brisket he'd had in New York lately was better than many places in his state. That was a sea change from only a few years earlier, when you were far more likely to encounter great brisket of the Jewish-deli style than of the long-smoked kind you'd find in Austin or Kansas City. Happily, New York's kept up its barbecue habit (for proof, look to Mighty Quinn's, which now has six locations plus Smorgasburg).
1. Hometown Bar-B-Que
454 Van Brunt St., at Reed St., Red Hook; 347-294-4644

At Hometown, the line can wrap around the huge, picnic-tabled dining room and continue out the door, filled with customers waiting to order plates of ribs, bowls of beans, and, if they're smart, servings of New York's best brisket. Visiting Hometown can be trying as an overall experience — there are a lot of baby strollers — but the brisket is fantastic, offering an excellent blend of meaty substance and smoky fat. Most notable is pitmaster Billy Durney's intensely peppery and smoky bark; you will wish every bite were crusted with it. But even those that aren't are imbued with oaky flavor and tender as all get-out. Take a bite and let it melt on your tongue, close your eyes, learn to love the strollers, and you'll achieve barbecue Zen.
2. John Brown Smokehouse
10-43 44th Dr., Long Island City; 347-617-1120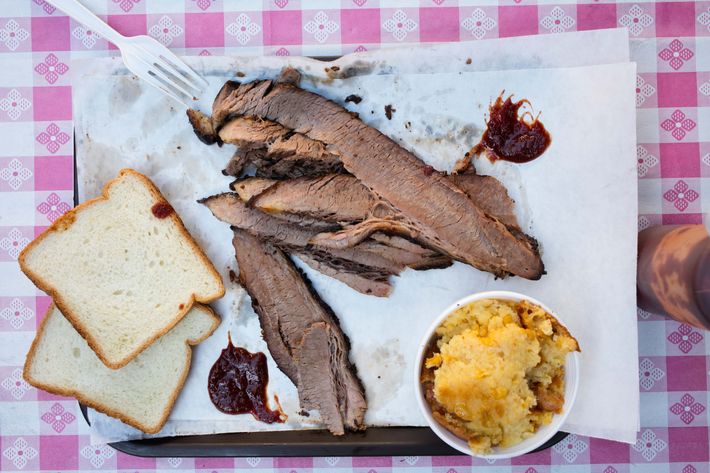 John Brown has fantastic brisket, and you won't go wrong ordering it. But if you really want to order right, choose the burnt ends. Maybe it is overly complicated to consider these — the Kansas City specialty of the burnt points of a brisket — for this list. But there are many who'd argue they're the best form of brisket you can eat, and at John Brown, they're what you want. The dish has a fascinating origin story: The Grand Barbecue book cites a report from native Kansas Citian Calvin Trillin about how these intensely soft, smoky bites of meat were often given away for free, sometimes on a tray next to the butcher, like a bowl of mints or grocery-store free samples. Eventually pitmasters realized what they had their hands on shouldn't be discarded, and now, decades later, burnt ends' popularity has spread to Queens, where owner Josh Bowen routinely sells out of his sweet-smoky, beautifully barked version. If the richness is overwhelming, go for the "normal" brisket, and dip your fork-tender bites in Bowen's ketchup-less housemade sweet-spicy barbecue sauce.
3. BrisketTown
359 Bedford Ave., nr. S. 4th St., Williamsburg; 718-701-8909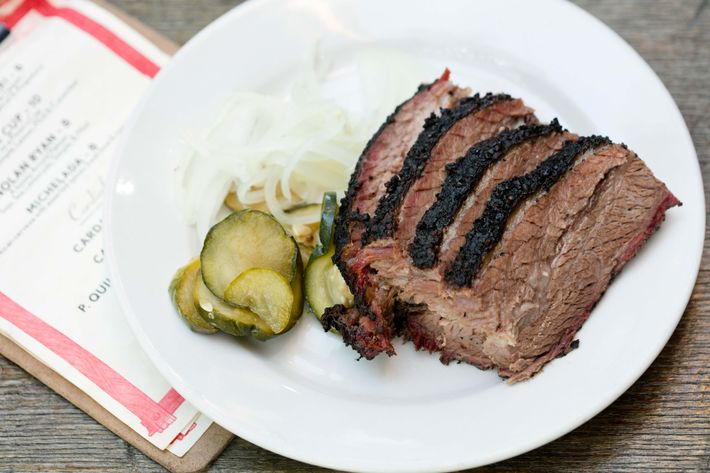 BrisketTown opened to much hoopla and excitement: You'd wait an hour on line only to be told the brisket was sold out. Happily, things have calmed down at this South Williamsburg spot, where owner Daniel Delaney serves Texas-style barbecue, and you can now enjoy a meal at a southern-style relaxed pace. Order a half-pound of fatty, 15-hour-smoked brisket, and it will come with a salt-and-pepper crust that practically slips off the meat. There is a science to why the edges of well-prepared brisket taste so good — Google "Maillard reaction" — but science should be far from your mind with this plate in front of you. The accompaniments are perfect for making your own sandwich: white bread, Trappey's hot sauce, pickles, and raw onions.
4. Mighty Quinn's
Various locations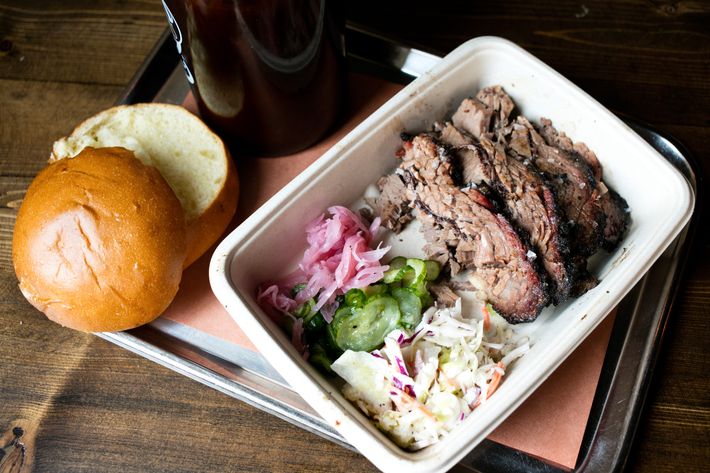 Expanding a barbecue restaurant faithfully is a tricky task, which might explain some inconsistency at Mighty Quinn's, the 2013-born mini-chain that seems to open a new restaurant every other month. Still: When the brisket is good, it's outstanding. Oak-smoked, peppery, barky; the best bites are fatty and coated in a few flakes of Maldon sea salt. Try it with the pickled chile slices on the side to cut the richness.
5. Fette Sau
354 Metropolitan Ave., nr. Havemeyer St., Williamsburg; 718-963-3404
Fette Sau serves brisket that is hard to quit: Sometimes it's so decadently fatty that even a fan of fatty brisket might find it overly rich — the meat sometimes seems close to melting — and you'll need a lighter side (Guss' pickles and sauerkraut are available) to balance it out. But the brown-sugar-tasting flavor is excellent, and it's wonderful on the Martin's dinner rolls the counter workers hand you with your order.
Honorable Mentions
Virgil's Real BBQ
152 W. 44th St., nr. Broadway; 212-921-9494
Maybe you've heard stories about inconsistency (and maybe it's located in Times Square), but when Virgil's is on point, the brisket is excellent: incredibly flavorful, with a healthy dose of smoke imparted by oak, and tender — you can barely pick up a bite with your hands without it falling apart. Also, the bark is better than almost anywhere in town. And it's hard not to respect a barbecue restaurant that brings you a steaming-hot hand towel for clean-up: slightly more exciting than fake-lemon-scented disposable wet cloths.
Ducks Eatery
351 E. 12th St., nr. First Ave.; 212-432-3825
The rub on this brisket (served Tuesday nights) is mostly salt and pepper, the staff will tell you, with a small amount of secret seasonings thrown in as well. That results in a flavor, particularly strong in the fatty bits, that demands attention. Cumin? Coriander? No matter: It's good, especially the fatty brisket (you have the choice to make a mistake and order lean). Ask for an extra portion of the juicy, bright barbecue sauce served on the side.
Blue Smoke
116 E. 27th St., nr. Park Ave. S.; 212-447-7733

The well-marbled, smoky "seven-pepper" brisket comes as part of a $20 special, topped with jalapeño slices, and served with a side (choose collards) and a sweet, which will arrive already wrapped to go; the restaurant knows you'll be full from the plate's savory aspects. Blue Smoke is fancy barbecue — ask and your server will deliver a tiny glass carafe of citrusy barbecue sauce — and sometimes that's a great option to have. (Plus: The cost is similar to other 'cue restaurants in the city, including those with much less thoughtful service.) It doesn't break the top five because occasionally there's a too-tough piece of meat that becomes almost jerky-like, but all things considered, it's one of the better brisket options in the city.
Dinosaur BBQ
700 W. 125th St., nr. 12th Ave.; 212-694-1777
This mini-chain's Harlem location opened in 2004, far in advance of the city's smoked-meat renaissance; it's since expanded to Brooklyn. The brisket sandwich is still a great choice: lightly smoky and peppery meat (with a pleasant almost-nutty flavor), a bun slathered with house barbecue sauce and "horsey" (horseradish) mayo. Not revolutionary, but there's lots of options — sliced brisket, chopped brisket, sliders, platters, etc. — and the restaurants are family-friendly. Back-pocket barbecue.
Butcher Bar
37-10 30th Ave., Astoria; 718-606-8140
Astoria residents have two major barbecue brisket options: here and the Strand. You want to choose the almost-buttery-rich, moist brisket at Butcher Bar. You'll want for a little bark, and the sauce might lean ketchuppy, but the meat's tender and delicious.