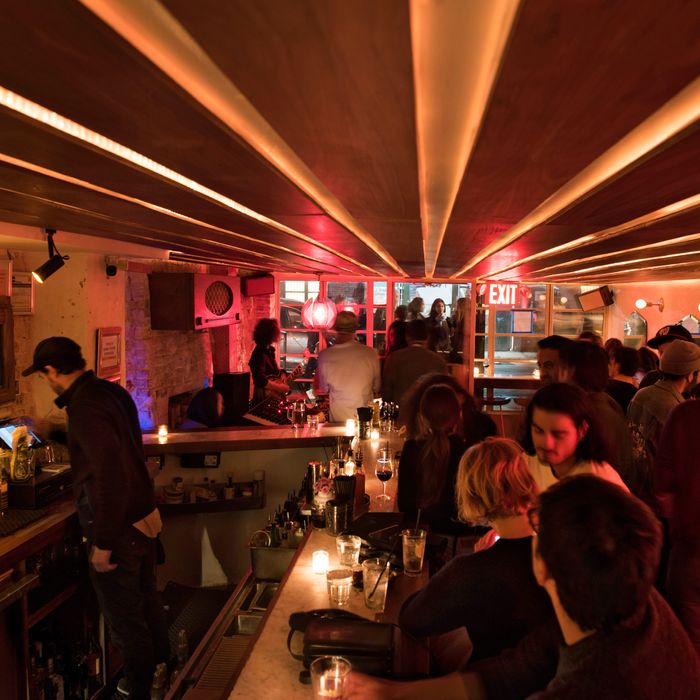 Loosie Rouge, a bar that feels more like a Parisian apartment.
Photo: Liz Clayman
Maybe you live in Williamsburg. Maybe you're heading out to a friend's birthday party, or a gallery opening. Either way: You're going to want a drink once you get there. Here are the very best bars in Williamsburg.
1. Loosie Rouge
91 South 6th, nr. Berry St., Williamsburg; 718-384-2904
On certain weeknights, when the bartender's friends have come by to keep him company, all of them speaking in French, Loosie Rouge can transport you: to a Parisian loft, maybe, or a basement in New Orleans. Maybe it's the low ceilings, or the fireplace stacked with wood, or the single, low coffee table next to the door, but the whole place feels like more of a living room than a traditional bar. So embrace that. Chat up your host, bartender Arnaud Dissais, who used to be the head bartender at Daniel and makes some of the city's most impressive cocktails. Drink, meet Dissais's friends, and invite yourself back for dinner (in the atrium out back, a separate affair that's worth its own trip). Do it all while forgetting you're even in Brooklyn.
2. Spuyten Duyvil
359 Metropolitan Ave., nr. Havemeyer St.; 718-963-4140
Even if it wasn't the kind of beer place that lists its dozens of bottles by country of origin; even if the bartenders weren't so serious about the craft that they rebuff requests for lemon with "we don't do fruit here"; and even if the menu didn't also feature a thoughtful selection of charcuterie and unpronounceable cheese — even then, Spuyten Duyvil would be a contender on this list, if only for its sprawling backyard oasis. Let it be known, though, that it does have all of those other things, and good wine, too, and that is why it's right near the top.
3. Fresh Kills
161 Grand Street, nr. Bedford Ave.; 718-599-7888
In a neighborhood with enough high-end cocktail bars to supply Boulevardiers to the entire East Coast, a place needs to put in serious work to rise above the fray, all while avoiding the look of trying too hard. Fresh Kills — a newish offshoot of Dutch Kills — nails it. There's a menu of adapted classic cocktails, with no room (or patience) for the solipsism of modern mixology; a $10 happy-hour special; and beer that's only available in tall boys. Everything is done just right; none of it seems to be done with the intention of showing off. There is, it's clear, not much that the owners feel compelled to prove here, and that, in Williamsburg, in 2016, is a feat worth celebrating.
4. The Commodore
366 Metropolitan Ave., at Havemeyer St.; 718-218-7632
On Saturday nights, the Commodore can feel simultaneously like the best and worst spot in Brooklyn. It's loud and skews young, the drinks aren't great, and the bartenders have a tendency toward snippiness. But look: It's the right kind of loud, the kind that makes your life seem like it has a soundtrack, and this is the fun part. And the Commodore is just one of the few bars that attracts both people your age and people who are not your age, which can be its own kind of entertainment. And the drinks don't have to be great, because you're drinking beer or a blended mojito. And you know what? The bartenders are pissed off because they spend more time working a blender than any other single task. And all of this is okay, because there needs to be a place like this, and it might as well have a cheap, absurdly bountiful fried-chicken plate, too.
5. Hotel Delmano
82 Berry St., nr. N. 9th St.; 718-387-1945
It must have taken true vision — or gall — to look at a set of claustrophobic, interconnected rooms and see potential for a bar. But the masterminds behind Hotel Delmano turned each space into a charming, discrete area, and the doorman strictly limits the flow to keep the rooms more warm than suffocating. Even on a weekend, the number of people never exceeds the number of seats, which makes those who slip in feel like they've made it to cocktail Valhalla. Yes, the drinks are good — an imaginative, rotating selection, relying heavily on liqueurs and handmade syrups — and so, too, are the oysters and small plates. Order steak tartare and the decadent Fogerty cocktail (bourbon, smoky Islay Scotch, sage syrup, and bitters), and enjoy the fact that no one is bumping up against you while you sip it.
6. The Four Horsemen
295 Grand St., nr. Havermeyer St; 718-599-4900
There are wine bars with bigger lists, and comfier chairs, and even some with better food. But there aren't many places with a vision that's as direct and singular as the Four Horsemen's. The wine list — constructed by consultant Justin Chearno, with oversight by owner and LCD Soundsystem front man James Murphy — weaves through the natural-wine movement with incredible clarity. It's both accessible to newcomers and satisfying to learned bottle hounds. Don't be afraid to let a server guide you, and be ready to try something totally new or offbeat. Natural wine can be weird: funky, tart, murky (usually all in the same glass). In the best wine bars, like this one, the key ingredient is trust.