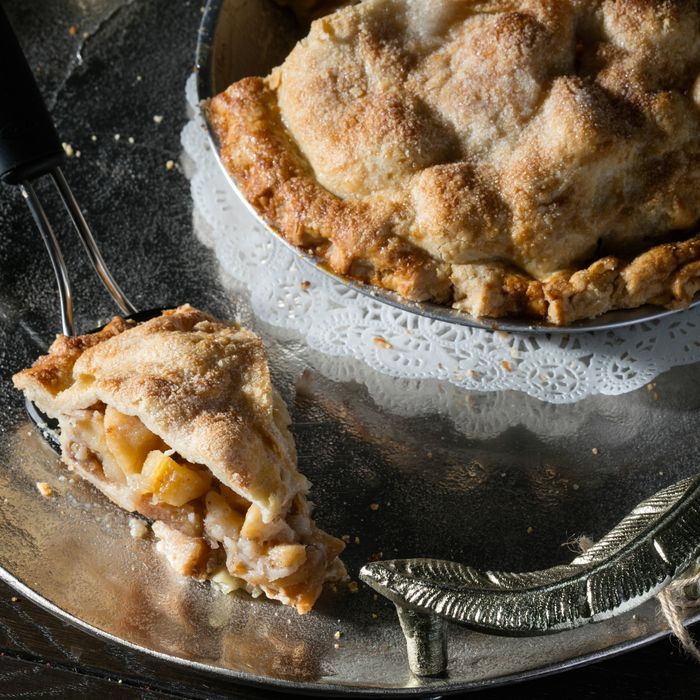 The Blue Stove's apple pie is a family heirloom.
Photo: Melissa Hom
For many people, apple pie is a nonnegotiable part of Thanksgiving, a star of the dessert table — and, unlike pumpkin, it's got legs the rest of the year, too. That's why we restricted our picks to pie specialists who offer their wares beyond the narrow late-November window. The top contenders, below (you'll notice that Petee's Pie Company, our No. 1 pick for pie in general, is not included; their apple filling just doesn't hold up to the others), can be ordered whole for a gathering — at least 48 hours in advance, and often longer before a holiday — or enjoyed by the slice with a scoop of ice cream, a dollop of whipped cream, or, best of all, a hunk of sharp cheddar.
1. The Blue Stove's Traditional Apple
415 Graham Ave., at Withers St., Williamsburg; 718-766-7419
Rachel McBride, the owner of this charming Williamsburg pie-and-coffee shop, comes from a long line of pie-makers. Her classic apple-pie recipe, available seasonally, was passed down from her great-grandmother, who was a farmer near Albany, and it shows: It's a pie that feels authentically rustic, tried, and true — the sort of pie you could imagine the family from Little House on the Prairie eating. The dough for the shortening-based crust is mixed by hand, for maximum flakiness. Whereas the filling for most pies is made by tossing the fruit with other ingredients, McBride layers, instead: a dusting of flour and sugar first, then cubed raw apple (two varieties, one sweet, one tart, from a Lancaster, Pennsylvania, CSA), then another dusting of flour, sugar, and spices, including cinnamon and clove, and, finally, several pats of butter. Another sheet of dough seals it up, and after a brush of milk, a sprinkle of sugar, and an hour in the oven, it's done. The result is pretty much perfect: golden pastry that gives way to sublimely plump cubes of buttery spiced fruit (the clove comes through especially well), which are unusually easy to spear or scoop up with a fork. Great-grandma knew best — but for nontraditionalists, McBride recently introduced another apple pie, this one with thin-sliced fruit and a sugary crumb topping that's laced with cardamom to balance out its sweetness. Either can be ordered in miniature or full size.
2. Four & Twenty Blackbird's Salted Caramel Apple
439 Third Ave., at 8th St., Gowanus; 718-499-2917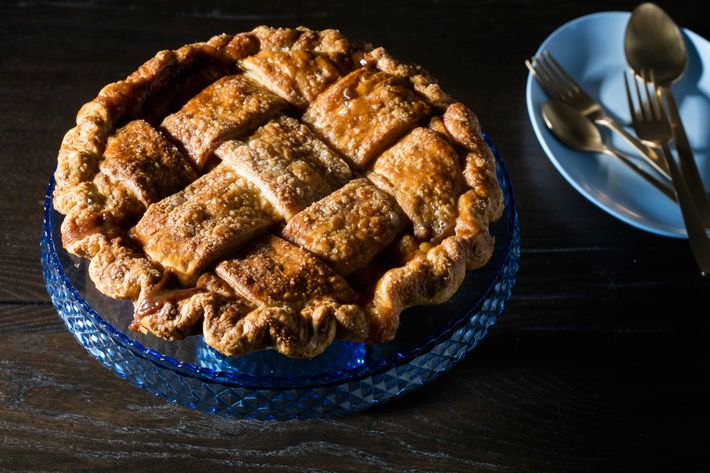 There's a grandmother involved in the story of this pie, too: The pair of South Dakotan sisters who own this beloved Brooklyn shop took inspiration from theirs, who used to bake the pies sold in their mother's restaurant. And yet this one has a decidedly not-your-grandmother's-apple-pie vibe, thanks especially to its namesake ingredient, that salted caramel, which gets drizzled on thin-sliced apples (two varieties) that have been tossed in lemon juice, sugar, Angostura bitters, and a spice mixture that includes nutmeg and black pepper, before they're piled into an all-butter (as opposed to their grandmother's lard) crust and baked. The result is a hefty guy, with a pleasingly thick, flaky golden-brown exterior, latticed and salted on top, and a perfectly textured filling, lacing soft, succulent fruit with gooey caramel.
3. Pie Corps's Apple Crumb With Rosemary Caramel
77 Driggs Ave., nr. Monitor St., Greenpoint; 917-721-3052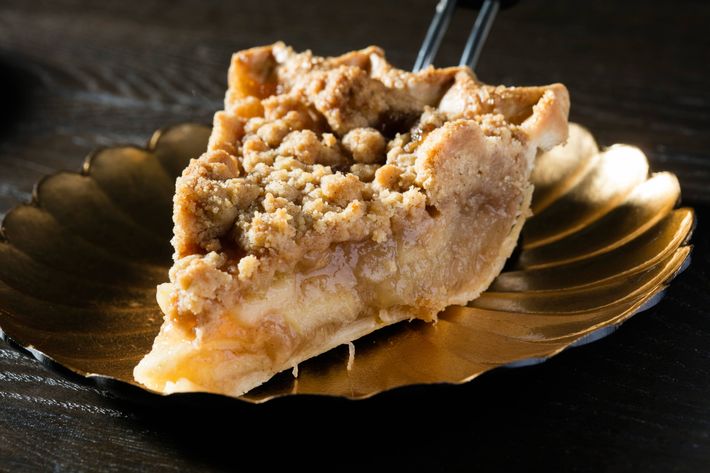 On a sleepy block in Greenpoint, a team of hardworking pie-makers churns out an impressive roster of both savory and sweet varieties. They call this one their "signature" pie, which makes sense: It's both sweet and savory, and a total home run, available year-round. The extra-salty golden crumb is platonically textured, a craggy landscape of crunch and crumble in perfect proportion to the slick, luscious, subtly spiced slices of apple, which are prepared Dutch style — cooked for a bit in an apple gravy (applesauce, basically) before they're added to the pie — and get a hint of herbaceousness from a drizzle of rosemary caramel. And the firm, flaky butter crust at the edge is flecked with raw sugar but packs a pleasingly salty punch, too.
4. Little Pie Company's Sour Cream Apple
424 W. 43rd St., nr. Ninth Ave.; 212-736-4780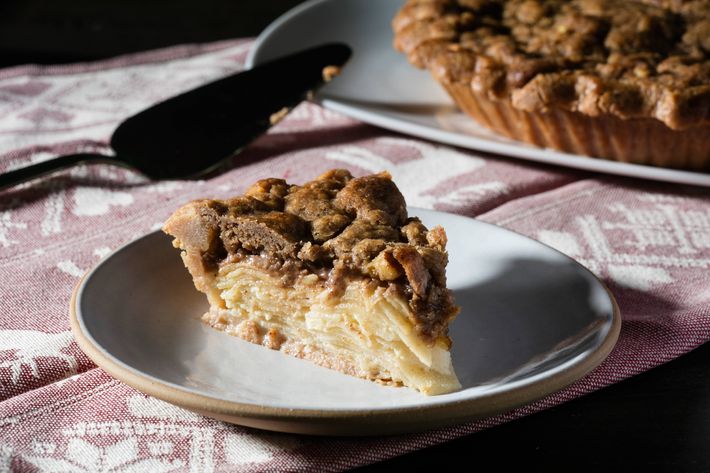 Why not bring a decadent meal to its logical conclusion with an apple pie that has the cream in it, no additional scoop or dollop necessary? It's easy to understand why this pie is one of Little Pie's most popular: It's got a crispy, salty, golden bottom crust; a gorgeous strata of firm, thin-sliced Granny Smiths, layered with tangy sour cream; and it's topped off with a thick layer of crunchy, butter-and-brown-sugar-walnut streusel. The shop makes a decent old-fashioned apple, too, but more interesting is a sugarless version, which gets its floral sweetness from the fruit only, no sugar substitutes added, and is surprisingly delicious. All come in three sizes: five, eight, or ten inches.
5. Butter & Scotch's Caramel Apple
818 Franklin Ave., nr. Union St., Crown Heights; 347-350-8899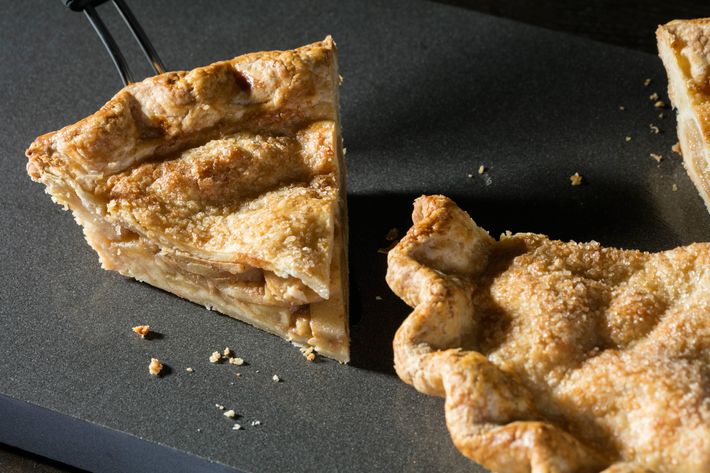 Adding caramel to an apple-pie filling seems like a pretty surefire path to greatness, especially when it comes to texture, and Butter & Scotch's buttery sauce, spiked with cinnamon and ginger, pairs perfectly with — and perfectly softens — the mix of Granny Smiths and Golden Delicious. But what really sets this bakery-and-cocktail bar's pie apart is its formidable crust, made with cultured butter and homemade buttermilk (whole milk soured with vinegar). The pale golden top layer is somehow both flaky and dense, washed in egg and sprinkled with raw sugar, and at the edge it's exceptionally thick and almost bready, so flavorful that you could snap it off and sell it on its own — or at least justify another scoop of ice cream to properly finish it off.
Honorable Mentions
Betty Bakery's Apple
448 Atlantic Ave., nr. Nevins St., Boerum Hill; 718-246-2402
The bakery beloved for its cookies makes great pie, too, with a crust that's appropriately reminiscent of shortbread, buttery and crisp yet crumbly and slightly sweet, and with a lemony filling made with local apples that are par-roasted, then spiced with vanilla bean and cinnamon.
Bubby's Apple
120 Hudson St., at N. Moore St.; 212-219-0666

Though Bubby's has become associated with brunch, it started in 1990 as a pie company, and the pies are still a great reason to go there, at brunch time or otherwise. Their apple version has a thin, crisp, almost papery crust and a melty, buttery apple filling that's on the sweeter side, with a good hit of spice and lemon.
Clinton Street Baking Company's Apple
4 Clinton St., nr. Houston St.; 646-602-6263

For anyone who prefers a softer pie, with a super-dense and cakey crust, made with both butter and shortening and latticed on top, and a sweet and jammy pumpkin-spiced filling.

Daly Pie's Traditional Apple
665 Vanderbilt Ave., nr. Park Pl., Prospect Heights; 347-425-9251
Though the pies tend to spend a bit too much time in the oven (unless you like a slightly burnt dessert) and the filling can be overspiced (unless you're crazy for cardamom), the laminated, croissant-like, caramelized crust is a thing of beauty.
Martha's Country Bakery's Traditional Apple
Multiple Locations
This mini-chain, which began in Astoria and now has outposts in Bayside, Forest Hills, and Williamsburg, makes three solid varieties: traditional, crumb, and sour cream crumb, all on the sweet side, with thick butter-shortening crusts, just-cooked Granny Smiths, and a sprinkling of powdered sugar.
Pies and Thighs' Traditional Apple
166 S. 4th St., at Driggs Ave., Williamsburg; 347-529-6090
An all-around solid classic apple, with a generously proportioned, not-too-sweet, cinnamon-y filling of tart, al dente fruit, and a super flaky if slightly undercooked butter crust.
Yura's Traditional Apple
1292 Madison Ave., at 92nd St.; 212-860-1707
Applesauce lovers: This is your pie. The perfectly tart filling, by far the softest in town, is basically indistinguishable from the stuff, and encased in a flaky crust baked deep golden brown.