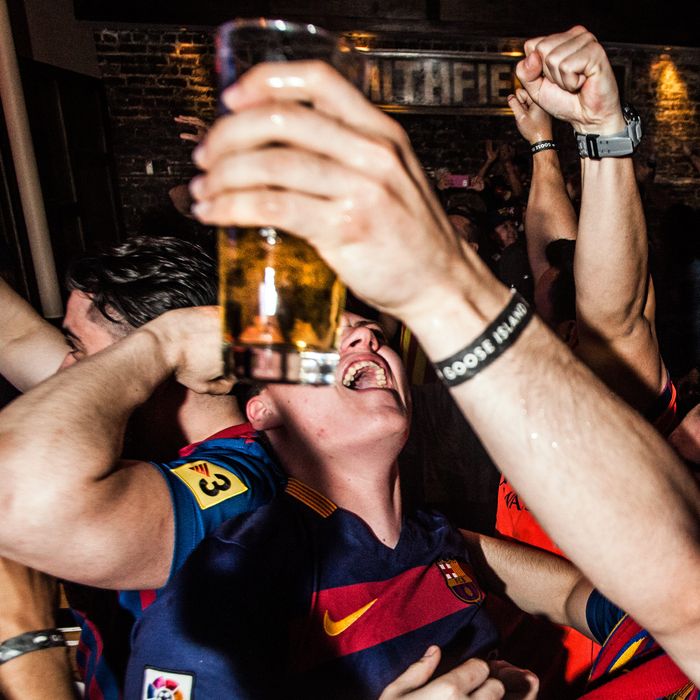 Soccer fans at Smithfield Hall NYC.
Photo: Konstantin Sergeyev
There's a difference between a soccer bar and a bar that happens to show soccer. New York City is littered with the latter — every Irish pub falls into this category — while the former is rarer, a place where it's clear that soccer rises above all else. The establishment in question has enough televisions to show multiple games at once, bartenders who appreciate the finer points of a solid slide tackle, and a no-judgement policy for fans supporting their squads at any time of day. (Bonus points for a few scarves from clubs around the world hanging on the walls and vintage, signed photos of hard men from the 1970s.) Whether you're watching the Champions League at 2:30 on a Tuesday, the English Premier League at 7:30 on a Saturday morning, or Major League Soccer on a Sunday evening, these are the best places to pull up for a pint.
1. Smithfield Hall NYC
138 W. 25th St., nr. Seventh Ave.; 212-929-9677
On a recent Saturday, an enterprising viewer could have arrived for the start of Inter Milan versus AC Milan at 6:30 a.m., then watched 16 more matches played in 5 different countries, before leaving at the conclusion of the Portland Timbers–Sporting Kansas City fixture roughly 18 hours later. Eleven televisions behind the long bar make for easy viewing from most spots, while the biggest match of the moment features on a large pull-down projection screen. The food is simple but solid (banana pancakes and chicken and waffles for brunch; macaroni and cheese, braised short ribs, and black-bean burgers later in the day). The clean draft lines offer enough craft options to drink a beer from whatever country is playing, and the bottle selection features a few surprises, including Houblon Chouffe Dobbelen IPA Tripel.
2. Football Factory at Legends
6 W. 33rd St., nr. Fifth Ave.; 212-967-7792
This mecca to soccer sits in the shadow of the Empire State Building, with dozens of televisions across three levels showing any game that's worth watching (and many that aren't). The beer selection is that of a typical craft-infused pub — Dogfish Head 60 Minute IPA, Montauk Arrowhead Red Ale, Smithwick's, and Mahou — a lot of which trend on the lower side of the ABV scale, ideal for a long afternoon of imbibing. Almost 40 separate supporters' groups call the Football Factory their home base. (The most unlikely is Brann US, the supporters' group of Bergen, Norway's SK Brann. They are "proud to be the only Norwegian supporters' club in New York City.")
3. Banter
132 Havemeyer St., nr. S. 1st St., Williamsburg; 718-599-5200
This simple but elegant space offers everything one needs for an afternoon of football. A dozen-odd stools line the L-shaped, copper-plated bar, with more seating on the back wall and in the wooden booths near the entrance. A couple dozen draft lines and three dozen bottles hit the highlights, while a wide selection of bourbon, whiskey, and scotch are available for anyone looking to drown the sorrows of their team's poor performance. If there's a game on, it's being shown on one of the televisions above the bartender's head. The soccer goals in the urinals are a nice touch, too.
4. Mr. Dennehy's
63 Carmine St., nr. Seventh Ave. S.; 212-414-1223
The walls of this unpretentious, unassuming spot in the middle of Greenwich Village hint at the owner's soccer roots. Everton, a perennial fixture in England's top division, earns primary billing, but other mementos — like a ticket from the 2015 Champions League final between Juventus and Barcelona — get choice placement as well. The TVs are scattered about in a considered manner. Watch them while sipping a Mr. Dennehy's Pils. To get a break from the action, move to the outdoor café (known as "Mr. Dennehy's Backside"), which offers a view of Seventh Avenue; although, be aware that big matches are shown out there as well.
5. Paulaner Brauhaus
265 Bowery, nr. Houston St.; 212-780-0300
This Bowery spot is large and fun, with long wooden tables, a massive bar, and plenty of pretzels. Try the bratwurst burger or the fried Camembert cheese, along with one of the five beers brewed on the premise. The games are always on, with a priority placed on Germany's Bundesliga, specifically Bayern Münich.
11th Street Bar
510 E. 11th St., nr. Ave. A; 212-982-3929
More than 100 Liverpool fans clad in red turn out for every match the team from the north of England plays, packing the backroom that's decorated with three signed jerseys (and, for some reason, a poster deconstructing the classic Spanish guitar). After the match, grab a ham-and-Gruyère or cheddar-and-onion sandwich with chips ($7), or stay for happy hour ($2 off everything from 4 p.m. to 9 p.m. daily).
Lansdowne Road
599 Tenth Ave., nr. 44th St.; 212-239-8020
Named for the oldest rugby stadium in the world, this Hell's Kitchen establishment is an unashamed New York–team–loving sports bar. An inviting, open front of house gives way to walls lined with all manner of memorabilia, anything from flags from the local teams to stadium-style lights. Occasional soccer paraphernalia — an ancient leather soccer ball here, old cleats with metal spikes there — will make a footy-focused patron feel at home.
Woodwork
583 Vanderbilt Ave., nr. Dean St., Prospect Heights; 718-857-5777
A Prospect Heights staple. Flat-screen televisions are located high above the beautiful oak bar, providing good sight lines to the soccer action. Be sure to try the mac 'n' cheese with jalapeños, or the croissant grilled cheese with bacon. Those looking for a deal should opt for the Fuckit Bucket (five $4 beers for the price of four), or Choose Your Own Adventure ($4 beer and a $4 well shot). Be warned: Woodwork can get crowded for big matches, so get there early.