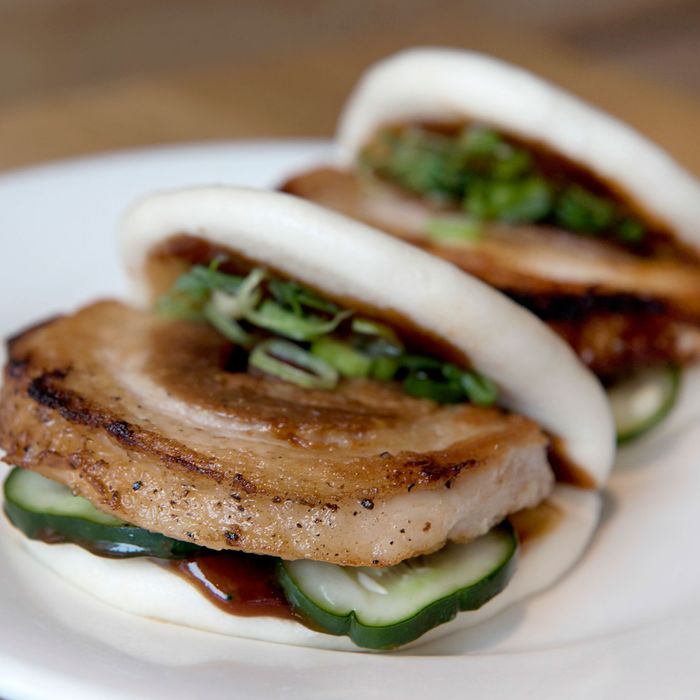 Momofuku's pork bun is a thing of perfection.
Photo: Liz Clayman
The term pork bun — the glorious term — can refer to one of two quite similar yet distinct categories of meaty treats. Both consist of steamed dough encasing fatty char siu, but whereas one is dumplingesque, with the meat usually chopped up, coated in a sweet glaze, and completely sealed within the dough until you break it open (the kind you get at a dim sum parlor or a Chinese bakery), the other is more like a sandwich (or a hamburger or a taco), with a circle of dough folded up into a clamshell around a slice or two of pork belly and various accoutrements. The latter, a Taiwanese night-market specialty, is also called gua bao, and the various iterations of it — including the riff on it found at almost every ramen shop — are what this list pertains to. Taxonomy aside, here are the very best gua bao–style pork buns that New York has to offer.
1. Momofuku Noodle Bar
171 First Ave., nr. 11th St.; 212-777-7773
David Chang certainly did not invent the pork bun, don't get us wrong, not even close, but it's fair to say that he's responsible for launching the pork-bun and general pork-belly craze that hit this city in the mid-to-late aughts. His ramen-shop version of a gua bao, debuted at his first restaurant, Noodle Bar, and now served at Ssam Bar and Má Pêche, too, remains a thing of consistent perfection, and can usually be ordered even when it's not on the menu. The buns themselves, sourced from a Brooklyn distributor called Peking Food, have a pillowy heft and squish. The high-quality, all-natural belly gets cured in a mixture of sugar and salt, then slow-roasted and carefully sliced for the ideal ratio of glistening rendered fat and exceptionally tender meat. A swipe of hoisin, a layer of quick-pickled, still-crunchy cucumbers, a sprinkling of scallion snips, and it needs nothing but a squirt of sriracha to taste.
2. Taipei Hong
136-55 Roosevelt Ave., Flushing; 917-215-3706
At the back of a cramped and narrow gallery off Roosevelt Avenue, this Taiwanese stall does the national snack greatest justice: Each $3 "Taiwanese hamburger" consists of a large, soft, fresh-tasting bun stuffed with two perfectly tender slices of slightly saucy, fat-rimmed pork that have been lovingly coated in a thick blanket of crushed peanuts and just the right amount of sugar, plus a generous helping of chopped mustard greens and a bit of cilantro. The delicate balance of flavors is so spot-on that it seems platonic.
3. Super Taste
26 N. Eldridge St., nr. Canal St.; 646-283-0999
As noted in our dumpling guide, Super Taste is primarily a noodle shop that happens to make great dumplings, and for an incredible bargain. It happens to make great gua bao, too, on the menu under "Side Order" as "pork house bao." An order of three will set you back just $5.75 — and might earn you some stares from your fellow diners, curious about that non-noodle, non-dumpling thing you're eating at the noodle shop. A bao here is especially tidy and compact, held together with a tinsel-tipped toothpick and bulging with a neat rectangle of pork belly, the fat perfectly caramelized, the meat tender. In the crease of the puffy bun is a layer of crushed sugared peanuts, sesame seeds, and ample cilantro. Adding a mini spoonful of nutty roasted-chili paste sends it over the edge.
4. Han Dynasty
90 Third Ave., nr. 12th St.; 212-390-8685
We're not sure what "Taiwan pork belly buns" are doing on the menu at the Philadelphia-import Sichuan restaurant (and NB, they're only on offer at the East Village location) but we're very glad they're there. The bun itself is slightly sweet and fluffy, and the hulking slice of braised pork belly that comes in each is capped with a ridge of caramelized fat, giving way to layers of meat and more satisfyingly gelatinous fat. It's scattered with peanuts crushed in sugar, plus plenty of cilantro and chopped pickled mustard greens, which bring a lovely sour note to the mix.
5. Ipuddo NY
Multiple locations
The wait for a prime-time table at Ipuddo is still pretty interminable, but if you decide to put your name down, one silver lining is that you can usually order snacks at the bar (if you can get to the bar), and snacks include their very good version of the ramen-shop pork bun. Each hirata bun includes two thick slices of pork belly, relatively light on fat and slathered in a dark, intensely umami sauce that falls just short of spicy — you might call it piquant. Dressings otherwise are super simple but key: a squirt of creamy mayo and a few sheets of crisp iceberg lettuce.
Baohaus
238 E. 14th St., nr. Second Ave.; 646-669-8889
The Chairman Bao is so named not only because it's a clever pun, but also because the pork belly it features is prepared in a manner said to be favored by Mao: "red-cooked," or braised in a mixture including soy sauce, rice wine, rock sugar, and cherry Coke. The ratio of fat to meat is very high, with a huge crest emerging from the bun, and a topping of finely crushed peanuts and Taiwanese red sugar makes it feel almost absurdly indulgent, but pickled mustard greens and glassy, strained chili oil bring it back down to earth.
The Bao Shoppe
34 Canal St., nr. Division. St.; 646-756-4181
The excellent pork belly in the oversized O.G. bao here comes the closest to the Momofuku standard in terms of texture and fat-to-meat, if the flavor is ever so slightly less punchy. The dressings — a bit too much hoisin, banh-mi-style pickled daikon and carrot, and, for some reason, arugula — don't quite hit the mark, but get points for trying something different.
Chuko Ramen
552 Vanderbilt Ave., nr. Dean St., Prospect Heights; 718-576-6701
A perfect, bevel-edged rectangle of crisp-skinned belly (the same that tops the ramen) gets two varieties of pickle as foil — cukes plus shredded carrots and daikon — a handful of cilantro, and a bed of chili mayo, and makes for an especially elegant looking bun.
East Wind Snack Shop
471 16th St., nr. Prospect Park West, Windsor Terrace; 929-295-0188
The "gwaco" bao here is more of an open-faced sandwich than a clamshell, with two generous hunks of saucy pork and a row of briny pickle slices atop a super-platform of steamed dough, which can make it a bit difficult to eat. But the pork is tender and flavorful and the topping — a gritty mixture of seaweed, crispy garlic, and black and white sesame seeds — is unusual and interesting.
Kaya
Multiple locations
This traveling bao-centric food truck offers a solid, straightforward pork belly option, with a drizzle of hoisin, chopped peanuts and scallions, and thick slices of cucumber wedged in.
Love Mamak
174 Second Ave., at E. 11th St.; 212-254-5370
The thin-cut, heavily marinated style of grilled pork that you often see at Vietnamese restaurants atop rice vermicelli is repurposed in steamed buns at this Malaysian-Thai-Vietnamese spot, which started as a food truck. The buns have a slim profile but pack a surprising amount of flavor, dressed with sheets of iceberg, hot sauce, and mayo.
Zen 6
328 E. 6th St., nr. First Ave.; 646-429-8471
This ramen joint doesn't much stand out in the sea of East Village options, but its pork bun is surprisingly winning: with extra-thick hunks of dark roasted, hoisin-glazed meat nestled in iceberg and dressed with a hefty squirt of mayo. It's especially good with a dousing of the green yuzu hot sauce on offer.