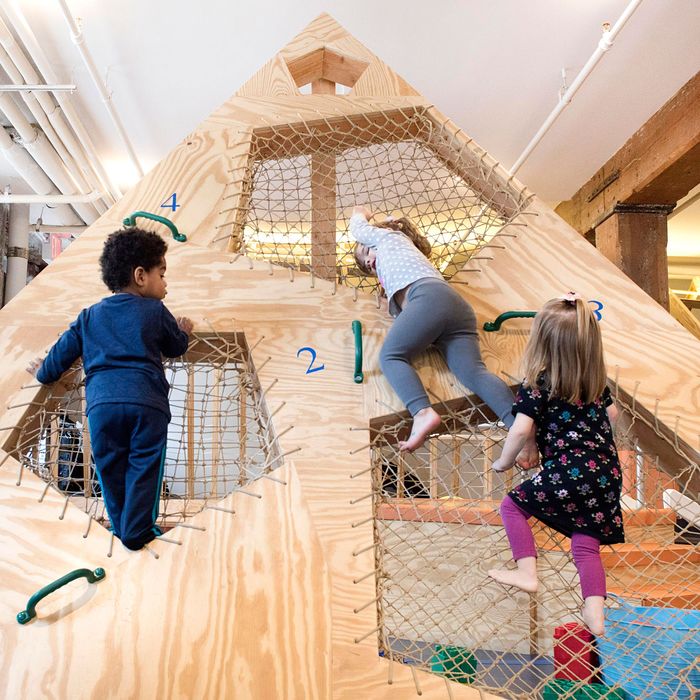 Recess is where the kids go.
Photo: Liz Clayman
Let's not sugarcoat the play-space situation: None offer peach bellinis or Petee's pie (although somewhere really should — please?). Essentially, they're places where you let your kid run wild while you bang out work emails and beg nannies for sage advice. But a few of them are better and more inspired than the rest. A couple of them are phenomenal for kids and pretty cool hangs for parents, too! The key is an environment that's educational but never intense, super-fun, supersafe, germ-free, and judgment-free. Here are the absolute best play spaces in New York.
1. Recess
81 Washington St., nr. York St., Brooklyn; 347-987-3509
Recess in Dumbo draws families from all boroughs and it's easy to see why. This large, airy loft is loaded with ladders, slides, climbers, tunnels, and nooks that suck kids in for hours. Parents and nannies are comfortably perched on the floor mats or peripheral benches, chatting about chicken-finger recipes or potty training, or simply relaxing for a precious second — while kids joyfully jump on a trampoline-like tire, or frolic in a little tunnel, or skip around wearing butterfly wings. The book section — stacked with favorites like Llama Llama and Peek-a Who — often has a caretaker holding an impromptu story time. Recess offers a variety of daily music and dance classes in the back room, and they're all high quality yet laid back. You can join for the semester, swing by as a "drop in," or usually explore a class for free. It's the only play space around where time simply vanishes, and that's because the whole scene — particularly the staff — is lovely and chill … a healthy sensibility that trickles down to the kids.
2. Twinkle Playspace
144 Frost St., nr. Graham Ave., Brooklyn; 718-349-1300
Had it not been for one too many bambinos named Florence dressed in baby peasant dresses and retro cardigans, this might have been the Absolute Best. Because Twinkle is amazing, but it is very, very Billyburg, and somewhat intimidatingly so. Not that this matters one bit to the little ones in their astoundingly chic the Honest Company diapers, who lose their minds with delight over the (kid-size) grocery store, barnyard, fire engine, tree house, and more. Twinkle is a juicy, jubilant madhouse in the best possible way, with a happy, groovy energy level that is unparalleled.
3. Dodge YMCA
225 Atlantic Ave, nr. Court St., Brooklyn; 718-625-3136
The Y is a terrific center for families (members and nonmembers) to meet up and play. From baby swim class (the water is cold, but the parents are cool, and sometimes you see Desi from Girls doing laps) to freestyle Toddler Time in the gymnasium, the Y is affordable, accessible, and brings you back to another era.
4. Playgarden
95 Franklin St. nr. Church St.; 212-965-9717
This is a 4,000-square-foot indoor playground on the same block as Billy's Bakery. Um, yeah. The bigger takeaway, however, is that this beautiful play space is as pristine as they come. The staff cleans the entire turf three times a day and sometimes more. Even the kids look meticulous, because for better or worse, smack-dab in Tribeca, it's where perfect parents bring perfect children. The downstairs is a dream for birthday parties — where "normals" are sometimes invited too (yay!) — with a flying zip line and "coaches" to keep the fun aflowing.
5. The Playroom NYC
1439 First Ave., nr. 75th St.; 212-729-6149
The philosophy of this sister-owned space is to give kids low-key, unstructured creative play in a warm, feel-good environment. It's where parents can escape the intensity of the Upper East Side and kids can feel unburdened by judgment. Geared for children up to 5 years old, with something for everyone, the 3,000-square-foot facility has — in addition to the standard slides and climbing stations — a dress-up area, performance stage, and pretend bodega.