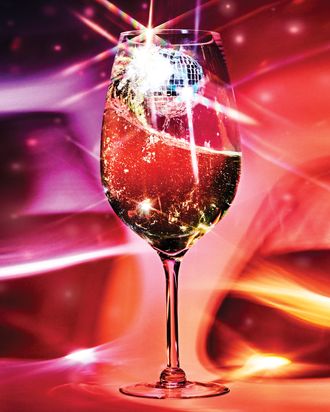 Photo: Bobby Doherty/New York Magazine
For the Best of New York, the focus, as always, is on things and places that are, if not brand-spanking-new, then newish, having debuted within the past year. Here, we have the best places to have a good time, including grown-up dancing, Elvis impersonators, fancy fernet, and more.
Winter Mini-Golf
Shipwrecked Miniature Golf
621 Court St., Red Hook; 718-852-4653
During warmer months, the city has so many outdoor putt-putt places you'd think you're in the burbs. But come rain or winter, there's only one game in town: Shipwrecked, the city's sole indoor mini-golf spot for all ages. Opened last April by a pair of theater-designer pals renowned for their over-the-top holiday light shows in South Slope, this 18-hole course is nestled on the second floor of an old warehouse and features a campy pirate story line that takes players through four exquisitely crafted rooms, including a luminescent underwater wonderland and a snazzy subway car. Weekends attract the family crowd, while evenings host lots of date nights. Once its beer-and-wine license is approved, it's sure to be even more fun for grown-ups.
Gluten-Free Brewery
Departed Soles
150 Bay St., Ste. 2A, Jersey City; 201-479-8578
Located just off the Grove Street path station, Departed Soles is the only gluten-free brewery in the tristate area. And while most wheatless suds taste like watery runoff, Brian Kulbacki's IPAs are deliciously light on the tongue with a fragrant and floral aftertaste thanks to a healthy steeping of aroma hops like ahtanum, centennial, and cascade. The eclectic space — think graffiti-tagged walls adorned with old sneakers and MLS jerseys — is often filled with recent city transplants and those grabbing a drink before dinner on Newark Avenue's restaurant row. Note: The brewery serves gluten-full beers as well and shares a space with a gelato shop.
Bar for 27-Year-Olds
Jupiter Disco
1237 Flushing Ave., nr. Gardner Ave., Bushwick; jupiterdisco.com
Finding the door to this bar can be challenging, but once inside, the crowd is all 27-year-olds sporting Carhartt jackets and bleached hair, bopping to thumpingly loud dance and electronic music. A bar this cool doesn't have to serve great drinks, but Jupiter Disco's are outstanding, their names flashing by on two TV screens in a green script that will remind patrons of MS-dos font circa their parents' first computers. Try a $3 cheese empanada paired with the super-smooth Well Deserved Punch ($12), a rum, pineapple, lime, strawberry, and basil drink you sip through a recyclable black paper straw.
Dance Club for 37-Year-Olds
Paul's Casablanca
305 Spring St., at Renwick St.; 212-620-5220
Because cocktails are $20, it's a bit of an older crowd at Paul Sevigny, Brian McPeck, and Dominick D'Alleva's new spot, a more polished, Moroccan-tiled version of the old Sway space. On weekends, the dance floor in the back is full of models, art folks, and those who'd be embarrassed to buy bottle service in the Meatpacking District but aren't about to cross any bridges to Brooklyn. Thursday is only hip-hop from the '90s to the early aughts. DJs from that same period (Goldfinger, even Mark Ronson), when Lotus and Cheetah reigned supreme, can be found behind the decks the rest of the week, while Sundays feature a resuscitated Morrissey Night.
Bring-the-Kids Bar
Kings County Brewers Collective
381 Troutman St., nr. Wyckoff Ave., Bushwick; no phone
The post-industrial playground that is Bushwick is fast welcoming the stroller set. Which raises the question: Where to park them? Last August, the brewing triumvirate of Zack Kinney, Pete Lengyel, and Tony Bellis turned a 5,000-square-foot warehouse into a sunny expanse with floor-to-ceiling windows, handsome tiled backsplash, and plenty of space to stash a stroller army. Weekend afternoons welcome parents for whom 2 p.m. is happy hour, as they congregate over the low-slung tables and sip housemade pilsners, fruited sours, and citrusy IPAs like Dangerous Precedent.
Fernet Tasting
Arcane Distilling Fernet
33 35th St., nr. Second Ave., Ste. 6A, Sunset Park; 718-490-6171
From cookies to charcuterie, it's all too easy to stuff yourself silly in Industry City's food hall. Luckily, a salve for overloaded stomachs waits in a nearby warehouse, where, after riding an elevator to the sixth floor, you'll find Arcane Distilling. It's headquartered inside an alcohol wonderland that's also home to several small-scale breweries and Industry City Distillery, which spins beet sugar into vodka. But you're really here for Dave Kyrejko's local take on fernet. His is an amaro that dials down the intense bitterness and cloying sweetness typical of the spirit, deploying 21 herbs, including gentian root, peppermint, and a rotating assortment of American and European hops. Order a shot at the bar and let the clean, bracingly minty digestif work its magic while you admire views of lower Manhattan and the Statue of Liberty.
Unpretentious Cocktails
Lion Lion
332 E. 116th St., nr. First Ave.; 917-262-0517
These days you might wait two hours for a seat at Death & Co., but a decade ago it was a place you could stop by on a whim early Saturday evenings to have terrific drinks in an attractive, transportive, peaceful space. Lion Lion feels like a throwback to that era. Co-owned by a former bartender at two other of the city's cocktail temples, Attaboy and Dutch Kills, the basement space is darkly lit by red lampshades; the bar top is black granite; jazz and reggae play over the stereo. In back is a little six-stool bar, plus counter seating opposite; in front are two-seater tables, with retro-feeling, half-moon-shaped red-and-orange banquettes. If you come at happy hour, your bill will be light — drinks like rum swizzles are only $9.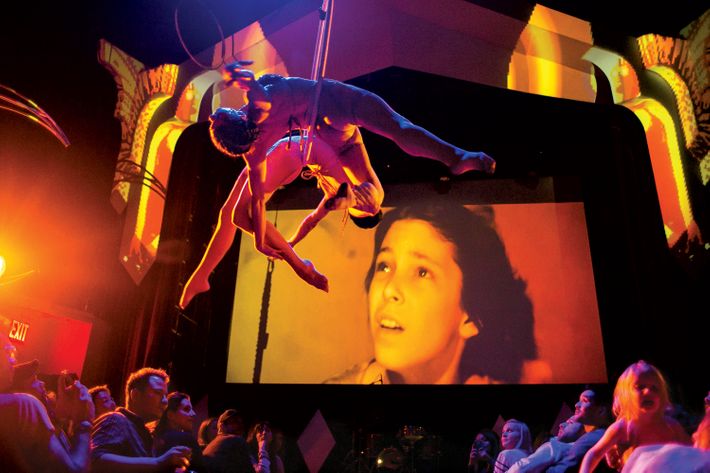 Movie Theater
Little Cinema
2 Wyckoff Ave., nr. Jefferson St., Bushwick no phone
Going to the movies is an event once again, what with newcomers like Alamo Drafthouse, Syndicated, Metrograph, and BBQ Films offering food and themed parties along with (often retro) film. But perhaps the most unusual movie house of all is Little Cinema, with biweekly Tuesday screenings at the House of Yes performance space. Guests take a seat (with a lucky raffle winner watching from an honest-to-God bathtub) as classic and cult films (The Craft, The Warriors) are "remixed" with costumed musicians, dancers, and circus performers acting out scenes while the movie screens behind them. At a recent viewing of The Wizard of Oz, a band played the entirety of Dark Side of the Moon while flying-monkey aerialists swooped in from the ceiling. During Donnie Darko, a live bubble artist gave life to the film's CG time-travel tubes. Remarkably, the entire show is put together in under a week, SNL style. Creator Jay Rinsky has been known to scout aerialists or subway "Showtime!" dancers mere days — or even hours — before curtain call.
Elegant Drinks
While We Were Young Kitchen & Cocktails
183 W. 10th St., nr. W. 4th St.; 917-675-6272
Whether you're seated at the curved white-marble bar next to a vase of pink roses, or at the counter next to floor-to-ceiling windows looking out onto West 10th, or at one of the tables abutting a tufted pale-pink mohair banquette, this attractive restaurant is an excellent spot for a couple's night out. The attention to detail is masterful: Service is friendly but professional; cocktails are shaken in gold tins or stirred with gold spoons; checks are presented along with a bag of tiny Haribo gummy bears; the bathroom has a pull-chain toilet. Even the drinks are pretty — the Too Good for You, a kale-and-cucumber margarita, is a bright shade of green. There's also a full restaurant menu including ricotta and roasted squash and vegan pappardelle.
Gay Party
Battle Hymn, Sundays at Flash Factory
229 W. 28th St.
While other gay dance parties like Trade and M.E.A.T. are as hormone-fueled as they sound, Ladyfag's Battle Hymn is a more sceney, mixed, and frolicsome romp. Held at Flash Factory — a techno club with a religious theme, complete with stained glass and pews — the party attracts 30-ish gays in T-shirts and baseball caps, along with an occasional woman, drag queen, or celebrity. The crowd has been flooding onto the dance floor since last spring; amid flashing lights that make the place look like the old Limelight crossed with the Starship Enterprise, they dance jubilantly, with arms pounding the air thanks to resident DJs Honey Dijon and the Carry Nation.
Playground Made of Garbage
play:groundNYC
40 Barry Rd., Governors Island 347-470-4238
Last summer, the city's first "adventure playground" since the '70s became a creative mecca for free-range kids to play, build, and run amok. Founded by a group of local parents looking to foster a free-play environment, the 15,000-square-foot dirt patch overflows with wooden planks, beat-up tires, and ropes, which tykes have transformed into forts, swings, and a rustic tree house using hammers, nails, and saws all on their own. (Play workers ensure it never devolves into Lord of the Flies.) Free drop-in weekend play returns this season beginning the first Saturday in May, while the sliding-scale summer camp runs weekdays from June 26 to September 1. Unlike traditional playgrounds, which cater to tots, play:groundNYC's hands-on experience appeals to a wide range of ages. Even tweens drop the 'tude when they get to mess around with heavy-duty tools.
Elvis Impersonator
City Coffee
77-17 37th Ave., Jackson Heights 718-639-8169
For the past six years, Elvis impersonator Gregg Peters has donned a Hawaiian lei or sequined jumpsuit to croon live renditions of the King's greatest hits at City Coffee, an unassuming diner on Jackson Heights's main drag. These semi-regular Elvis "brunches," occurring monthly on Thursday mornings or evenings and marketed guerrilla style, with a flyer in the window and maybe a listing on the Jackson Heights Beautification Group website, are put on by the Jackson Heights Men's and Women's Club, a notorious gang of octogenarians who've been congregating at the coffee shop and local restaurants for decades. With a $5 donation to St. Jude's, everyone is welcome. Because of the median age of the participants, there's not a lot of hip-shaking going on — you'll have to look up Peters's son Lamar's "Young Elvis" show for that. But for another $6, you can get a plate of pancakes or a hot dog to go with your "Hound Dog," and the wine is surprisingly not bad.
Hip-Hop Night
The Remedy
Highline Ballroom, 431 W. 16th St.
It's hard to find a decent hip-hop party in the city these days, especially since Webster Hall's weekly House Party closed for good last year. But up sprang the Remedy this past December, from the promoters behind House Party and the team responsible for the live-streamed underground-party phenomenon Boiler Room. At this monthly night, a DJ spins in the center of the room surrounded by a diverse crowd of young (it's all ages) music obsessives who might otherwise meet only in the Soundcloud comments section. Guest DJs like Nadus and Travis Scott's DJ Chase B have popped in for sets, and the resident act is hip-hop stalwart Just Blaze. There are live performers (a rotating cast of rap's newest stars like Young M.A and Dave East), and every party has a different crew of hip-hop dancers performing onstage.
*This article appears in the March 6, 2017, issue of New York Magazine.