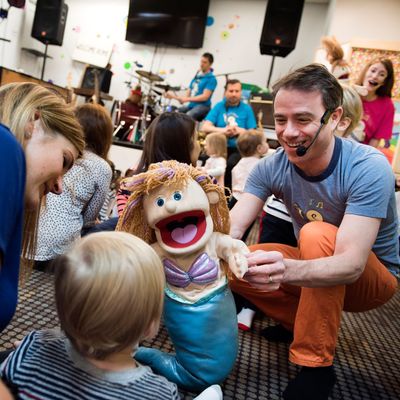 Little Maestros has Sesame Street–level puppet shows.
Photo: Liz Clayman
Only in New York does your kid's music class define you. Moms will say, "Do you do Nikolai?" or "It's all about Free to Be Under 3 …" and suddenly, you know the type. Kids' music classes in the city are about much more than bongos and egg shakers; they're about intensity levels, parent-to-nanny ratios, and educational songs versus happy-hippy songs. Mostly, a successful kiddo or baby music class relies largely on chemistry — for no other reason than that your child will cry or escape if there isn't any — which is why class-trial services like Sawyer are so useful. Here are the absolute best classes, so grab the wheels on the bus and go.
1. Little Maestros
Various locations throughout Manhattan; 212-396-3977
It's no accident that Chris Martin and Tina Fey take their kids here. This infant-and-toddler class is the most joyful, theatrical, and adorable music class imaginable. The 45-minute musical journey takes kids into an artistic fairyland, as they sing loudly and dance freely along with a small band of professional musicians, Sesame Street–level puppet shows, colorful costumes, humongous bubbles, and instructors who literally come straight from Broadway. From grooving with the saxophonist to riffing off letters of the alphabet ("The Teddy Bear Had Tiptoed With the Toothbrush"), kids and caretakers are tickled pink from start to finish, and thereafter. Best of all, with eight to 16 kids per class, it's an extremely warm and intimate environment, which is not necessarily what you'd expect from a "splurge" music class for A-listers.
2. Music for Aardvarks With AudraRox, Inc.
Various locations in Brooklyn
Audra Rox, who's taught classes for 18 years, is a little bit of a kidlebrity. Her classes are fun and cozy, with great instruments and accessories, and the music — which is part of the Aardvarks program — is super smart and New York–y (with songs like "Taxi," "City Kid," and "Subway"). But the best part about Audra is her way with kids — from the ultrashy to the ultrahyper; one might think she has a Ph.D. from Yale in child development. (She doesn't.) She teachers at various locations in Brooklyn, but her class at Red Hook's Jalopy Theater is the most kick-ass way to spend a weekend morning, thanks to the coffee in front and kid-friendly taverna next door. Other Music for Aardvarks classes in New York are here.
3. Moozika
Various locations in Brooklyn; 917-670-3618
Jesse Goldman is like the soulful, scruffy camp counselor you crushed on as a kid — and probably a lot of moms and dads still do. His original songs, like "Moose on the Loose" and "Kale Crazy," are absurdly invigorating — everyone bops and beams. Everyone. He wears moose and clown-fish costumes, which tickles the kids, and makes him a big birthday-party hit. By the way, he somehow remembers every tot's name after just one hello.
4. Music With Brian
Recess, 81 Washington St., nr. York St.; Dumbo; 347-987-3509
This is a supersweet, if straightforward, class at the Dumbo kid haven, Recess. When singer-songwriter Brian Ajjan strums "Here Comes the Sun," a little extra magic shines into the little room — and it kind of makes you want to cry. A father with a baby himself, Brian's patience level is stellar, which is great because the kids seem to go a little bonkers as he soulfully sings and plays his guitar like a Daddy Dave Matthews.
5. Welcoming Shabbat at Brooklyn Heights Synagogue
Fridays, 11-11:30 a.m.; 131 Remsen St.; 718-522-2070
First of all, you don't necessarily have to be Jewish to attend. Second of all, it's free! Third of all, there's challah and grape juice at the end. But even without all of that, guitar-toting Rabbi Lippe's Friday-morning Shabbat is a blast. Songs are in English and Hebrew, most are recognizable (Shabbat Shalom, Hey!), there are life-size stuffed animals, and all kids absolutely love "making kiddush" at the end. L'chaim!
Music Together
Various locations
The Music Together franchise has a cult following, especially the Brooklyn Heights classes, spearheaded by multitalented kid-whisperer Lee Stern. Kids are encouraged to participate in all songs, help strum the guitar, and become friends with one another. Stern creates a strong sense of consistency and community in his classes, which means it's much better to commit to a semester than swing by as a drop-in.