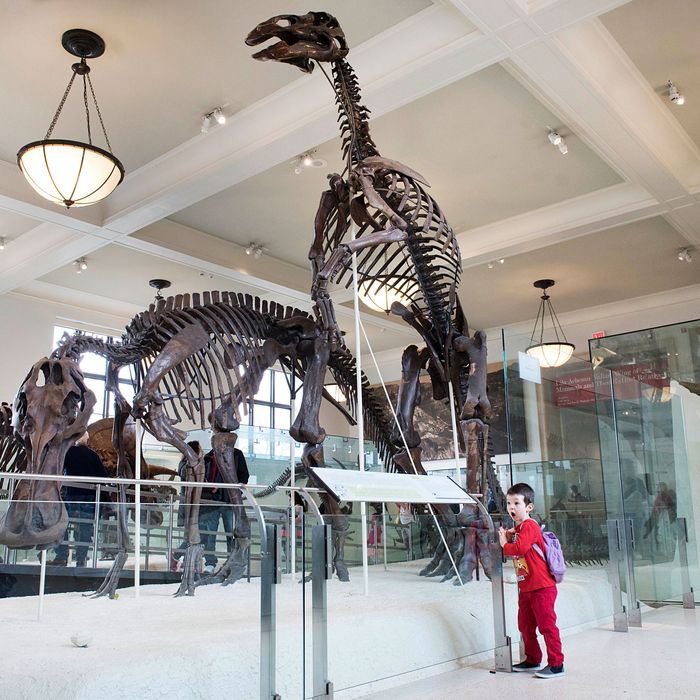 American Museum of Natural History.
Photo: Liz Clayman
Hitting up a children's museum can bring about great family memories or a kill-me-now migraine, depending on your circumstances. Because no matter how fascinating the exhibit or sophisticated the tot, toddlers will need to run around, and "num-nums" (a.k.a. snacks!) will need to be welcomed, or provided (see: MOFAD). Older kids will want to engage in the art of discovery, diving deeper into hobbies like trains or tutus. Fortunately for parents itching to get out of the house and feel good about exposing their little ones to big culture, New York is loaded with fabulous museums that kids — as well as their minders — will enjoy. Here are the absolute best.
1. American Museum of Natural History
Central Park West, at 79th St.; 212-769-5100
This iconic New York landmark is impossible to beat, whether you're 2 or 92 — and that's why it's the best. There's endless intrigue to be had by all — but especially by little explorers. Kids can dig for dinosaur bones, research their relatives in the Anne and Bernard Spitzer Hall of Human Origins, parade around in masks, and engage with live animals — butterflies, lizards, and other species, depending on the exhibit. There's a 94-foot-long blue whale just begging to be gawked at, and a massive wing of lifelike mammals. For the youngest visitors, the Discovery Room has playthings like puppets and costumes. Not to mention the Hayden Planetarium, and light shows in the Big Bang Theater. The AMNH is known for its ongoing Gateway Storytime in the Discovery Room and Night at the Museum Sleepover parties, where the lights dim, and kids head out with flashlights in search of adventures. Do note, while this is the absolute best kids' museum, it is also the absolute biggest. It's easy to get lost — and to lose your mind — so do yourself a favor: come with a tight plan and a Tylenol.
2. MOFAD Lab
62 Bayard St., nr. Lorimer St., Brooklyn; 718-387-2845
The Museum of Food and Drink is a nonprofit (with serious foodie power behind it) whose goal is to create the world's first large-scale food museum — with exhibits you can eat. Kid-centric highlights include a giant curtain of 7,250 takeout boxes that children can bask in — each box represents 7 of the estimated 50,000 Chinese restaurants in the U.S. As well as a fortune-cookie machine that makes fortune cookies in front of amazed eyes (kids can take as many as they want, right off of the conveyor belt, warm from the oven). They have an exhibit called the Smell Synth that allows kids to create over half a million different smells by pressing arcade buttons. There's even an upcoming kimchee workshop! MOFAD is best for kindergarten-plus kiddos and any little — or big — human lovers of food. The 5,000-square-foot warehouse of tastes, smells, textures, history, and yummy-in-my-tummy moments is truly an ambitious and unique treat.
3. Brooklyn Children's Museum
145 Brooklyn Ave., at St. Mark's Ave., Brooklyn; 718-735-4400
Founded in 1899, Brooklyn Children's was the country's first museum specifically made for children. And it hasn't lost its allure in the least. Kids bolt right into the large, spaceshiplike vault, where Brooklyn's diversity is celebrated via a mock Mexican bakery, kosher market, and old-school Italian pizzeria. The museum is highly energizing and interactive (germophobic parents won't be thrilled), with the concept of touch and play at the heart of each station. The museum also has a spinoff, Spark, on the Dumbo waterfront, which is small but kidtastic, with talented on-site artists working one-on-one with the little ones — and it's free on Thursdays!
4. New York Transit Museum
Boerum Pl., at Schermerhorn St., Brooklyn; 718-694-1600
An homage to New York City's transit system, this highly immersive destination in Downtown Brooklyn is — more than anything else — god's gift to rambunctious kids on a rainy day. Stationed in a former subway station (decommissioned in the '40s), there are real subway trains and turnstiles from the beginning of the subway system until today. It's great for running around and burning energy, while learning a lot about how true New Yorkers have approached public transportation in every era. Added bonus: The gift shop is terrific.
5. Museum of the Moving Image
35th Ave., at 36th St., Queens; 718-784-4520
MOMI is the perfect excuse to hang out in Astoria, and adults obviously love this film-buff and film-buff-wannabe destination as well. But with a growing kid-focused initiative, MOMI is a huge attraction for kids, too (but probably not toddlers). Children can practice moviemaking on their own via kid-filmmaker workshops. They have regular family-friendly screenings on most weekends. And during the summer, there will be kid-friendly matinees throughout the week. Coming later this year is a Jim Henson Exhibition, which will be permanent, and include many Henson-related programs and screenings for all ages.