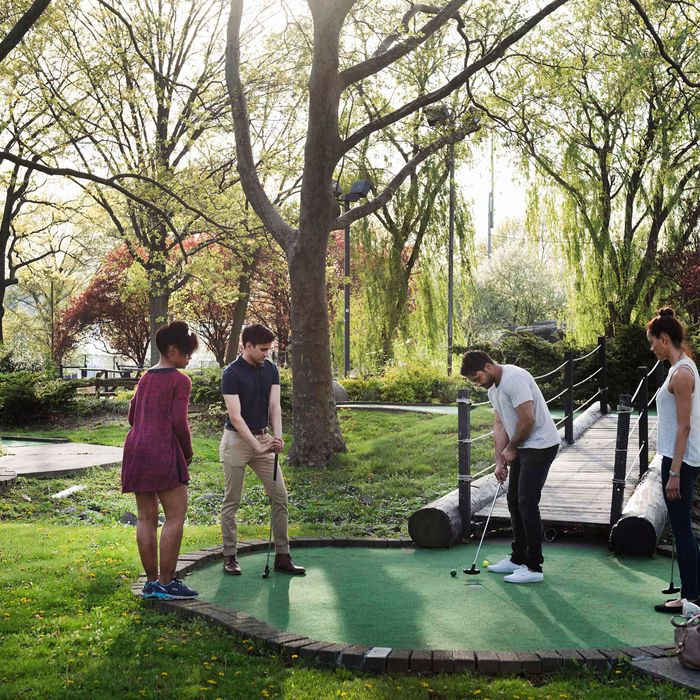 Get ready for a surprise on the fourth hole.
Photo: Liz Clayman
Although you'll typically find mini-golf courses in small seaside-vacation towns close to fried clam strips and boardwalk video-game arcades, New York has its own brand of Putt-Putt pleasures on offer: Think skyline views, creative warehouse build-outs, and adjacent beer gardens with craft brews. Here are the absolute best courses in the city, for whenever you've got an itch to practice the delicate art of small golf.
1. Randall's Island Golf Center
1 Randall's Island, nr. Bronx Shore Rd.; 212-427-5689
New York's best miniature-golf offering — hidden away on Randall's Island amid gritty highway underpasses, parking lots, and athletic fields — is more than just a golf course: It's two golf courses! The Randall's Island Golf Center has a pair of side-by-side 18-hole miniature-golf courses laid out beneath a canopy of trees in a lovely little wooded golf glade. Both courses are from the naturalist school of miniature-golf-course design: no spinning windmills or wacky obstacles. The holes make tasteful use of real and faux rocks, some nice water elements, and little elevation changes to create decently challenging courses. Sure, the felt on some of the holes is a little, ahem, subpar and needs replacing. And, yes, when you putt your ball into the tube on the east course's fourth hole, a different ball will emerge, having been knocked loose from several stuck in the pipe (now including yours). But it's open till 11 p.m. in the summer, and there's a beer garden with twinkling string lights and 12 taps, plus wine and burgers. The center also has a driving range and batting cages, and you can linger on the little links all night: Unlimited play is only $9.
2. Shipwrecked Miniature Golf
621 Court St., nr. Bay St., Brooklyn; 718-852-4653
Shipwrecked is the city's most creative miniature-golf spot, one of the only courses in town that truly embraces a fun theme. Housed in the second floor of a Red Hook warehouse, Shipwrecked actually has a full-fledged, immersive story line, involving a shipwrecked pirate captain, missing treasure, a submariner nemesis, a mysterious island, and a long subway ride. Simply play the course for $14, or pay $5 extra per group for the story line to come to life via coin-operated animations and audio messages, which are delivered as you putt your way through four artfully crafted environments with elaborate lighting and sounds. The experience is very kid-friendly — Shipwrecked will host your child's birthday party — but there are pop-culture jokes and Brooklyn references to keep adults engaged. There's also beer, wine, and pizza from Table 87, which make it a good date spot, especially during the months when the city's outdoor mini-golf courses are snowed under.
3. Pier 25 Mini Golf
West St. and N. Moore St.; 212-766-1104, ext. 228
The miniature-golf course at Pier 25 has a lot of advantages: It's well-maintained, cheap ($6 a game), centrally located (it's the only year-round course on the island of Manhattan), and it has a great view. The Freedom Tower stands on one horizon and the Jersey City skyline on another, across the glittering Hudson. The course itself is well-designed, rambling up and down small hills among fake rocks. It offers a subtle nautical theme, with occasional posts wrapped in mooring lines, like an old dock. Like the Randall's Island course, Pier 25 has a hole inside a cave under a waterfall, and other creative efforts, like a spiraling green that loops over itself. And the course uses proper golf flags to mark each hole, which is a nice touch. Bring a friend and you can play a round to decide who pays for après-golf oysters and drinks at Grand Banks, the historic fishing schooner at the end of the pier.
4. Flushing Meadows Golf Center
100 Flushing Meadows Corona Park, nr. Van Wyck Expy., Queens; 718-271-8182
Flushing Meadows Golf Center has a tidy little out-and-back miniature-golf course right next to the National Tennis Center in Queens, home of the U.S. Open. The best part of this course is the clever use of a central water feature. A waterfall and canal run alongside many of the holes, with nothing to stop an errant putt from splashing into the water. You may end up using the strategically placed ball-retrieval nets more than once, but it's up to you whether you take the one-stroke penalty. Mini-golf is $9.25 a game, and it's right next to a pitch-and-putt course, if you're ready to move up to two clubs instead of one.
5. Rocket Park Mini Golf at New York Hall of Science
47-01 111th St., nr. 47th Ave., Queens; 718-699-0005, ext. 365
The New York Hall of Science in Queens has a delightful nine-hole, space-themed miniature-golf course that's open through the warmer months. It's a bright, colorful, and well-designed circuit that includes a factoid about rockets and space travel at each hole. Learn about escape velocity and then launch your ball over a gap, or read about zero gravity and send your ball through a loop-the-loop, for example. The holes are laid out in a nontraditional blue felt, and the whole course has a nice space-age, Jetsonian feel to it. It's a fun little course for all, but very much geared toward children. And although it's only $6 to play ($5 for kids), you also have to pay the museum's admission fee.