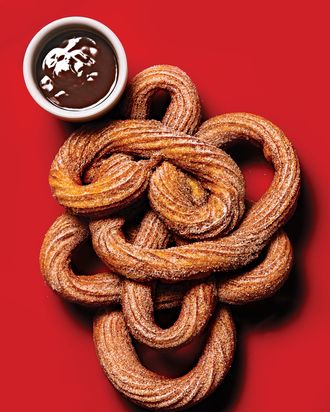 Cosme.
Photo: Bobby Doherty/New York Magazine
Most New York City restaurants are, in a sense, Mexican. More than 25 percent of working immigrants from that country have a food-service-related job; Mexicans make up the "backbone of the industry," Anthony Bourdain has said, "meaning most of the people, in my experience, cooking." It follows that a multitude of styles and regional specialties have emerged beyond the old hard-shell-taco havens and tamale specialists. Below, the absolute best Mexican restaurants in New York.
1. Cosme
35 E. 21st St., nr. Broadway; 212-913-9659
Enrique Olvera's dining room seems to pivot between great-contender status and after-work destination for guac-and-chip-seeking hordes. Maybe it's both. True, the avocado mash is deliciously buttery, but it's probably for the best that the side is (literally) marginalized at the bottom of the menu, so as not to distract from chef Daniela Soto-Innes's inventive and reverent food. The festive milk-and-Coke-tenderized duck carnitas continue to be great, but try the beef tartare, impressively upstaged by a smoked-domingo-rojo purée, and a flurry of cured yolk. Swaddle bites of branzino slicked with garlic oil and a frill of cilantro macho around hot tortillas, and gather up dollops of olive-tomatillo salsa and beefy lengua in more tortillas blackened by habanero ash. The cloudlike meringue dessert still scans mesmerizingly like fresh corn, but make time for the brunch-only churros, which arrive in a pull-apart whorl of fried dough, with warm, dark chocolate on the side.
2. El Atoradero
708 Washington Ave., nr. Prospect Pl., Prospect Heights; 718-399-8226
The mole poblano packs such a fruity, rich, and smoky wallop not only because Denisse Lina Chavez infuses chile seeds in warm oil one by one but also because she hand-stirs the paste for hours, until it turns from red to sheeny brown. Genuine Michoacán carnitas, Chavez's rendered-fat calling card from her bodega days, remain as superb as ever.
3. Empellón Cocina
105 First Ave., nr. 6th St.; 212-780-0999
High-concept molten-pozole ravioli and mezcal-apricot mochi are among the dishes on offer at the edgier chef's table, but Alex Stupak's kitchen also sports abundant heart. Bone-in pork deckle with huitlacoche comforts like the best smothered pork chops, and an ungarnished, plain-seeming braised-goat taco is one of the city's great dishes, especially when paired with a happy-hour beer for $5.
4. Los Tacos No. 1 and Los Mariscos
Chelsea Market, 75 Ninth Ave., at 15th St.; 212-256-0343
Dodge selfie-stick-wielding tourists and line up. It doesn't matter that there's always a wait, and no place to sit, when there are beautiful tortillas — griddled into existence no more than five minutes ago, and loaded with spit-roasted pork. The seafood-centric sister establishment features addictive chile-peanut salsa and $3 fish tacos. Also, chairs.
5. Casa Enrique
5-48 49th Ave., nr. Vernon Blvd., Long Island City; 347-448-6040
The paint job, bar stools, and pozole bowls are all eggshell white, and lend a subdued glow even at peak capacity. Refried beans and chorizo crown sopecitos that are flufflier than the softest polenta, and nothing beats swiping a tortilla through a dish of rajas, or poblanos with crema and cheese.
Cafe El Presidente (From Tacombi)
30 W. 24th St., nr. Sixth Ave.; 646-429-8284
Relaxed-fit tees, bottled sodas in various tropical pastels, and vast displays of take-home squeeze-bottle salsas sometimes give Flatiron Tacombi the feel of a 6,500-square-foot branding exercise. But fresh tortillas are produced in view of customers, and griddled fish tacos are suitably charred, flaky-sweet, and sustainably righteous.
Fonda
434 Seventh Ave., nr. 15th St., Park Slope; 718-369-3144
By artfully layering flavors into his tlacoyos, croquetas, and taquitos, Roberto Santibañez cuts an ambassadorial figure for regional Mexican comfort food. Flautas at his Brooklyn flagship are draped in crema and nutty pasilla sauce, and chicken enchiladas hunker down under rich tomatillo purée and drifts of melted Chihuahua cheese.
La Contenta
102 Norfolk St., nr. Delancey St.; 212-432-4180
Here are killer nachos, sure, but it's worth hustling to a space no larger than a Lenox Hill walk-in closet for the combined effects of an ex-fine-dining chef who renders short ribs and chayote into wonderful birria, plus pedigreed bartenders who froth yolks and liquor into a magical drink called Mexican Eggnog.
La Morada
308 Willis Ave., nr. 140th St., Mott Haven; 718-292-0235
Cooks simmer chicken thighs in a rainbow of stellar moles, which include an earthy, green tomatillo and one that gets its luster from ground pine nuts and almonds, while the oaxaqueño bursts with a full spectrum of smoky and fragrant chiles. There's also a lending library for activists, and a poet-in-residence.
Rico's Tacos
505 51st St., nr. Fifth Ave., Sunset Park; 718-633-4816
The late-night diner fills with rambunctious students on weekdays, and a mix of shift workers and cabbies overnight. It may not attract the taco-crawl crowd, but the 17 soft-tortilla base models showcase everything from soulful, porky-crisp carnitas to more wobbly, gutsier bits of heads and hooves.
Tacos El Bronco
4324 Fourth Ave., at 44th St., Sunset Park; 718-788-2229
At its brick-and-mortar home base, the famed taco truck's fans enjoy specials like guaxmole rojo res — a guaje-seed-thickened, beef-rib stew — amid wall-to-wall alpine murals depicting Bronco's equine namesake mid-frolic. Dozens of cemitas, baroque tostadas, and restorative soups like consomé de chivo cram the extensive menu.
*A version of this article appears in the March 6, 2017, issue of New York Magazine.