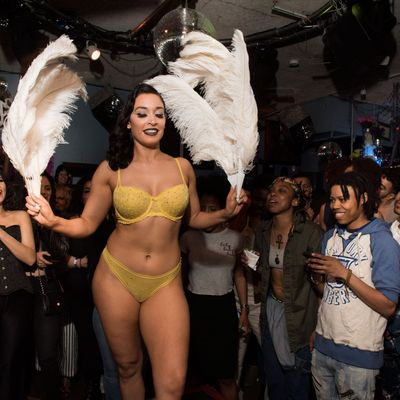 Henrietta Hudson.
Photo: Liz Clayman
For a while there, it seemed like the city's lesbian scene was going extinct. The bars were closing: Crazy Nanny's, Rubyfruit, Meow Mix, Cattyshack, the Dalloway. But these days, there's a refreshing renaissance happening in womyn-centered nightlife. A wildly fun and wide-ranging array of events have popped up all over the city, and the remaining lesbian bars (Henrietta Hudson, Cubbyhole, Ginger's, and Bum Bum Bar) are more vibrant than ever.
1. Henrietta Hudson
438 Hudson St., at Morton St.; 212-924-3347
The longest-running lesbian bar in the city (26 years!) not only survives, it thrives. Longtime co-owner, activist, and local community-board member Lisa Cannistraci also keeps busy as the vice-president of Marriage Equality USA, but in 2013, she still made time to redesign the bar's website and visuals, brought on go-go dancers, and hired a roster of dazzling resident DJs like Tikka Masala and DJ Culi, as well as frequent international talents. Now, the bar has a dynamic, eclectic calendar of nights, including Masala's Homotown on Thursdays (old-school soul and hip-hop); Bodega 438 on Wednesdays (Latin fusion); and the new monthly Dyke Disco, hosted by DJ Andro on the second Sunday of the month from 4 to 8 p.m. It's packed.
2. Pat at Union Pool
484 Union Ave., at Skillman Ave., Brooklyn; 718-609-0484
J.D. Samson — DJ, singer, and New York City treasure — has created a queer monthly party "for anyone from anywhere wearing anything and loving who they want." It's full of positive people who are open to music beyond Beyoncé. Tylerkinesis creates vibrant video visuals to put you into a dance trance, and the dependable DJ Amber Valentine is also a resident. Union Pool's big space allows for DJs in the front and back room, so you can mix up your moves or avoid running into your ex with ease. (Monthly; no cover.)
3. Be Cute at Littlefield
622 Degraw St., nr. Fourth Ave., Brooklyn; 718-855-3388
This friendly, fun dance night is hosted by drag performer Matty Horrorchata, who sprinkles her positive vibes over the night. Drag guests like Tyler Ashley, Miz Jade, and Patti Spliff present high-energy live performances; and Littlefield has a big dance floor to try out your Missy Elliott impersonation (or at least attempt it). The crowd is more mixed, but you can tell the queer men here love and respect their womyn. Empanadas and brownies are for sale, and drinks are cheap. (Monthly; $5 in advance, $10 at the door.)
4. Dagger at the Dreamhouse
10-22 Wyckoff Ave., nr. Covert St., Queens; no phone
The Bushwick queer scene suffered a mortal wound when the short-lived but legendary queer art space the Spectrum closed last year. Happily, its organizers have opened the Dreamhouse in Ridgewood, Queens. They have also revived their important night, Dagger, which caters to the "Lez" and trans community. With the ever-present DJ Amber Valentine — plus other talents like Tigga Calore and H.D., along with hosts Jacqueline Mary and Avory Agony — this night is all about making the genderqueer community central. Their cover-charge structure says it all: $5 before midnight for the "Lez and Trans World," $10 after midnight, $15 after 3 a.m.; $15 before 3 a.m. for "homo Cis Dudes," $20 after 3 a.m.; and "$50 all night for Str8 Cis Dudes."
5. Hot Rabbit at Boots & Saddle
100A Seventh Ave. S., nr. Grove St.; 646-892-4800
This weekly Friday dance-jam started in 2011, but now has settled at Boots & Saddle's new, larger location in the West Village. The venue allows for a wonderful mix of ages and genders, from old-school Boots & Saddle regulars to NYU students to Sunset Park dykes to Hot Rabbit devotees. The hosts prefer to think of this as a queer party, but the following definitely leans female/lesbian-heavy with changing DJs, performers, and go-go dancers of all genders. $1 shots at 1 a.m.! (Weekly; $8, free before midnight.)
Bum Bum Bar
63-14 Roosevelt Ave., nr. 64th St., Queens; 718-651-4145
Queens' Latino LGBTQ community has always been vibrant. One vital venue is Bum Bum Bar, where the predominantly female (but still mixed) crowd dances to salsa, merengue, and Selena. This is a down-to-earth joint where Queens residents can feel the beat, celebrate diversity, and let loose to classic Latin tunes mixed in with the latest Latin hits.
Cubbyhole
281 W. 12th St., nr. Eighth Ave.; 212-243-9041
This venerable, joyous corner watering hole is like being inside a piñata; the interior is bedecked with flags, streamers, beads, and multicolored flocking. It hasn't changed much since it opened in 1994, and it doesn't need to. The popular happy hour, Monday to Saturday (till 7 p.m.), is packed with regulars. There's also $2 Margarita Tuesdays, and Sundays offer $4 Bloody Marys, mimosas, and Kir Royales from 2 to 7 p.m., as well as late-night specials. Don't worry, the A, C, 2, and 3 trains are within stumbling distance.
Dyke Bar Takeover
Various locations
An offshoot of the New York City Dyke March, the Dyke Bar Takeover is a scheduled invasion of a bar to give self-identified women, dykes, and nonbinary folks a place to meet, mingle, and feel sexy. The gatherings are usually in the daytime and support local queer artists, including Drag Kings and nonbinary performers.
Ginger's
363 Fifth Ave., nr. 5th St., Brooklyn; 718 788 0924
Way back in the '90s, Park Slope was a lesbian haven. The neighborhood may have gentrified, but the lesbian bar Ginger's (also known as the G-spot) has held on. This lesbian-centric dive bar of your dreams offers Sunday Bingo with Luscious Lola, happy hour Monday to Friday from 5 to 8, as well as Friday dance parties keep this place lively. With a pool table and spacious backyard, it is the area's dependable spot for sapphics and their admirers. It's also the place to be after Brooklyn Pride.
Misster at the Woods
48 S. 4th St., Brooklyn; (718) 782-4955
On most nights, the Woods is your typical Williamsburg watering hole, but on Wednesdays it transforms into Misster, a party that attracts droves of queer women, especially when the enormous patio is open. Sure, it's a weeknight, but no one shows up until 10:30 p.m., when DJ Amber Valentine's set is in full swing — she's on until midnight; after that a guest typically takes over until the wee hours. Landhaus' full menu is available at the indoor bar, but it's equally easy to order a late-night snack at the food counter out back. (Weekly; no cover.)