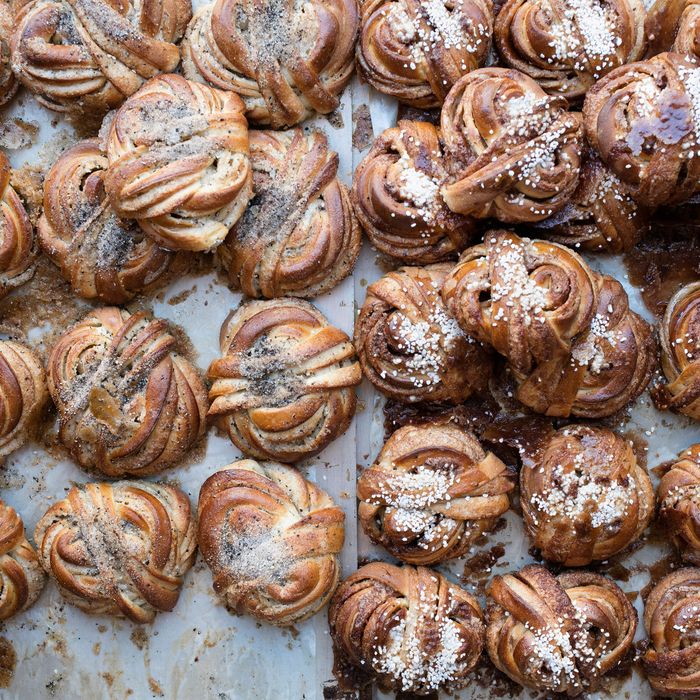 Sweden's Fabrique arrives in New York.
Photo: Melissa Hom
Bakeries play many roles in our lives: They have that pick-me-up chocolate chip cookie we need after a particularly trying day or they're home to our favorite lunchtime sandwich. They take all the guesswork out of Thanksgiving pies and simply make breakfast better in the form of croissants, bialys, and bagels. New York is no stranger to tightly spiraled pain au chocolates, dense savory scones, or life-affirming rugelach, but that hasn't stopped nearly a dozen new bakeries — many of them European imports — from opening their doors in Brooklyn and Manhattan in hopes of securing a coveted spot in our carb-loving hearts. If you're finding it impossible to keep up, don't worry: Grub has you covered with this guide to New York City's recent bakery boom.
Fabrique
348 West 14th St., nr. 9th Ave.; no phone
Opened: May 2019
Ask a Swede if they've heard of Fabrique and they'll ask you if you've ever heard of Beyoncé. This chain has nearly two dozen locations across Stockholm, where it first opened, and five outposts in London. Now, it's landed in New York. Fabrique's offerings run the full gamut, featuring savory ham and cheese croissants, classic sourdough loaves, as well as brownies, vegan chocolate cookies, and raspberry caves, a shortcrust pastry with a jammy center. And the biggest draw, by far, is Fabrique's incredibly buttery and sweet kardemummabullar, or cardamom bun, which has inspired pumpkin-spice-latte levels of dedication across at least two world capitals.
Ole & Steen
873 Broadway, at E. 18th St.; 929-209-1020
Opened: January 2019
Speaking of Scandanavian bakery chains, Ole & Steen — which first appeared in Copenhagen in 1991 — made its stateside debut in Gramercy earlier this year. What sets Ole & Steen apart is its rustic approach to pastries: challah-like cinnamon "socials," hefty breakfast sandwiches, and palm-size danishes. Grub is particularly fond of the raspberry slice: a raspberry-filled pastry with lemon icing that tastes like the world's best homemade Pop-Tart.
Marie Blachère
301 Sixth Ave., at Carmine St.; 917-261-4344
Opened: April 2019
After a U.S. debut in Great Neck, this French-born bakery chain opened its doors in Greenwich Village this spring. Though Marie Blachère is the real deal, it's not the type of place where you'll get a sideways glance for mispronouncing "mille-feuille." Instead, the focus is on approachability and affordable staples: Baguettes are $2.20 apiece, while meringue tarts will still impress your friends if you pick one up on your way to a dinner party. And, a bonus: The price on most breads drops by 50 percent near closing time.
Bourke Street Bakery
15 E. 28th St., nr. Madison Ave.; 917-675-6394
Opened: May 2019
Australia's Bourke Street Bakery is held in Godlike regard in its native Sydney. Now, co-founder Paul Allam is living stateside, running the ovens, milling his own flours, and generally showing off his impressive bread-making skills. There are croissants, lime curd and Italian meringue tarts, and baguettes — all made fresh — alongside Wilbur's Sandwich (fennel-infused pork shoulder, broccoli, cheddar, and dijonnaise on sourdough), smashed avo, and a rotating menu of specialty breads. And, later in the day, the bakery serves natural wine, too.
Westville Bakery
433 E. 9th St., nr. Ave. A.; 347-618-7222
Opened: November 2018
Westvilles are as ubiquitous as dropped Metrocards, but the chain's first standalone bakery — on the border of the East Village and Alphabet City — still stands out for its impressive collection of vegan and gluten-free offerings: Cheesecake with berries, chocolate cake, gluten-free banana cake, vegan almond lemon muffins, and more than half a dozen other treats to choose from.
Michaeli Bakery
115A Division St., at Orchard St.; 646-360-2284
Opened: May 2019
The opening of Michaeli Bakery marks the solo outing of Adir Michaeli, who cut his teeth at Breads Bakery. Yes, you will find babka that replicates the famous version at Breads, but there is so much more here, too: Michaeli's stated goal is to widen the city's view of Middle Eastern pastries, so customers will find sfenj, a Moroccon-born vegan doughnut; sesame seed-topped burkitas filled with feta cheese; crisp danishes brimming with cream cheese, ricotta, sour cream, and lemon zest; and coconut-mango log cakes, among other delicacies.
Princi
Multiple locations
Opened: October 2018
Last fall, this Milan-born chain made its debut in New York City, setting up shop in Midtown. A second location can be found at the Starbucks Reserve Roastery in Chelsea. (Starbucks is a shareholder in the bakery.) While it's easy enough to lunch like an Italian in New York, it's a bit trickier to find somewhere to breakfast like an Italian, sipping espresso over prosciutto and fontina-stuffed cornetti, baked eggs with polenta cakes, or butter and orange marmalade spread over slices of chocolate sourdough.
High Street on Hudson
637 Hudson St., at Horatio St.; 917-388-3944
Opened: December 2015
The big news at this 3-year-old Philly import is the recent hiring of pastry demigoddess Melissa Weller, who has already made her indelible mark on the restaurant: delicate kouign-amanns; orange cake with coconut, poppyseeds, and blood-orange glaze; and, of course, her beloved bagels, which hold together offerings like the Jersey Girl sandwich with pork belly, over-easy egg, Jasper Hill Farm cheese, and Calabrian-chile spicy mayo.
Pasteles at Mercado Little Spain
10 Hudson Yards, nr. 10th Ave.; 646-495-1242
Opened: March 2019
Inside José Andrés's Spanish food hall is Pasteles, a stand entirely devoted to regional Spanish pastries. There's almond cakes from Galicia; xuixos — deep-fried, sugar-coated pastry filled with cream — by way of Catalonia; and Mallorcan ensaïmada, Spain's version of sweet brioche. The Underground Gourmet is particularly fond of the cardenal, a meringue and cream sandwich with a circle of sponge cake at its center afloat in a Valrhona chocolate sauce.
Pilar Cuban Bakery
397 Greene Ave., nr. Bedford Ave.; 718-623-2822
Opened: January 2019
New York City isn't exactly teeming with Cuban bakeries, so Ricardo Barreras's Pilar Cuban Bakery is a welcome addition to the scene. The Clinton Hill bakery specializes in empanadas (chicken; picadillo; chorizo; and even bacon, egg, and cheese); traditional Cuban bread for all your media noche and cubano needs; and, of course, pastelitos, little pockets of puff-pastry sunshine overflowing with guava or chorizo, depending on your mood. Dulce de leche brownies, passionfruit-coconut-dulce de mango cake, flan, and key lime pie also make appearances on the menu.
Russ & Daughters at the Brooklyn Navy Yard
Building 77, 141 Flushing Ave Suite 102, nr. Clermont Ave.; 212-475-4880 ext. 4
Opened: February 2019
It's not every day that an iconic Jewish deli comes to Brooklyn and, of course, if they're going to do that, they're going to do it big. Like, Brooklyn Navy Yard, 300-acres big. With this outpost in Building 77, Russ & Daughters finally has the real estate to bring New York its beloved bagels, bialys, rye bread, babka, rugelach, grahams, pretzels, and all the other usual suspects in their freshest state. Though, true to the original LES location, the sometimes-long waits here have already developed a reputation of their own.