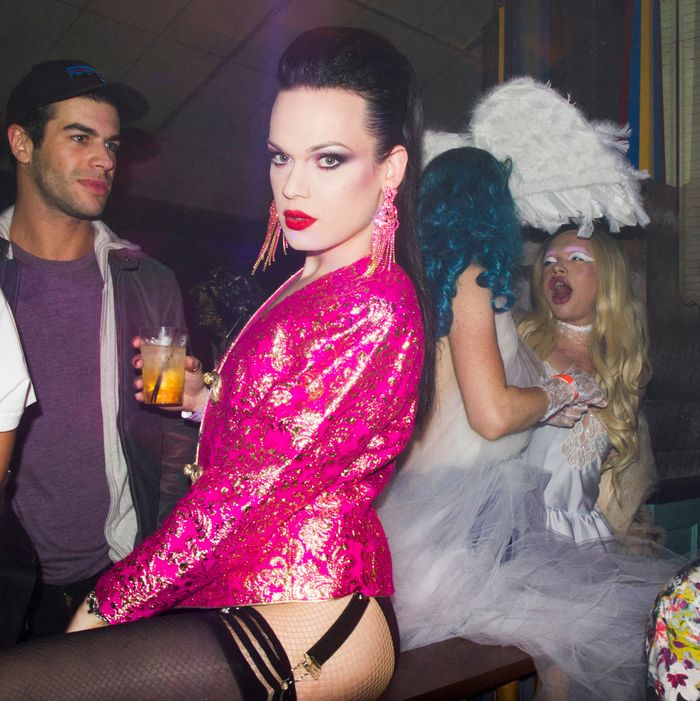 Battle Hymn is all about dancing.
Photo: Camilo Fuentealba
We've given you the best gay bars in Manhattan and Brooklyn, we've given you the best dance clubs, and now it's time to combine the scenes and name the best LGBT dance parties in New York.
1. Battle Hymn
Flash Factory, 229 W. 28th St., nr. Eighth Ave.; 212-929-9070
The city has been praying for a Sunday dance party, and now it's here. Huge, vivid, and all about dancing, Battle Hymn is brashly flouting all those naysayers who complain that the city is lame and lost in luxury. The new weekly Sunday dance party harks back to Sunday rituals of the past like Body and Soul and the Sound Factory. It feels old-school, with voguers and club kids, disco daddies, straight coolios, models, the old and the young, all together getting lost and found in music. Hosted by Ladyfag (when does she get a special medal from the mayor for keeping nightlife alive?) with a rolling roster of DJs, including two of NYC's most sought-after talents: the Carry Nation and Honey Dijon. Added bonus: Flash Factory has, arguably, one of the best sound systems in New York right now.
Sundays (weekly), 9 p.m. to 3 a.m.; $10
2. Hump
Rumpus Room, 249 Eldridge St., nr. Houston St.; 212-777-5153
Yes, there are still young people in this city who dress up, look great, and are staying up in the middle of the week and having fun. Here is where they go. Hosted by Hannah Shoshana Fisher and Paul Iacono, with drag shows by Blake Deadly, HUMP plays that exact mix of disco, Grimes, Bowie, and Black Box that will keep you on your feet.
Wednesdays (weekly), 10 p.m.; $5 after 11 p.m.
3. WRECKEDnyc
(Roving address)
Sweaty and deep, Wrecked has been credited as being as close to Paradise Garage as you can get without building a time machine. Its resident DJs, Ryan Smith and Ron Like Hell, know just how to create an erotic throwdown. The party recently landed a new Gowanus location, Analog NYC, which it will move into officially in the fall, but they'll be hosting their last summer party in Williamsburg during Pride.
June 25 at Output; $15 to $25
4. Pat
Union Pool, 484 Union Ave., at Skillman Ave., Williamsburg;718-609-048
The fun, flirty night PAT is reminiscent of the legendary '90s and '00s downtown apex of fabulosity, Beige. But, even better, it also feels more lady-based. With a bevy of charismatic hosts and DJs, including JD Samson and Amber Valentine, you walk in and think, Oh! So this is where all the hot fashion lesbians have been hanging out."
Thursdays (monthly), 9 p.m.; free
5. Romy and Michelle's Saturday Afternoon Dance Party
C'mon Everybody, 325 Franklin Ave., nr. Clifton Pl., Bed-Stuy
Bed-Stuy needed a big, fun, friendly dance party, and here it is. The venue, C'mon Everybody, is an all-inclusive, good-energy space, and the dance party is as optimistic and bright as its daylight hours. The crowd is mixed but brings in local LGBTs who don't feel like taking the A train just to dance.
Saturdays (monthly), 3 p.m. to 8 p.m.; free
6. Be Cute
Littlefield, 622 Degraw St., nr. Fourth Ave., Gowanus;
It touts itself as Brooklyn's #1 Mixed Queer Dance Party, and it is. DJs Horrorchata and Uncle Larry are eclectic but never snooty about their music. There are shows, empanadas, and a trans-positive crowd that makes you feel happy to be part of the queer community.
Saturdays (monthly), 10:30 p.m. to 4 a.m.; $5 to $10