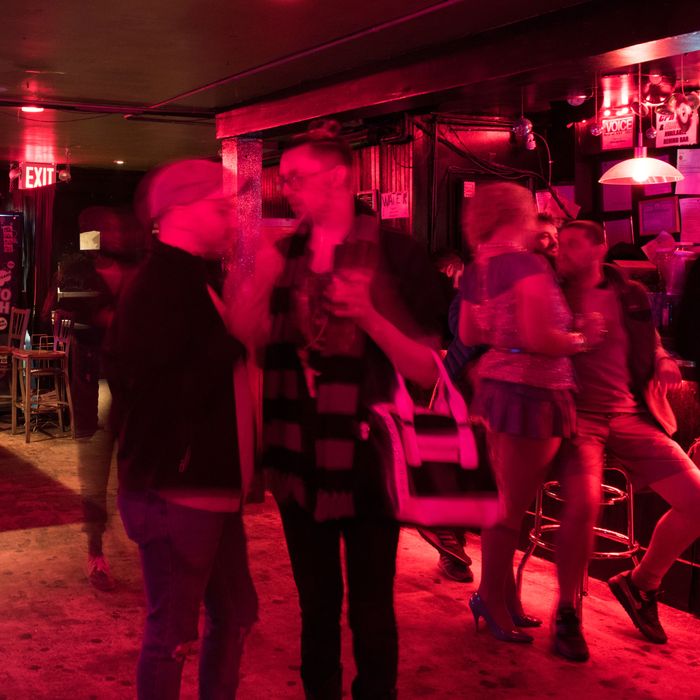 Metropolitan has become the Grand Central of Brooklyn's gay scene.
Photo: Liz Clayman
It's time to declare the best gay bar in Brooklyn. With the closures of Lovegun, Sugarland, and the queer emporium Spectrum, the Brooklyn gay bar is in a moment of transition. Many venues for gay black men have shuttered as well (RIP: Starlight, Rockwells, and Brooklyn Cafe). But the places that remain — some new, some newly renovated, and some old standbys — are doing their part to keep the borough's LGBT community lubricated.

1. Metropolitan
559 Lorimer St., nr. Metropolitan Ave., Williamsburg; 718-599-4444
The long-running Metropolitan bar has always been the casual first and last stop of the night, but it's evolved to become something of a Grand Central Station for Brooklyn's gay scene, with a lively roster of DJs, drag queens, and events that are always mixed and never exclusionary. Both divey and dynamic, the big, multi-roomed locale has a cool factor without trying too hard (a.k.a. the Brooklyn credo). The place is known for the outdoor patio, where you'll find many a bearded grad-student dude with a beautiful woman who looks like she's in HAIM. And now that summer's coming up, Metropolitan will be resuming its legendary free (with a drink) Sunday barbecue. Also: Nights like Hella (every fifth Friday) and Frankie Sharp's Metro-Sensual (every other Saturday) are popular; people come religiously to Queeraoke on Tuesdays; and the party/vintage-clothing auction/drag show Alotta Stuff hosted by Alotta McGriddles and Thorgy Thor (every third Thursday) is hilarious fun.

2. Macri Park
462 Union Ave., at Metropolitan Ave., Williamsburg; 718-599-4999
Macri Park reopened as a gay bar in August 2015 under the same owners as Metropolitan. In less than a year, this "sister" bar has become a welcome presence at the Lorimer stop. Nights like Cissy (Wednesdays) reaffirm your faith that the young gay boys of NYC are still having fun.

3. This n' That
108 N. 6th St., nr. Wythe Ave., Williamsburg; 718-599-5959
Raucous and youthful, this is where you go to dance with your friends and finally see that guy on Scruff in real life. Or This n' That is where you'll find the 30-something fashion and design professionals of Billyburg dancing with friends. It's a sexy space (note the curved ceiling), and the drag performers are cutting their heels to become future Drag Race contestants.

4. Excelsior
563 Fifth Ave., nr. 15th St., Park Slope; 718-788-2710
After closing two years ago, Excelsior reopened in a new location a few blocks south of its former spot in August 2015. Bigger and more ambitious, the new Excelsior is the perfect place for all those new Gowanus and Sunset Park boys to meet their Park Slope daddies in person. There's a front café-like seating area, a long narrow bar, a lovely outdoor space, and a cute upstairs annex where they screen RuPaul's Drag Race (of course).
5. Ginger's
363 Fifth Ave., nr. 5th St., Park Slope; 718-788-0924
JD Samson's The Last Lesbian Bars mini-doc for Broadly brought up the cogent question: What happened to all of the lesbian bars? Ginger's is one of the last ladies standing. An old dependable with cheap drinks and a pool table, it has a good happy hour and Shake It Fridays.
6. Xstasy Bar & Lounge
758 Fifth Ave., at 26th St., Sunset Park; 718-499-2348
Opened in 2014, this friendly corner bar right across from Green-Wood Cemetery gives locals a place to call home. It's a mixed crowd with a strong Latino clientele (they had a major Cinco de Mayo party). Best of all, the décor serves up '70s-gay-dive-bar realness: See the weird guitar in the corner, draped white couches, and old album covers adorning the walls.