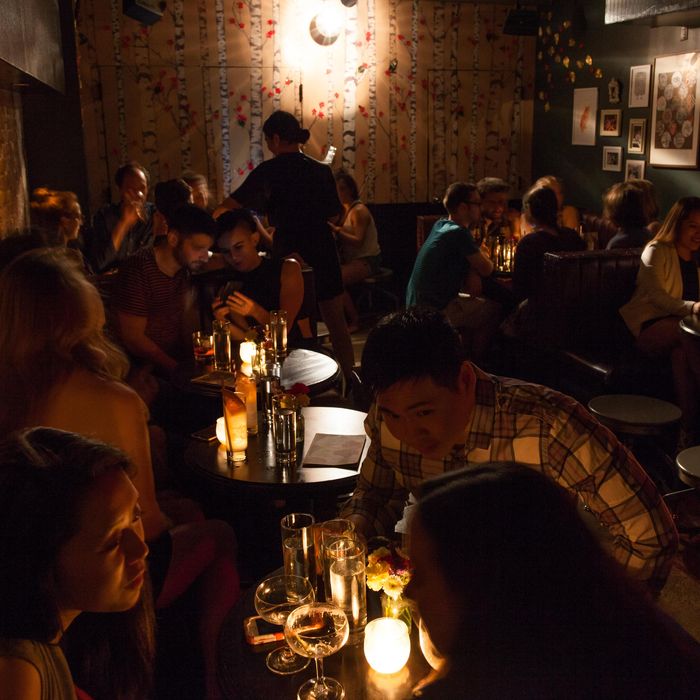 Plenty of dark corners at Nitecap.
Photo: Miachel Breton
We've already named the best date bar uptown, and now it's time to do the same for downtown. Here, our seven choices for the darkest, most romantic spots below 14th Street, from a slick Tribeca boîte to a graffiti-adorned sake bar.
1. Nitecap
120 Rivington St., nr. Essex St., basement; 212-466-3361
Nitecap was originally conceived by the proprietors of Death & Co and an alum of Maison Premiere as a "non-fussy" after-hours spot for the city's bartenders to hit up after their shifts, but it turns out those same qualities make this small, barely lit cocktail bar under Schapiro's on Rivington an excellent location for a nighttime tryst. There's plenty of dark booths to settle into (so dark it's sometimes hard to see what you're drinking), and cocktails by star bartenders Alex Day, David Kaplan, and Natasha David are seasonal and killer. There's also something for every taste, from aperitifs to begin your evening to boozy "Firewater" options to the namesake nightcap. Should you and your date want some alone time with a bottle of Scotch, they'll just charge you for what you drink, and if the night goes south, the playful menus also feature crossword puzzles and jokes to lighten the mood. Come early for quiet conversation, or swing by on the last Sunday of the month to show off your dance moves: That's when the disco ball descends for the Disco Sunday dance party.
2. Decibel
240 E. 9th St., nr. Second Ave.; 212-979-2733
Dark and gritty without the sleaze, Decibel is a downstairs sake and shochu spot where you'll regularly find couples getting cozy in the graffiti'd corners, inspired by the red glow of Japanese lanterns and masu holding overflowing drink pours. The selection is wide and includes plum wine and cocktails, and snacks are equally compelling, like raw octopus with wasabi (takowasa) and dried squid (atarime).
3. Slowly Shirley
121 W. 10th St., nr. Greenwich Ave.; 212-243-2827
Don't let the perpetually packed West 10th Street haunt Happiest Hour deter you; for date night, head downstairs to its sultry — and much roomier — counterpart Slowly Shirley, where Jon Neidich (Acme) and barman Jim Kearns (Pegu Club) have set up a dimly lit Art Deco throwback inspired by the brightest stars of Hollywood's Golden Era. Maroon seating, candles, and light music set the mood, while expert takes on the Manhattan, martini, and old-fashioned will keep things moving. Or go more exotic, with the pandan-flavored Cleopatra, served up in spectacular, curvy, and colorful form. When you get hungry, there's a selection of small bites, or order the Happiest Hour's popular burger from upstairs without having to leave your seat.
4. Evelyn Drinkery
171 Avenue C, nr. 11th St.; no phone
Tucked away on Avenue C, this Prohibition-style cocktail bar specializes in casual seduction. While it's made a name for itself as a destination for first dates, its exposed brick, dripping candles, and eclectic seating — including supple leather booths — really fit any romantic situation. And the same goes for the drinks: Serious imbibers can go spirit-forward with confidence, while those looking for something more playful can choose from a selection of frothy "spirited phosphates" (housemade sodas), including a spiked classic NYC egg cream. Some nights have DJs, so, depending on your preference, you might want to check before you head out.
5. The Leadbelly
14 Orchard St., nr. Canal St.; 646-596-9142
Take someone you want to get to know better to this Lower East Side bar by the folks behind the Fat Radish, which happens to be right across the street. A built-in piano comes in handy during live-music sets most nights, or you'll hear vintage records being spun with throwback tunes from the bar's namesake blues musician Huddie William Ledbetter. A wide selection of wine is on offer, but cocktails like the Cynar, smoked rum, and pineapple Getaway don't disappoint. Light bites and oysters work for a low-key meetup, but a food menu including lobster rolls and truffle fries are also available if the night starts to go somewhere. The draw, though, is the oysters: from both coasts, served all night. Come early for the oyster happy hour, daily from 5:30 to 7 p.m for more bang for your aphrodisiac buck (or, in this case, $1.50 per oyster).
6. Weather Up
159 Duane St., nr. West Broadway; 212-766-3202
This Tribeca outpost of Kathryn Weatherup's Prospect Heights boîte is a slick, amber-lit space serving up classic and original boozy quaffs by Richard Boccato (Dutch Kills). Order one of those, or show off your wild and crazy personality and order bespoke — you really can't go wrong. Move past the crowded front bar space to the back, where booths beckon you to snuggle in for oysters and bar snacks like artichoke gratin and truffled cheese toast from No. 7's Tyler Kord.
7. The Up & Up
116 MacDougal St., nr. Bleecker St.; 212-260-3000
You're in NYU territory for the wealth of entertainment, but you don't want to deal with the NYU crowd for your preshow drink. The Up & Up's got you. This downstairs cocktail den from Matt Piacentini of the well-loved but now-closed Avenue A gastropub the Beagle is warmly lit but not too dim, and also has history: It was formerly the famed Gaslight Café in the '60s, a hangout of folks like Allen Ginsberg and Bob Dylan. Today it has vintage wallpaper and cozy booths and a short but comprehensive menu including an "Insanely Good" section with superior versions of everyday cocktails like a gin-and-tonic. Speed things along with one of the large-format bottled martinis or Manhattans made for sharing. Or, if you'd rather keep things separate, go with a bottled cocktail for one, like the Teague Old Flaskoned.