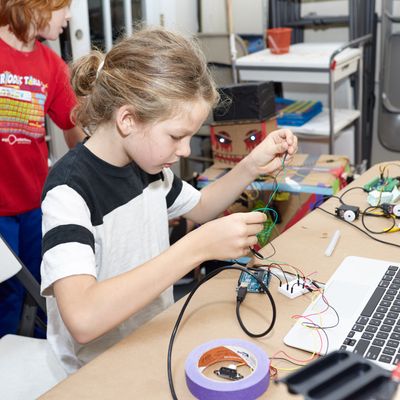 Brooklyn Robot Foundry
Photo: Roy Beeson
Ever since Maker Faire New York debuted in 2010, the DIY movement has exploded in this town, especially with kids, who are often innate creators. High- and low-tech maker parties are also a hit with parents, since the hands-on projects stress STEM (science, technology, engineering, and math) skills, and the guests craft their own favors (no buying plastic tchotchkes!). Here are the best ones to check out.

1. Brooklyn Robot Foundry
303 Third Ave., nr. Carroll St., Gowanus; 347-762-6840
1595 Second Ave., at 83rd St.; 347-762-6840
72 Warren St., nr. West Broadway,; 347-762-6840
When mechanical engineer and mom of two Jenny Young opened her original Gowanus studio in 2011, she spawned a make-your-own-robot invasion with three locations and counting (not to mention plenty of imitators). Kids learn simple circuitry while building their own mobile creations out of recycled materials like old tin cans, boxes, and a cornucopia of craft accessories, so every child goes home with a one-of-a-kind robot, not some Lego Mindstorms or other prefab kit. Situated in a converted warehouse with 14-foot ceilings and exposed beams, the Brooklyn outpost is the local chain's largest and best reflects its DIY vibe, with a colorful storefront boutique giving way to a well-worn industrial workshop in back. The Tribeca and Upper East Side locations are newer and smaller, but all three offer the same trio of party packages, with the scaled-down silver aimed at ages 4 to 6, and the all-inclusive platinum (food, cake, decorations) leaving nothing for parents to do but show up and hang back.

2. ConstructionKids
Brooklyn Navy Yard, 63 Flushing Ave., nr. Carlton Ave., second fl., Ft. Greene; 718-522-2902
It's strictly low-tech building at this sleek, 2,500-square-foot Brooklyn work space, perfect for tots still going through a construction-centric phase. Children ages 4 to 9 fashion figures, mini trucks, cars, boats, and other playthings using wood and real tools like hammers and nails — this is building, not crafting. Projects can be customized based on the birthday child's interests, with superhero action figures, Star Wars X-wing fighters, and Steve from Minecraft all popular requests. No kits here, either; kids choose from a buffet of materials and accessories, so each creation is unique.
3. Carmelo the Science Fellow
300 Atlantic Ave., nr. Smith St., Boerum Hill; 718-722-0000
Local parents have been known to stand in long lines to get their kids into this lauded teacher's summer camp and his Brooklyn Preschool of Science. So it's no surprise that birthdays at his center are booked months in advance — especially if you want Carmelo himself as host. The multipart celebrations start with face time with the resident animals, including a blue-tongued skink, corn snakes, gerbils, and a bearded dragon, followed by a fact-packed, creature-themed story time. Afterward, Carmelo does simple demos that illustrate scientific concepts like states of matter, and the party ends with the kids making an Alka-Seltzer rocket or glow-in-the-dark Silly Putty.
4. New York Hall of Science - Corona, Queens
New York Hall of Science, 47-01 111th St., Corona; 718-699-0005 ext. 353
It's fitting that the museum that hosts NYC's annual Maker Faire — and is home to its own Maker Space — is, at long last, offering maker-themed celebrations. The parties launched earlier this year with two simple projects: paper circuits (LEDs or coin-cell batteries affixed to card stock to create light-up art) and linkages (cardboard creations with movable joints) that are only limited by the kids' imaginations. An educator-led tour of the science spot is included, and add-ons like tickets for the outdoor seasonal Rocket Park Mini Golf are available.
5. Pixel Academy
163 Pacific St., nr. Clinton St., Cobble Hill; 866-771-6837
Sure, you could host a Minecraft party at your apartment with all of the kids fixated on their individual screens in an anti-social haze. But this high-tech hub turns the super-popular game into a communal experience, as fans learn how to customize their worlds, play in virtual-reality mode using the Oculus Rift, and even control the action with their bodies via motion capture. A Minecraft-themed laser show in the 4,000-square-foot studio brings them back to the real world. Currently, Pixel only offers parties at its Brooklyn outpost, but a Tribeca location is set to open in September.
6. Intrepid Sea, Air & Space Museum
Pier 86, 46th St. and Twelfth Ave.; 212-245-0072
Admittedly, the focus here is more on doing than making, but just being on this aircraft carrier turned museum is an inspiring experience for STEM-loving kids. Birthday tours of the massive museum include up-close looks at various aircraft, the submarine Growler, and the space shuttle Enterprise, and a voyage through the 4D Motion Ride XD Theater. The activities are more on the crafts side and vary by theme: Aspiring astronauts decorate their own space suits, spies create their own codes, and Rosie the Riveters put together simple toy planes.