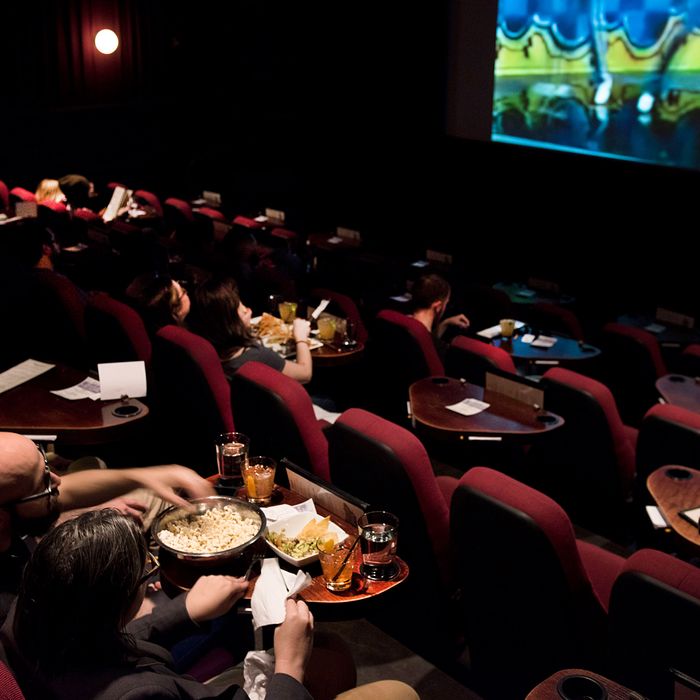 Anyone for a breakfast burrito?
Photo: Liz Clayman
Food and film are two great tastes that taste great together, and, thankfully, the city is home to a handful of spots that unite the two. Whether you're up for indie movies and nachos or prefer kale salad and action flicks, here are the best theaters to indulge your taste buds and eyeballs at once.
1. Nitehawk Cinema
136 Metropolitan Ave., nr. Berry St., Brooklyn; 718-782-8370
This is the theater that started it all. In 2011, the same year it opened, Nitehawk successfully lobbied to overturn a state law barring booze in cinemas, making it possible for New Yorkers to enjoy a delicious meal and a cocktail inside a movie theater. While a number of dine-in cinemas have since opened around town, Nitehawk remains the best choice. All the elements of a top food-and-film experience — menu, drinks, movies — are not only carefully curated at Nitehawk, they're also coordinated: During a showing of Get Out for instance, you could order a sweet-tea soy-glazed tofu dish called "The Sunken Place." Or you could sip on a whiskey and lemon "Gunpowder Punch" while watching Free Fire. Nitehawk also has excellent non-themed food offerings — Korean chicken tacos, Turkish lamb sliders, cheese and charcuterie plates, truffle popcorn — that change seasonally. Plus, there's a brunch menu, featuring smoked-salmon crostini and a breakfast burrito, and an admirable dessert menu (waffle-cone sundae!) — all delivered to your seat. While they have just three screens currently, renovations are underway for a new, much larger second location at the former Pavilion theater in Park Slope, slated to open this winter.
2. Alamo Drafthouse Cinema
445 Albee Square West, nr. Willoughby St., Brooklyn; 718-513-2547
Although it's part of a national chain of more than 20 theaters and feels a bit like a traditional mall multiplex, a hipster heart still beats within Alamo Drafthouse Cinema in Brooklyn. That's probably thanks to the chain's roots in Austin, where keeping things weird is a municipal motto. So while you can pick out your seats online and watch the latest big-budget blockbusters in plush armchairs, the seven-screen theater also offers hand-picked indie films, a series of musicals, and weekly themed nights like Terror Tuesday (featuring forgotten horror movies like Twins of Evil) and yes, Weird Wednesday (anyone for The Gong Show Movie?). The theater also offers in-theater table service from an extensive menu of sandwiches, salads, snacks, and a staggering 16 different varieties of shakes and floats, most of which have an alcoholic option. True to its name, the Drafthouse has over three dozen beers on tap, not to mention a selection of cocktails, wines, and creative soft drinks. If you're still thirsty after the meal, there's also a bar in the theater lobby, the bizarre, medical oddity-themed House of Wax.
3. Syndicated
40 Bogart St., nr. Thames St., Brooklyn; 718-386-3399
Syndicated offers the best deal in town for in-cinema dining, with movie tickets as cheap as $4 for many showings. The owners converted a Bushwick warehouse into an airy bar and restaurant with Art Deco accents, and the single 60-seat theater in the back features sharply tiered bench seating, so that every spot feels like you're sitting in the balcony. From your seat you can order beer, wine, cocktails, and a variety of gastropubby snacks like tater tots with beer cheese and optional pulled pork; buttermilk fried chicken; and nachos with slow-cooked bacon. They also have five flavors of popcorn — including curry and Old Bay — and ice-cream sandwiches or boozy milkshakes for dessert. The only downside at Syndicated is that it's not a first-run theater. This isn't the spot to see that latest buzzed-about new release; it's where you go for screenings of classics like Dial M for Murder or to catch showings of the mainstream movies you missed when they first came out — like Personal Shopper — or remember fondly from your youth — like Close Encounters of the Third Kind.
4. iPic Theaters
11 Fulton St., nr. Front St.; 212-776-8272
One of the city's latest options for dine-in cinema, iPic is a plush and polished experience in the South Street Seaport. When you reserve your seats online, pay for the "Premium Plus" seating ($60 per couple) and you get a pillow, a blanket, and table service in a cozy viewing pod built for two, with seats that recline at the push of a button and a waiter who appears at the push of another. Two other seating options — cushy recliners, or sculpturally swoopy chaise longues in the front row — have tables but no table service; you have to order the food from the lobby and bring it in yourself. The menu, from James Beard Award–winning chef Sherry Yard, skews rich and soft and saucy and includes shrimp tacos, lobster rolls, and filet mignon sliders. IPic is about as far from a hip art-house cinema experience as you could get, but it's the right choice for a splurgy, pampered viewing of the latest Hollywood blockbuster.
5. Metrograph
7 Ludlow St., nr. Canal St.; 212-660-0312
While you can't order food into the theaters at Metrograph, the cinema earns a spot on this list because it nevertheless offers a marvelous marriage of food and film. The Metrograph's in-house restaurant, dubbed the Commissary, is inspired by Old Hollywood studio dining, with options including steak tartare, a fava-bean salad, and chicken "fra diavolo." It also has a "writer's menu" with snacks like apple slices with almond butter and quince toast with walnuts and bee pollen. With more options for breakfast, lunch, brunch, and drinks, the Commissary is a food destination on its own, but it's also the perfect clubhouse for cinephiles drawn to Metrograph's carefully selected screenings of indie, foreign, rare, and classic films in its two theaters, with seats made from wood salvaged from the old Domino Sugar refinery in Brooklyn. Metrograph regularly hosts screenings and events including live Q&As and "in conversations" with big names like, in May alone, Steven Soderbergh and Steve Buscemi.