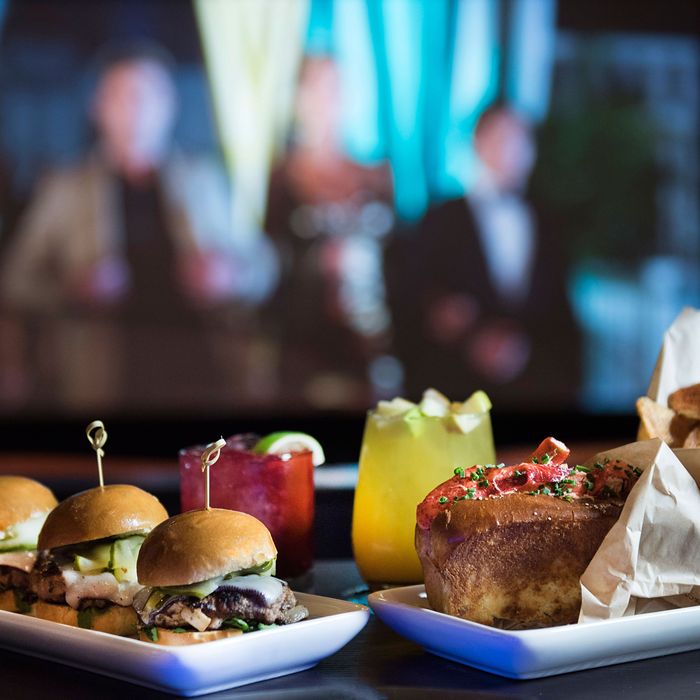 Settle into your private pod at iPic and let the food come to you.
Photo: Liz Clayman
Go ahead, meet your Tinderella for rosé at Olmsted, or a "Drunk at Gray's Papaya" cocktail at Clancey. Both are perfect date spots, but sometimes you need a little more than a Rag & Bone blazer and a tingly buzz to make magic happen. Sometimes, you need culture, or sweat, or sensuality to take things to the next level. Dates are usually better when you leave room for the unexpected: Bill Murray might be your bartender. You might lose your shoes. You might get laid. Either way, you'll have a good story to tell. Here are the best places to take your date when you're ready to log off and collect some life.
1. iPic Theaters
11 Fulton St., nr. Front St.; 212-776-8272
What better way to test pheromone levels than to lounge shoulder to shoulder in a dark room with a big-screen movie and Champagne-happy butler? This hedonistic theater is gargantuan, and very much not indie (for that, check out artsy-fab Metrograph), but it's a super-fun experience down in South Street seaport, a trippy and intoxicating destination in itself. You get pillows, blankets, and unlimited popcorn, plus movie "snacks" from a James Beard winner, and strong cocktails stirred by someone who — no doubt — calls himself a celebrity mixologist. Make sure you reserve a Premium Plus Seating Pod for the ultraluxe, perfectly positioned chairs; your pod is so private, you definitely won't be watching the movie ($14-$29).
2. Seth Herzog's "SWEET" Comedy Show
The Slipper Room, 167 Orchard St., nr. Stanton St.; 212-253-7246
Romance is alive and well at Seth Herzog's moody, boozy, always-hilarious SWEET show every Tuesday night at the Slipper Room. Herzog, whose full-time gig is opening for The Tonight Show Starring Jimmy Fallon, pulls the best comics in the country, and to make the evening even more thrilling, there's always a surprise funny person on deck. (Most recently, Will Forte, Michael Che, and T.J. Miller showed up). For $10 at the door and no drink minimum (or maximum), there's no better bang for your date-night buck.
3. Box + Flow
55 Bond St., nr. Bowery; 212-228-3569
Boxing is inherently sexy. Yoga can be erotic. Combine the two at this dusky Bond Street boutique, where your date holds the punching bag as you uppercut all your work/family/dating tension away — and then switch. Beware: It's a high-intensity class. You will pant. You will shvitz. And you will leave feeling exposed, a little vulnerable, and very hungry. Luckily, Fish Cheeks is literally downstairs, and the Bowery Hotel is right around the corner. Bonus: The gym is run by pretty-sexy-thang Olivia Young, object of the ultimate guy or girl crush, who also has an office stocked with good cold beer (just ask for one). Classes are $31.
4. Aire Ancient Baths
88 Franklin St., nr. Church St., 646-878-6174
Anyone with love, sex, and dating on the brain (and a healthy-enough bank account — rates start at $77 per person) has already been to this Tribeca bathhouse. But the fact is, Aire is sexy AF. It's a closer spot. The steaming-hot baths, ice-cold tubs, and holy-hell-what-is-happening-to-my-body "flotarium" make for a highly sensual experience that you have to surrender to — as if you're the star of your own soft-core porn. There are a number of Tribeca date spots for post-soak (Terroir Tribeca, for one), but the truth is, you're going to want to get back to your place, one on one, STAT.
5. EatWith
eatwith.com
Because sitting with strangers in a random apartment, eating home-cooked food from an amateur chef, provides so many opportunities for bonding. Might your meal be executed more swiftly at, say, Chinese Tuxedo? Sure (and do go there when you want an equally flawless and stylish date-night resto). But EatWith is a really cool concept, involving very talented cooks, and gives you and your date a chance to be part of a community, even for just a night. Plus, the prices are reasonable, starting at $44 per person. Alternatively, there's EatOffbeat, where bright ethnic food — authentically prepared by refugees living in New York — is delivered to your own apartment. Do both!
The Art Studio NY
145 W. 96th St., Ste. 1B, nr. Amsterdam Ave.; 212-932-8484
Make art together while getting tipsy at this world-renown art studio, run by artful goddess (who is also single and "gets it") Rebecca Schweiger, where the Saturday Date Night program has led to more than one wedding proposal. Besides the creative release of it all, you'll have something tangible, maybe even sentimental, to show (or Framebridge) from your hot date … besides a hangover. You don't have to bring anything but your bare soul — and favorite bottle of wine. Alternatively, the Art Studio NY offers classes at the Met. Can't get much more passionate than that.
Café Carlyle
The Carlyle, 35 E. 76th St., at Madison Ave.; 212-744-1600
A dramatically romantic sensation overcomes you the moment you sail through the gold hotel doors.The food at this iconic "dinner and a show" lounge belongs at your rich cousin's wedding, but none of that matters, as you glide to your table — in a dreamlike state — with your lovely date on your arm, while waiting for Suzanne Vega to sing "Luka" (seriously) or Countess LuAnn de Lesseps to have another one. Plus, the sublime Bemelmans is under the same roof.
1 Hotel Brooklyn Bridge
60 Furman St., nr. Doughty St., Brooklyn Heights; 347-696-2500
The sexy and sustainable hotel's lobby is a stellar date hang, especially when paired with one of the many Brooklyn Bridge Park cultural events that happen in spring and summer, like free outdoor movies and opera under the stars.
Minton's
206 W. 118th St., nr. St. Nicholas Ave.; 212-243-2222
Soulful, intimate, important … just a few words to describe the home where bebop was born, where Dizzy Gillespie, Charlie Parker, Thelonious Monk, and so many others held jam sessions late into the night — and where modern jazz came into its own right. If that doesn't infuse your date night with magic, then the Harlem Love or Ella Fitz cocktails surely will.