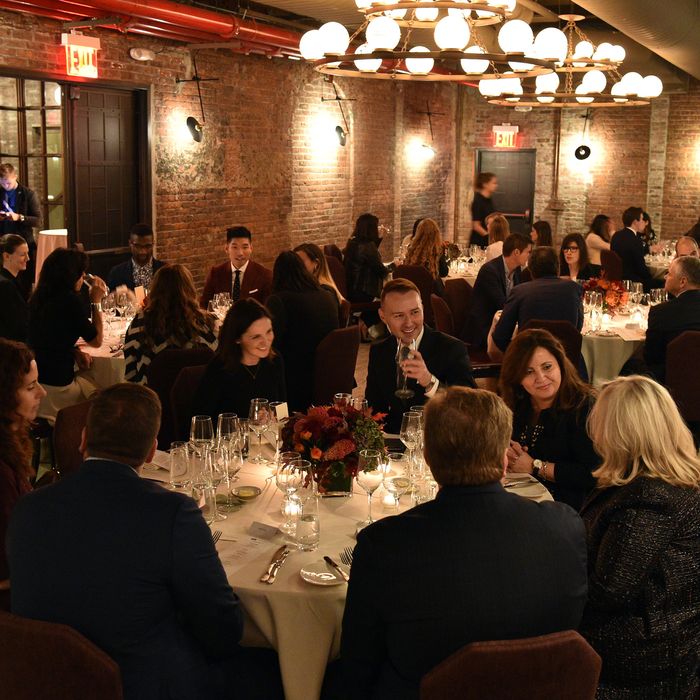 Guests at Fowler & Wells at the Beekman.
Photo: Bryan Bedder/Getty Images
According to the Knot, a Manhattan wedding averages $78,464, which is insane. So though there will always be grand receptions — with catering and cake and passed hors d'oeuvres, customized napkins, and a twee bluegrass band playing Beyoncé covers — a City Hall wedding with a modest reception of 12 or so people has much to commend it. As for the ceremony, the pleasure of a City Hall wedding is sharp, direct, and over in 90 seconds. It combines the dourness of municipal bureaucracy with the joyous expression of everlasting love. And though none can say what the future will hold, in the near term, thankfully, prospects will look good to the new couple. With its proliferation of boutique hotels and the corresponding elevation of the restaurants within them, the area around City Hall has options aplenty for a post-wedding brunch, lunch, or (very) early dinner. The office is open from 8:30 a.m. to 3:45 p.m., Monday through Friday. Love may be everlasting, but City Clerk keeps tight hours.
1. Augustine and Fowler & Wells at the Beekman Hotel
5 Beekman St., at Nassau St.; 212-375-0010 (Augustine); 212-658-1848 (Fowler & Wells)
The longevity of a marriage depends on its ability to accommodate change and weather distress. A few blocks from City Hall, what is now the pleasure palace called the Beekman is an apt embodiment of the principle. Originally built in 1881, the ornate brick-and-terra-cotta building, with its truly spectacular nine-story atrium, has housed both the National Rifle Association and the War Resisters League. It was a Shakespearean theater, burned in a fire, went through a slump, seemed donezo, and — in August 2016 — miraculously debuted a luxury hotel. Now, the atrium echoes again with chatter and two of the city's hottest restaurants — Keith McNally's Parisian reverie Augustine and Tom Colicchio's Fowler & Wells. Augustine can accommodate parties up to 12 and Fowler & Wells up to 8 — in their main dining room with advance notice — and, importantly, they are open for lunch. Depending on the culinary bent of the celebrants and time of day, Colicchio's ode to 19th–century–New York baller food — like a chop steak topped with a thick slab of blue cheese, or a bacon-studded oyster soup — might appeal, or perhaps McNally's steak-frites with Café de Paris butter. Breakfast, for those married early, is also available.
2. Locanda Verde
377 Greenwich St., at N. Moore St.; 212-925-3797
Andrew Carmellini has quietly become the comfort king of Tribeca. Between Little Park at the Smyth hotel and Locanda Verde at the Greenwich Hotel, he has perfected a charmingly idealized domesticity. At Locanda, Carmellini offers zhuzhed-up seasonal Italian fare, from eggs with cotechino hash and tomato hollandaise for breakfast to spaghetti with tuna confit for lunch, in what looks like your own private Tuscan farmhouse. If only all of domestic life could unfold in this wood-paneled room — private dining starts at $2,000, and the room can fit up to 100 celebrants — under a ceiling of thousands of wine corks, accompanied by the roar of a working fireplace, and with a genial, competent staff. Alas, it can't, which makes the dark-chocolate budino, one of Deborah Racicot's several outstanding desserts, even more bittersweet to savor.
3. The Odeon
145 W. Broadway, at Thomas St.; 212-233-0507
Not only is the Odeon a testament to the city's enduring love for the bistro — purveyor of omelettes fines herbes, steak-frites, and frisée salads studded with lardons — a restaurant that has captured the Zeitgeist erry damn day for the last 37 years, but in its original usage, an "odeon" is a place wherein one sang odes to things like immortal love. So, yes, might you have to wait, even if you do call ahead? Yes. Might you be cheek by jowl with scowling Anna Wintour or a slack-jawed Kansas yokel? Yes, you sure might. But then the manager pushes together two six-tops, and the clack and clatter of fork and knife pauses as she pours a Champagne toast, and the crowd breaks into applause.
4. Chinese Tuxedo
5 Doyers St., nr. Bowery St.; 646-895-9301
In the 1900s, this cavernous underground space in the crook of Doyers Street was used by familial Chinese gangs called tongs. Later, it was an opera house. All of which makes Chinese Tuxedo the perfectly fitting locale in which two families enjoin their dynasties. Named after one of Manhattan's first fine-dining Chinese restaurants, the dramatic, succulent-strewn subterranean space was reborn at the end of last year. Though normally not open until 6 p.m., owners Eddy Buckingham and Jeff Lam make exceptions for private parties, and open the doors much earlier. Parties of 10 can be accommodated at a center table in the main space, 10 to 18 can take over the balcony, and 20 to 100 the lowest den. All can feast on Paul Donnelly's Singaporean curried-chicken spring rolls; the sweet mauve crispy eggplant with tingly Sichuan and sweet peanut caramel; vegetarian Furikake fried rice. And what one misses in sunlight, one makes up for in ambience. Sealed tunnels nod to the illicit past, and also provide a tidy metaphor for marriage as an inescapable pact.
5. Racines NY
94 Chambers St., nr. Church St.; 212-227-3400
The original Racines is approximately 3,363 miles from City Hall. Its American cousin, Racines NY, is only two-tenths of a mile away. True, some concessions have been made to the city. The zinc bar here is marble. The glass passageway in Paris's Passage des Panoramas is now an office building in Tribeca. But by and large, it's a wormhole to the 2nd Arrondissement. The wine list — strictly biodynamic in Paris; here, it's a little more catholic — still sparkles with imaginative, fairly priced selections. The light is still low and smolders appealingly. Though they officially open at 5, Racines NY, in true romantic fashion, can accommodate private parties of between 12 and 65 celebrants for an early dinner, or even lunch. The chef — a Marseillaise star named Frédéric Duca — serves ambitious neo-bistro fare like veal tartare with razor clams, or redfish with confit.