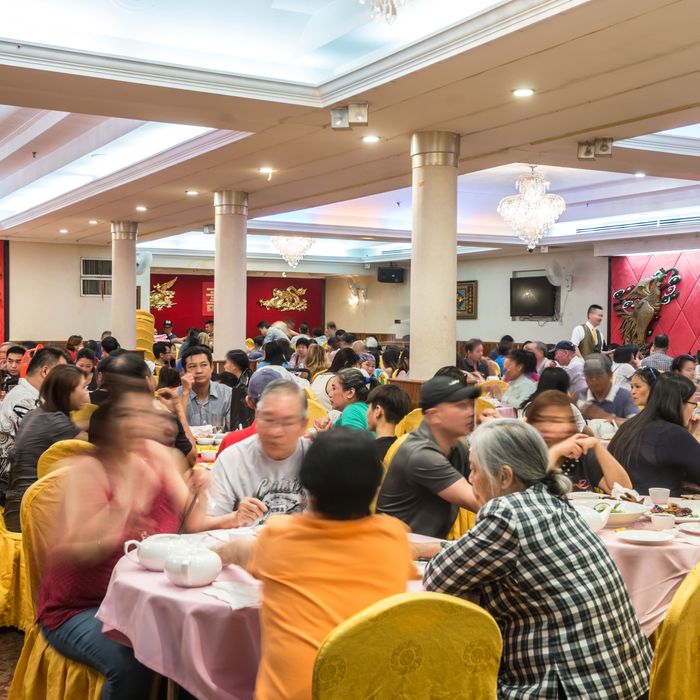 Festive, family-style Cantonese standards at Royal Seafood.
Photo: Paul Wagtouicz
The idea that there is "no good Chinese food in Chinatown" has prevailed for quite some time now; it's an argument that's been put forth by our own Adam Platt. It's true that if you're looking for Chinese food that will expand your mind and thrill your palate, you're much better off trekking to Flushing or Sunset Park, or even other parts of Manhattan. It's also true that there's a certain brand of Cantonese food — made bland, sweet, and gloppy to cater to a certain American sensibility — that dominates in Chinatown, or at least most people's idea of the neighborhood, and some of it is genuinely bad. But there are dozens and dozens of restaurants in the neighborhood — with new ones opening regularly and old ones changing hands. Not all of them are Cantonese, and some of them offer food that is very good — plus a whole lot of atmosphere. Herein, five of the absolute best full-service Chinese restaurants in Chinatown, right now.
1. Royal Seafood
103 Mott Street, nr. Canal St.; 212-219-2338
It's a good idea to call before making plans for dinner here; though they don't take reservations, except for large groups, the entire place is often bought out for banquets. Even when they're not closed for a private event, you might find yourself an unwitting participant in one, since they often rent out half the dining room for weddings and the like, bisecting it with a curtain. But what could be more fun than eating festive, family-style Cantonese standards — like the really excellent off-menu lobster you'll see on almost every table, hacked into shell-on pieces, then lightly fried in batter and strewn with ginger, scallions, and garlic — while listening to the joyous sounds of celebration from the other side? It's an institution, as integral to the fabric of the local community as it is welcoming to outsiders, with cheerful pale-pink tablecloths, friendly but efficient service, and plenty of delicious non-lobster dishes, too, including the addictively crispy, caramelized fried Peking pork chops; a steamed half-chicken, served with the requisite salty scallion-ginger-oil condiment; and full dim sum service on weekends. For a similar but calmer and less exciting experience, Oriental Garden offers many of the same dishes in a much smaller dining room, which makes, especially, for a refreshingly non-hectic dim sum destination.
2. Spicy Village
68 Forsyth St., near Hester St.; 212-625-8299
Spicy Village, formerly known as Henan Flavor, is a definition hole in the wall: a narrow sliver of a space that lets in almost no natural light, with just half a dozen tables. Food arrives, for the most part, in Styrofoam, but that does little to detract from its fantastic flavors, imported from China's Henan province. Jagged-edge hand-pulled noodles show up in bowls of rich, steamy lamb or beef broth bobbing with brisket or fish balls, and again dry-sautéed with egg and tomato or dense, pungent black-bean sauce. Perfect steamed pork dumplings come a whopping 12 to an order, for just $5 — almost nothing on the menu is more than $6. An important exception is the $13.75 Spicy Big Tray Chicken, beloved by Danny Bowien and Mark Bittman; it's a mess of juicy dark-meat bone-in chunks and tender quartered potatoes enveloped in a dark, satisfyingly beer-based braise, flecked with Sichuan peppercorns and cumin and fennel seeds. It's best ordered with a side of those hand-pulled noodles, and/or a couple of "pancakes," arepa-like doughy rounds with crisp exteriors that come plain or stuffed with minced pork or egg.
3. Great New York Noodletown
28 Bowery,, nr. Bayard St.; 212-349-0923
Ask a celebrity chef for her or his favorite places to eat in Chinatown, and you are likely to get New York Noodletown among the responses. Open daily until 4 a.m., it has a reputation for being nothing more than a place to fill a drunk stomach cheaply, and it's true that the grimy-tile-and-fluorescent-light atmosphere is probably best appreciated (read: ignored) under the influence, but the food is also much better than it has to be, no matter your mental state. There are noodles, of course, in soups topped with juicy slices of roast pork, chicken, or duck, or served in a room-temperature tangle drizzled with a tangy ginger sauce that will make the back of your throat tingle pleasantly, plus a scattering of shredded raw scallion (it's the dish David Chang credits as the inspiration for the chilled ginger noodles on the menu at his Noodle Bar). And when in season, soft-shell crabs are salt-baked to a deeply satisfying, light-as-air crackle.
4. Big Wong King
67 Mott St., nr. Bayard St.; 212-964-0540
There is something deeply comforting about Big Wong King, which serves up top-notch versions of many Cantonese standards, but is an especially good place to get a warm bowl of perfect congee, topped with roast duck or salted pork and chopped thousand-year egg, and best ordered with a giant fried cruller for dipping. It's hard to imagine a better breakfast. They also do a mean steamed rice crêpe, flecked with tiny dried shrimp and scallions and drizzled in soy sauce — or, for a full on carbfest, get the one that comes wrapped around slices of that same fried cruller. To top it off, the service is a thing of wonder, with waitstaff moving around the room in a seamless ballet, delivering and removing plates and pouring tea and water with an efficiency that could be studied in business school. Depending on what you order, you can be in and out of here in 20 minutes. Which is not to say you'll want to be; the late-'70s décor, which includes a wood-paneled wall with a groovy round doorway that divides two dining areas, is part of the charm.
5. Wonton Noodle Garden
56 Mott St. nr. Bayard St.; 212-966-4033
There is no shortage of wonton soup in Chinatown — it's on the menu almost everywhere — but it's nice to know that one of the very best versions is at a place so named for it, sometimes also referred to as New Wonton Garden, due to a change in ownership. A big corner of the dining room is devoted to the soup's making, with a huge vat of deep golden, intensely umami broth (if the flavor comes from MSG, they're using it masterfully) simmering at all times. Poured over a nest of thin egg noodles and a handful of neatly wrapped wontons filled with juicy pork and perfectly crunchy shrimp, it makes a filling, excellent meal, but there are plenty of other things on the menu to supplement, from classic roasted meats to Cantonese-style lo mein, served with a side of broth.