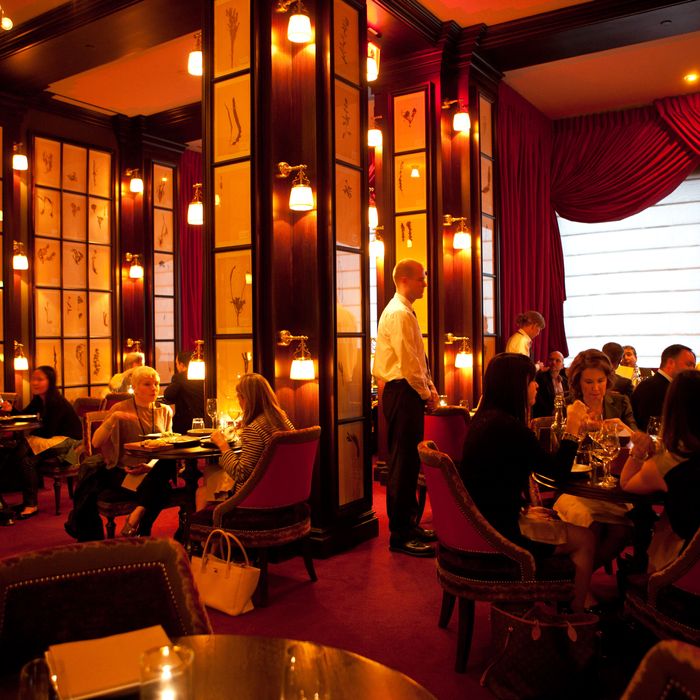 Friendly service, a great selection, and very plush surroundings.
Photo: Danny Kim/New York Magazine
It's time to declare the best place to drink wine in New York — a bar or restaurant that not only has an exceptional list (filled with both affordable and unusual bottles), but also sommeliers and servers who offer advice that's actually helpful, and make you feel at ease. We've asked Richard Betts, author of The Essential Scratch and Sniff Guide to Becoming a Wine Expert, to share his picks. Take it away, Richard:
1. The NoMad
1170 Broadway, nr. 28th St.; 212-796-1500
Thomas Pastuszak has put together a thoughtful and complete list that he and his team of sommeliers attend to in the most caring fashion. I'm never happier than when I'm drinking here. It's super-easy to slip into the moment with their Empire Estate Dry Riesling from the Finger Lakes 2014 ($40). Then there's so much great stuff to choose from on the red side — a recent love has been Franck Balthazar's Cornas "Sans Soufre" 2014 ($125). When it comes to the wine service, everyone adores Thomas, but he's also assembled an equally skilled and caring team, so no matter whose hands you end up in, you feel great.
2. Charlie Bird
5 King St., nr. Sixth Ave.; 212-235-7133
The list that Grant Reynolds and Robert Bohr put together is full of gems that are very fairly priced. It is the most dynamic list in the city, as it's always changing. The list is now overseen by Arvid Rosengren, who just won Best Sommelier in the World honors, so that's a bonus, as is the Zalto stemware. Every wine on it is ready to drink, and a couple I've loved recently are the Kalin Cellars Chardonnay Cuvée W 1995 ($95) and the Paradiso di Manfredi Rosso do Montalcino 2013 ($85). One other cool fact is that they'll open any bottle on the list for you if you buy two glasses from it, so you don't have to have the entire thing. Lastly, if you're really feeling it, there is a small leather-bound, handwritten book of extra-special wines available, too.
3. Rebelle
218 Bowery, nr. Prince St.; 917-739-3880
The work that Patrick Cappiello and his team are doing down on the Bowery is second to none. The wine list is an embarrassment of riches, and it's all priced so well that it's actually hard to choose. That said, you can't go wrong choosing Domaine du Closel Savennières "Clos du Papillon" 2013 ($71) for a white, and then something like Olga Raffault's Chinon "Les Picasses" 1990 ($125) for a stellar, mature red.
4. The Four Horsemen
295 Grand St., nr. Havemeyer St., Williamsburg; 718-599-4900
The cooking is very good, and so is the wine, which is also, frankly, cheap! Justin Chearno presides over a list with a real point of view. You might find your way to something less well known but especially yummy, like the Maxime Magnon Corbières "Rozeta" 2012 ($70) or the ultradelicious J.B. Becker Riesling trocken 1990 (yes, 1990) for $73. So good.
5. Aldo Sohm Wine Bar
151 W. 51st St., nr. Seventh Ave.; 212-554-1143
Aldo is a sommelier's sommelier. He's won just about every honor there is to win as a somm, and he's ultrahumble, which leaves you feeling as though your happiness is his only objective. While he also presides over the wine program at Le Bernardin, his own wine bar is a perfect little hideout in midtown. The wine list is filled with all sorts of gems, but why choose? The very best thing I can tell you to do is put yourself in Aldo's hands.
6. Maialino
2 Lexington Ave., nr. 21st St.; 212-777-2410
Jeff Kellogg has curated one of the great Italian wine lists on Earth, full of beautiful, mature wines that are priced too fairly. I just have such a blast with it. Of course, it's always a good idea to start with something white, bright, and beautiful, like Ottaviano Lambruschi "Costa Marina" Vermentino from Liguria 2014 ($118). I love that wine and drink it almost as often as I see it. Then, a real strength of the list is the collection of older reds that you can't find anywhere else. It's wonderful to be able to drink things like Travaglini Gattinara Selezione 1971 (from $185) — great and very fairly priced. Essentially, Jeff's list takes all kinds of typically special-occasion wines and makes them accessible for every day.