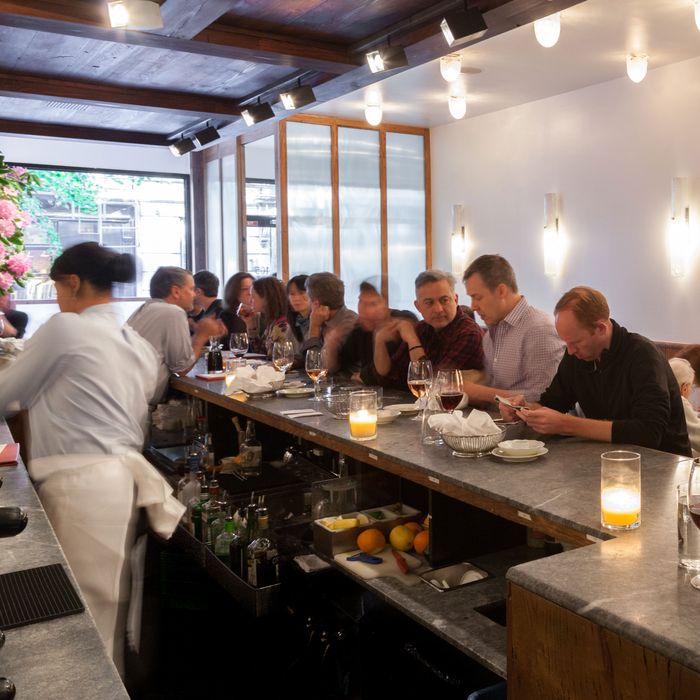 I Sodi
Photo: Miachel Breton
Everyone has a slightly different mental map of the West Village, but we situate the neighborhood west of Sixth Avenue, north of Houston, and south of the Meatpacking District. It's big on charm, intersections that defy numerical logic, and sidewalk-café brunch, and home to some of the city's best-known (deservedly or not) culinary attractions, like John's Pizza and Magnolia Bakery. Wander the tree-lined, cobblestone streets and you will find way too much middling Italian food, and even a couple of extant ye olde inns, mutated into clubby scene spots their original clientele would never recognize. But beyond the glitz and the tour buses, the neighborhood's real gems (both high and low) share some ineffable but compelling combination of distinctive personality and local flavor, and range from a legacy slice joint to a destination tearoom.
1. I Sodi
105 Christopher St., nr. Bleecker St.; 212-414-5774
It isn't the unapologetically traditional menu that vaults I Sodi to the top of this list, or its spare, classic design. It's not the six riffs on the Negroni cocktail, or the deep Italian wine list, or the civilized, civilizing mood of the room, which is convivial but never cacophonous. It isn't even the signature lasagna, which you'll see some nights at every other place setting — a tall, 20-odd-layer construction of crisp-edged sheets melded together into a supple, jiggly mass. It is all of those things combined, filtered through the singular vision of Rita Sodi, a self-taught chef who opened the place as an extension of her own home table and a tribute to her mother's country-Tuscan cooking. On paper, the food seems generic — a grilled strip steak, fried artichokes, branzino. But everything is carefully cooked, restrainedly seasoned, and tasting precisely of what it is, down to the soft-bordering-on-mushy (in proper Italian fashion) spinach and peas. The bar is always full, but the place never feels overrun, and though the occasional celebrity has been known to frequent it, so do locals who would be happy to keep it to themselves. Aside from the fact that in recent years, it's become a terrific challenge to get a reservation (though bar seats are first come, first served), in spirit, it's still the perfect neighborhood restaurant, the perfect special-occasion restaurant, the perfect restaurant to impress an aficionado of Italian food. In other words, the perfect restaurant, period, in the West Village or anywhere else.
2. Buvette
42 Grove St., nr. Bleecker St.; 212-255-3590

Buvette is open 18 hours a day, and people are lined up outside for most of them. That is because Jody Williams's self-titled "gastrothèque" is not just ridiculously charming, but it also manages to hit the spot on any number of meal-period and appetite-specific levels, from steam-scrambled eggs for breakfast to a 1 a.m. croque monsieur. A common denominator on the small-plate menu is richness, a quality that extends even to the vegetables and salads. (It's one thing to make aligot potatoes and chocolate mousse craveable; try that with carrots and beets.) Much of what you eat at Buvette is delicious things you put on bread (anchovies and butter, a signature combo) and delicious things you dip bread into (a crock of creamy mustard sauce in which assorted rabbit parts are submerged). With every detail just so — the illustrated almanac-style drinks book; the cocktail glasses chilling on the marble bar; the bistro-aproned, neck-tied servers who could conduct a master class on the art of sprezzatura — the place might feel art-directed, but the effect is transporting.
3. Sushi Nakazawa
23 Commerce St., nr. Seventh Ave. S.; 212-924-2212
It's an odd origin story: New York impresario born into a Bronx-restaurant family watches Jiro Dreams of Sushi, has epiphany, recruits maestro's onetime apprentice to run elegant sushi bar on quiet West Village block. That's how Daisuke Nakazawa came to work for Alessandro Borgognone, along the way creating what he calls "New York–style" sushi, a looser, more innovative approach to the edo-mae tradition in which he was trained. Now Nakazawa holds forth behind the ten-seat counter, mesmerizing guests with elaborate multicourse omakase meals, but a rear dining room offers additional seating (without the show). And although reservations are notoriously elusive, a recent expansion created an under-the-radar lounge, where walk-ins can find sushi transcendence by the à la carte piece.
4. Via Carota
51 Grove St., nr. Seventh Ave. S.; no phone
You might say that Via Carota is Buvette with pasta, but that wouldn't be true. Yes, the wide storefront has more than a touch of Buvette's rustic, antiques-strewn charm, not to mention its penchant for vegetables and good crusty bread with rich toppings. But Via Carota, a collaboration between Buvette's Jody Williams and I Sodi's Rita Sodi, is very much its own thing: an Italian restaurant informed by Sodi's Tuscan upbringing and California native Williams's years cooking in Italian kitchens, both here and abroad. That translates into an ever-changing seasonal menu, the juicy chopped-steak "svizzerina"modeled after the bunless burger Sodi's mother used to cook for her, and, yes, pastas, from melting Gorgonzola-sauced gnocchi to a textbook tonnarelli cacio e pepe. With these three thriving establishments, all unpretentious bastions of simple but satisfying food and drink, Sodi and Williams rule the West Village, culinarily speaking.
5. Wallsé
344 W. 11th St., at Washington St.; 212-352-2300
That's chef-owner Kurt Gutenbrunner glaring down on his diners — or rather, it's his portrait, painted by his pal Julian Schnabel. The piece contributes to the artsy, intellectual ambience of the markedly grown-up room, a cosseted foil to the rambunctious Spotted Pig up the street. People come here to dine in peace on Austrian Michelin-bait like spaetzle with rabbit, white asparagus in season, and New York's preeminent Wiener schnitzel, properly accoutred with vinegary potato-cucumber salad and a spoonful of lingonberry jam. Gutenbrunner has made a cottage industry out of Viennese kaffeehaus culture at his Café Sabarsky uptown, which means you should definitely order dessert. And there may be no better place to delve into the wide world of Austrian wine grapes, from Blaufrankisch to Zierfandler.
6. High Street on Hudson
637 Hudson St., at Horatio St.; 917-388-3944
Is it a bakery masquerading as a breakfast joint disguised as a sandwich shop? Or is it a sophisticated modern American restaurant, conversant in all the au courant culinary obsessions, from fermentation and alternative grains to domestic pét-nats? This spinoff of Philadelphia's High Street on Market is all of the above, actually, and even manages to make the multitasking look easy. As at the original location, the various artisan breads and pastries, made here by baker extraordinaire Melissa Weller, almost steal the show. But former Annisa chef de cuisine Mary Attea's savory fare is equally compelling as evidenced by dishes like a skillet chicken paired with drippings-soaked bread, and a beef on weck that nods to the chef's hometown of Buffalo.
7. Té Company
163 W. 10th St., nr. Seventh Ave. S.; 929-335-3168
New York tearooms have never been known for their food. That changed when Elena Liao and her husband, Frederico Ribeiro, opened their tiny Té Company in the fall of 2015. Rather than traffic in trendy matchas, let alone scones, Liao made the oolongs of her native Taiwan her mission, sourcing directly from farmers, brewing each pot with laser focus and effortless grace, and spreading the gospel of this overlooked category to anyone willing to listen. Ribeiro, a Portuguese native and former Per Se sous chef, has devised a complementary menu of Taiwanese-inspired fare, which has as its core a superb bowl of braised pork belly over rice, or lu rou fan, a dish served throughout the island. (A vegetarian option is always available, as are snacks like spicy peanuts and sweets like preserved kumquats.) The overall effect is one of serenity and neighborly spirit, a haven for both contemplation and delectation.
8. Taïm
222 Waverly Pl., nr. Perry St.; 212-691-1287
Einat Admony cooked in lots of fancy New York restaurants before she opened her own place, a takeout falafel joint devoted to the street foods of her native Israel. This was not only a wise career move — the store spawned a second location, a food truck, and two sit-down restaurants — but a valuable addition to the West Village foodscape. Because what neighborhood doesn't need a bright, fast, generally healthful, incidentally vegetarian Middle Eastern canteen serving three flavors of crisp, greaseless falafel? The deep-fryer might be the engine that runs Admony's falafel-fueled empire, but Taïm targets the cleanse crowd, too, with modern-day essentials like a quinoa-and-kale salad and a full-fledged smoothie bar.
9. Sevilla
62 Charles St., at W. 4th St.; 212-929-3189
This holdout from a time when Greenwich Village teemed with Spanish restaurants is so lovingly preserved you almost expect Keith McNally or Graydon Carter to swoop in and make the landlord an offer he can't refuse. The menu is stuck in time and steeped in garlic; if anyone in the kitchen has ever heard of Ferran Adrià you'd never know it. Still, on any crowded weekend night (and they're all crowded) you will find early-bird locals, families and tourists, and longtime regulars who will happily tell you the precise number of years (or decades) they've been driving in from Jersey. Most of them will order sangría, poured from huge jugs stockpiled behind the bar, and dine on various paella permutations, spooned by servers out of steaming metal pots. Dinner comes with a forgettable side salad and white bread with foil pats of butter, and nothing you eat will be revelatory in the slightest. But you will deeply enjoy your meal and your night, despite all that — and maybe, even, because of it.
10. Joe's Pizza
7 Carmine St., nr. Sixth Ave.; 212-366-1182
This isn't the original Joe's, which used to occupy the corner spot a few doors down, where gourmet gelateria Grom is now. But it's still a welcome and necessary landmark in a Village that keeps changing. The slice is classic New York–style, with everything in proper proportion. A thin, pliant crust for precision folding, just the right amount of runny cheese, and a well-cooked sauce — what else could you ask for at 4 a.m.?